Share: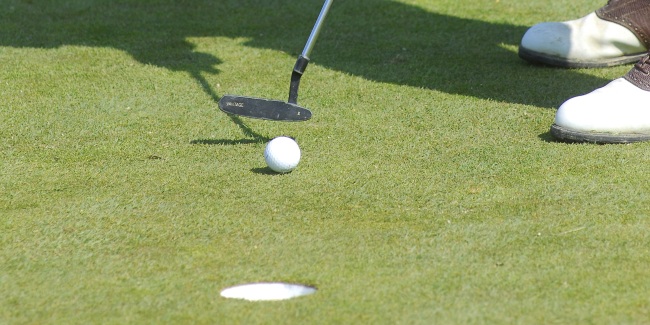 GolfTec Fitting Process for Wedges and Putters
By John Ehle
It used to give me enormous pleasure to hit my drive past my friends as the elation derived from a large tee shot was exceeded by few of life's pleasures. Since that pleasure is such a small part of my recent history, there is one event which has moved to the front of the line; making a long putt or the occasional chip-in.

The short game, that which takes place from 100 yards and in, can comprise 2/3 of one's total strokes. If that is true, then why do many of us continue to flail away with our long clubs when we go to the practice range? "Too late smart" seems to provide part of the answer. Jack Burke Jr. said, "The only club in the bag specifically designed to get the ball in the cup is the putter. Why not learn it first?"

Dan Wells walked directly to the indoor putting area as we began Part 2 of our fitting session at GolfTec. This was a "fitting", not a lesson but Dan's suggestions re: stance and posture included subtle tidbits which were sensible. Eyes over the ball or slightly inside the line. Dominant eye should be over or slightly inside the ball. I assumed a comfortable stance over the ball and Dan handed me a fitting device which allowed me to assume an effective stance. It held the putter in place.

Most putters have a loft of 2-4 degrees and a 71 degree angle between the "green" and the shaft when the putter is flush with the surface. Having accomplished that, we stroked 15-20 putts from about 4' with fairly acceptable success. I missed one. Dan gave me a number of putters to "audition" and eventually, I settled on a 34" putter with 2 degrees of loft. It was a comfortable fit in a mallet style. It just happened to be the most visually appealing of the clubs I had tried. As Ben Hogan said, "Selecting a putter is like selecting a wife; to each his own".

Dan approached the selection of wedges with even more objectivity than the putter. He suggested that the difference between wedges' lofts should not exceed 5 degrees. With wedges starting at 48-50 degrees, most players are carrying 3 wedges and I don't believe that that number is counter to Dan Wells' thinking. GolfTec has a wide selection of makes, models and lofts.

Dan's final emphasis was on practice and he suggested emphasizing short wedges from a variety of distances as the best preparation for competition; i.e. 30, 50, 70 and 90 yards.....hitting lots of balls from each distance. It may have been Ben Hogan who said, "The more I practice, the luckier I get."

Dan Wells is the Center Manager at the GolfTec Mequon store and he may be reached at 262-240-9851 or dwells@golftec.com.

Revised: 05/06/2012 - Article Viewed 31,387 Times
About: John Ehle
---

John Ehle writes for GolfWisconsin.com, GolfTrips,com and other golf-related sites in the US. He has attended 6 Open Championships in the British Isles and many men's and women's US Opens and PGA Championships as well as Ryder Cups and President's Cups.

His primary international writing is golf course reviews and travel articles. He also writes about golf equipment and other golf-related products. Most recently he traveled to Cuba and will be in SE Asia for 6 weeks in February and March, 2012.

He writes a weekly column for a metropolitan newspaper in the Milwaukee, Wisconsin area. He is a 10 handicap golfer and has competed in many Wisconsin State Golf Association events.

---
More Articles by John Ehle
More Related Articles