Share:
---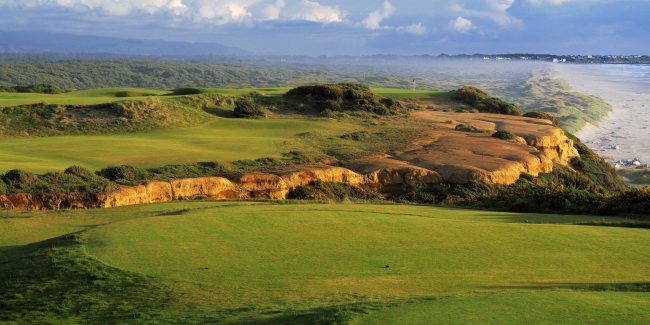 Reckless A-Bandon
Better-Than-Advertised Golf Waits on the Oregon Coast
By Glen Turk
I am proud to say that I am not equipped to describe the beauty of Bandon Dunes Golf Resort accurately. The good news is I am not alone. All one can do is recall the initial thoughts that come to mind when peering into the sun-glistened Pacific Ocean as it flanks gorse-bordered fairways and greens. Sure the Midwest has spectacular properties that are impacted by unique water features, but there is clearly a different sense of wonder when you're gazing at an ocean instead of a lake or river.

So the question must be asked, what does Bandon Dunes Golf Resort in Bandon, Oregon (roughly five hours southwest of Portland) have the other top properties in America don't? The ocean is an obvious place to start but it's only a fraction of why three of their four courses are rated in the top seven Modern Courses according to GolfWeek Magazine's 2012 rankings. "I believe people enjoy coming to Bandon Dunes because it's all about great golf. We don't aspire to have a lot of the resort amenities that others have, but we do have great golf, comfortable accommodations and excellent food and drinks," stated B.R. Koehnemann, Director of Communications at Bandon Dunes Golf Resort.

The Bandon Dunes Empire began with one championship caliber layout that features six holes butting up against the Pacific Ocean. Completed in 1999, Bandon Dunes pays tribute to all the famous Scottish seaside links courses and was designed by Scotsman David McLay Kidd. The 6732 yard, par 72 layout is highlighted by an incredible three hole stretch (#15-17) that might have been the genesis of the phrase "wow factor." Bandon Dunes' Director of Golf Jeff Simonds hears such adulation on a minute-to-minute basis. "When David McLay Kidd designed Bandon Dunes he created an amazing routing. There are multiple times throughout your round that you reach the Pacific Ocean and are mesmerized by both the beauty of the course as well as the setting. Looking at holes 15, 16, & 17 specifically, you have a great mix of holes with so much character," stated Simonds.

Two years later in 2001 Michigan designer Tom Doak created Pacific Dunes, a course that many experts view as the finest resort course in the nation, placing it ahead of even Pebble Beach Golf Links. The finest 9-hole stretch on site is the inward nine of Pacific. The 3148 yard layout takes golfers on a two hour journey that uniquely blends four par-3's and three par-5's with only a pair of par-4's. Bandon Dunes' first and second offerings are both so stunning it has created a great debate on which one is better. Jeff Simonds takes the politically correct high road when broaching the debate. "When comparing Bandon Dunes to Pacific Dunes you have different looks to the golf courses," explained Simonds. "Pacific Dunes has some of the most exposed bunkering and natural blowouts I've seen. It gives the course this feel that Tom Doak didn't necessarily build it, but found it. Bandon Dunes on the other hand has a more Scottish feel for its bunkers whether they are a series of little pot bunkers or a bigger revetted or sod faced bunker.

In the end, one of the courses is going to be ranked higher than the other and it just so happens that for now it is Pacific Dunes. Regardless of which course you play, you will have a unique experience of links golf on the Southwest Coast of Oregon," concluded Simonds.

Bandon Dunes founder and owner Mike Kaiser threw patrons a curveball when he hired Bill Coore and Ben Crenshaw to design Bandon Trails in 2005, Bandon Dunes' only pure inland property. Dunes, meadows, and forest land unite to create what I humbly believe is the best course on the property. It made such a positive first impression we played Trails one last time before departing. Bandon Trails' Head Golf Professional Scott Millhouser has a tremendous amount of pride for a course that doesn't always get top billing at Bandon. "Bandon Trails is an amazing golf course that has a tremendous amount of character from the beginning. What I love about Trails the most is that it offers different eco systems from the dunes to the meadows to the forest. You don't need to have an ocean to make a great golf hole. I love the fact that Trails winds through the Manzanita, Madrone and Rhododendrons. My favorite hole is not easily distinguished. I think trying to pick my favorite hole at Trails is like trying to pick your favorite child, they are all different and you love them for their unique character. The hole I am playing at Trails is my favorite," concluded Millhouser.

Bandon Trails' flagship hole has to be the insanely downhill 303 yard, par-4 14th hole. After inspecting the putting surface that measures nine paces from side to side at the front entrance, Mike Kaiser said to Ben Crenshaw, "This hole is too difficult." Crenshaw's reply, "Golf's supposed to be difficult." I agree, golf is difficult, if I wanted something easy I would have stopped in the local bowling alley on the way to the course.

Bandon Dunes' fourth course, Old MacDonald was inspired by the works of Charles Blair McDonald (Chicago Golf Club, Greenbrier's TPC Old White) and was finished by Tom Doak and Jim Urbina in 2010. The 6500, par 71 layout features green complexes larger than my yard and present golfers with a myriad of club selection challenges. Old MacDonald is an extremely enjoyable walk and allows golfers to harken back to the primitive days of the game when it was just you and a field.

A unique 13 hole par-3 course designed by Coore and Crenshaw dubbed Brandon Preserve made its debut on May 1st of this year. All holes measure between 78-165 yards and can be played with six clubs in roughly two hours. The Preserve is the ultimate place to get your game in gear before tackling the other four courses or to unwind after a long day on the links. "The Preserve will offer 13 amazing views of the Pacific Ocean while providing dramatic shot making opportunities to all skill levels," explained Scott Millhouser. "The Preserve will provide guests of the resort an alternative to playing 18 holes. It will allow players with time constraints either due to sunlight or travel, to get a full enjoyable golf experience. Along with our four 18 hole golf courses and our expansive practice facility the Preserve will allow guests every golf option imaginable," stated Millhouser.

It is important to note that all five courses at Bandon Dunes Golf Resort are walking-only layouts and that the use of caddies is not mandatory, but definitely encouraged. Close to 300 "super-loopers" are on staff at Bandon and they are all dedicated to providing an enhanced experience through their knowledge, humor, and camaraderie. According to six-year veteran caddie Eric Toombs, the use of caddies only adds to the luster of Bandon. "The Bandon Dunes 'style' of golf architecture and shots needed for the course and weather make caddies crucial," explained Toombs. "Unless you've had the opportunity to make the journey to the Homeland of the Game (Ireland/Scotland/England), this is the only TRUE links experience in America. We can help you enjoy the course by avoiding trouble areas, and knowing (not guessing) the right yardage. Plus when a caddie reads your putt (which I've seen 'a few hundred' times) it gives you, the golfer/visitor more time for pictures, or heckling your friends! Plus, taking a caddie gives you someone to blame," quipped Toombs.

When planning a trip to Bandon Dunes here are a few expectations one should have. Expect to say to your group five holes in "this is the finest golf experience I've ever had" (we sure did), expect the weather to change 12 times within one round, and expect to be treated like royalty while there. One last note, the only happenings more common than the uncommonly spectacular golf are unsupported golf bags falling over in the wind - so make sure if you're walking your bag is laying on the grass at all times.

In conclusion, the spirit of the game is rejuvenated on the brownish-green fairways of Bandon Dunes where every lie is a moment of truth. If you're looking to find inner peace, Bandon Dunes is the perfect place to start. For more information on Bandon Dunes Golf Resort including their amazing stay and play packages, visit www.bandondunesgolf.com or call 888-345-6008.


Article Tags: Band Dunes Golf Resort
Revised: 07/18/2012 - Article Viewed 25,025 Times - View Golf Course Profile
Share Comment
Written By: Glen Turk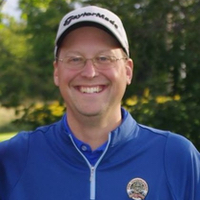 Glen Turk is a Wisconsin native and is the Senior Writer/Editor of Midwest Golfing Magazine. Midwest Golfing Magazine was formerly known as Pub-Links Golfer's Magazine and is a free publication distributed four times per year throughout Wisconsin, Illinois, Michigan, Minnesota, Iowa, Indiana, and Ohio.

His duties at MGM include writing course features, facilitating product testing, and overseeing the overall content and look of the magazine. But clearly his most important task is playing as much golf as his wife allows. Fortunately for him, she plays also and loves out-driving him even with a 60 yard head start.

Glen plays to a 6 handicap but once set a record by having his ball retriever regripped 15 times in one calendar year. It was a December trip to Guam that ultimately did him in. Finally, if you haven't caught on by now, the two most worthy weapons in Glen's writing arsenal are self-deprecating humor and pithy one-liners.

My signature line, "Be A Force on The Course" and now more recently, "Hit 'Em Where They Mow!" can be reused at no charge.