Share: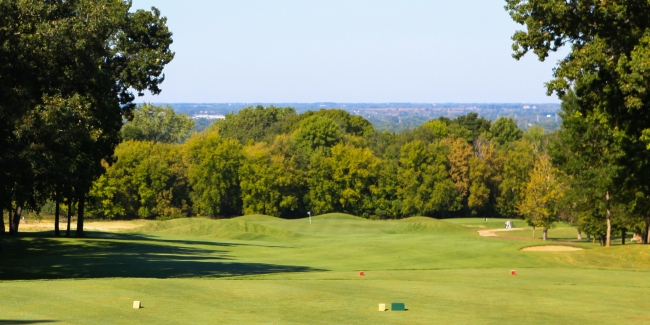 Whispering Springs Golf Club Has A Past and A Future
By John Ehle
Those of us who are interested in golf lore and the occasional obscure fact might ask this question;"What is the connection between Whispering Springs GC and Niagara Falls"? Now before you turn the page, imagine a gigantic bowl, the edges of which emerge both in Fond du Lac and Niagara Falls. This very large bowl does, in fact, connect these two locations and in geological terms it is called a geosyncline. Without miring the reader in too much geology (thereby exposing the writer's superficial knowledge of that science) please accept the fact that geosynclines are formed by extreme heat and pressure. Layered rock is pushed toward the earth's surface forming the bowl and the emerging layers called escarpments. Fond du Lac residents refer to this emergence as "the ledge", which gives the students of Fond du Lac St. Mary's Springs High School their collective name; The Ledgers.

The area east of Fond du Lac has for years been referred to as "The Holy Land"; including the parishes of St. Martin, St. Peter, Mount Calvary and St. Mary's Springs.The golf course began as a 9 holer; originated by a local farmer named Stephany and variously named "Town and Country", "Ledgewood", and/or "Ledgeview". Ed Huck, a Fond du Lac businessman, purchased the land from St. Mary's and hired architect Bob Lohmann to tweak the original nine and to design nine new holes. Lohmann's design characteristics as straightforward; deep bunkers and visible hazards as well as generous landing areas off the tee. The greens are undulating and kept in great condition by Matt Schmitz, course superintendent. Schmitz' commitment to the course is evident in the attention to detail and general conditioning. This translates into a quality golf experience. Shots into greens are key; requiring accuracy and discriminating club selection. Once on the green, fair but challenging contours present looks which can send the careless putter on his/her way to the next tee muttering single syllables.

My playing partners were local legends Bob Giese and Craig Hoff, who made par on holes 5 through 8.That great string did not, however, prepare them for #9, the signature hole on the front nine.At 445 yards from the back tees, a long, well-placed tee shot is required to avoid the 70 foot poplar which stands as sentinel in the left-center of the fairway.Par on the ninth should be savored. Most play it as a par 5 and neither Craig nor Bob were exceptions.

Number 12 is a 430 yard par 4 which plays downhill to the west. The tee occupies the highest ground on the golf course and the view is exhilarating, especially when edgy weather is moving across the valley. Thirteen and fourteen are literally on "the ledge"and the locals say that the weather breaks up when it arrives at this spot on the golf course. Fourteen is a short (350 yard) par 4 which encourages a layup to the beginning of an expansive complex of bunkers. The approach shot requires some tact as the green is well-protected; mature oaks on the right and OB on the left. Made par? Walk away quietly.

When I first toured the course I noticed an overgrown teeing ground on #18 which would have added 40 yards to the hole. Judged as possibly unfair, the ground was never groomed but it would have added teeth and claws to an already challenging par 5. The shot into 18 green requires a carry over a wetland and large, deep bunkers. Once on, the smart play is to aspire to a two putt as the potential to exceed par is great.

Whispering Springs has been open for 17 seasons and is still in the category of "hidden gem" and "well-kept secret". Several golfers who I've asked about playing WSGC have confused it with another venue to the east, Whistling Straits. While these are decidedly different destinations in Wisconsin's growing constellation of great golf courses, both have bright futures and storied pasts. If you haven't taken the opportunity to play Whispering Springs, do so. It's only an hour from downtown Milwaukee and you won't be disappointed.

Fall Rates are $43.50 for 18 holes riding; $40.50 for Seniors. For additional information, call Zach Panier at 920-921-8053 or whisperingspringsgolf.com.

Revised: 10/11/2012 - Article Viewed 30,187 Times - View Golf Course Profile
About: John Ehle
---

John Ehle writes for GolfWisconsin.com, GolfTrips,com and other golf-related sites in the US. He has attended 6 Open Championships in the British Isles and many men's and women's US Opens and PGA Championships as well as Ryder Cups and President's Cups.

His primary international writing is golf course reviews and travel articles. He also writes about golf equipment and other golf-related products. Most recently he traveled to Cuba and will be in SE Asia for 6 weeks in February and March, 2012.

He writes a weekly column for a metropolitan newspaper in the Milwaukee, Wisconsin area. He is a 10 handicap golfer and has competed in many Wisconsin State Golf Association events.

---
More Articles by John Ehle