Share:
---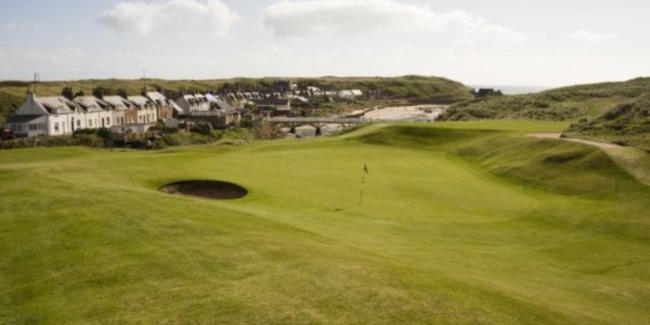 Cruden Bay Golf Course
Scotland - Blind Shots
By Blaine Newnham
From the sublime to the ridiculous, from the Trump International to Cruden Bay, all in a couple of day's work crossing Scotland and heading to the Highlands.

Way back in 2000, at the debuting Kingsbarns course near St. Andrews, I was fortunate as a single to join a group that included Herb Kohler, the toilet czar who built Whistling Straits.

Each summer Kohler would spend two weeks playing golf in Scotland and Ireland with his buddy, designer Pete Dye. I asked Kohler what he and Dye considered the two best courses everyone didn't know.

Without hesitation, he named Carne in Ireland and Cruden Bay in Scotland.

Not far from Trump International, Cruden Bay enjoys some of the same enormous dunes along the North Sea, but beyond that there are no comparisons.

Cruden Bay is a quirky and historic outpost of golf, actually designed in the 1890s by Old Tom Morris as a resort for the Great North of Scotland Railway.

After our round the general manager, Les, showed us a film clip he had gleaned from the national library of Harry Vardon and Ted Ray playing Cruden Bay.

In the 20s, the ``Brighton of the North'' as Cruden Bay was called, was visited by many leading socialites and barons of industry.

But that was a different time. The railroad shut down following World War II and the lavish hotel atop the hill was demolished.

The course prevailed with many of the same greens Old Tom Morris had designed.

The building of the extravagant Trump course has brought new attention to a very old place. For those willing to leave the confines of St. Andrews there has developed a sort of gorse golf trail, St. Andrews, Carnoustie, Royal Aberdeen, Trump International, Cruden Bay, and even farther north to Nairn, Castle Stuart and, finally, Royal Dornoch.

With the soaring dunes, the views of the beach, the Bay of Cruden and even the Slains Castle in the backdrop, there's nothing quite like Cruden Bay.

The Castle, by the way, was a model for Bram Stoker when he wrote "Dracula."

Not that the course is creepy, but it is crazy, with seven blind holes.

Let us count the quirkiness:

Once when you walk off one green to hit your next tee shot directly over it.

Or better yet, try to play a 200-yard, dogleg par 3 with no green in sight. Or follow that hole with another par 3 in which you can't see the green. Back-to-back blind shots.

Or tell the group behind you that you're off the green by ringing a bell on top of dune by pulling a 100-foot long rope.

Or hit blindly to a "basin" green. Or play a shot off the beach.

Or stand there taking pictures from atop a dune that also serves as the ninth tee,

Or be seduced in the clubhouse after the round to try Stovies, an unsightly pile of meat, potatoes and onions that tastes better than it looks. Much better.

We caught an afternoon with the wind howling as if often does. You measure wind speeds not in miles per hour, but by club selection. This was four clubs. In other words, if you'd hit seven iron on a calm day, you'd hit three iron on this day. As if you actually still had a three iron.

Quickly, a par 4 becomes a par 5, and a par 5 is a par 6. When Vardon and Ray played Cruden Bay it was par 78 at just about 6,200 yards, where we played it. It's all about timing and perspective.

We turned into the wind on No. 4 and played the next seven holes with our stocking caps pulled down. You quickly understand "swing easy when it is breezy." The harder you swing, the higher the ball goes, and high is not what you want.

Cruden Bay is a heck of a golf course. The drop-in charge is $150 for all-day play. Trump International is twice that much and, in my opinion, half the fun.



Revised: 05/15/2013 - Article Viewed 18,981 Times
Share Comment
Written By: Blaine Newnham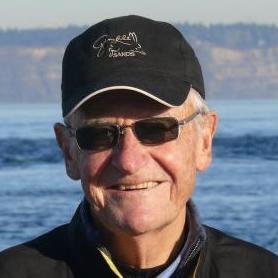 Thirty five years as a sports columnist - last 23 in Seattle - during which he witnessed five Olympic Games as well as Tiger Woods four consecutive major championship victories. He covered Willie Mays when he played for the San Francisco Giants, Steve Prefontaine when he ran for Oregon, Ken Griffey Jr. when he debuted for the Seattle Mariners. He walked 18 holes with Ben Hogan at the 1966 U.S. Open, and saw Larry Mize chip in to beat Greg Norman at the Masters. He has written two books, including Golf Basics for Barnes and Noble and played everywhere from Ballybunion to Bandon Dunes, his most recent trip in May, a nine-rounds-in-seven-days gambol from Dublin to Northern Ireland and back. He and his wife, Joanna, live in Indianola, Wa.