Share:
---
CASTLE STUART
Home of the Scottish Open
By Blaine Newnham
An exciting new addition to the repertoire of Scottish links golf courses is Castle Stuart, site of the July Scottish Open.

In fact, take a look at it when the Golf Channel brings us Euro Golf. It is the week before the British Open and a perfect warmup.

The day we were there Paul Lawrie, the Scot and improbable winner at Carnoustie in 1999, teed off a few hours before we did.

There is not much not to like about Castle Stuart. A s one Scot who should know told us, Castle Stuart is Kingsbarns without the mistakes.

It reminded us of Bandon Dunes. Here was a successful replication of the old links courses. Indeed, at the same time showing some improvements on them.

Hanse has said that he sought drama on a course that engaged players of all levels. Give him an A for that.

The course is the privy of Scot Mark Parsinen, who some time ago developed Kingsbarns - a wonderful modern links course near St. Andrews - only to sell it and look for another, and more exciting, piece of property.

He found farmland running abruptly into the Moray Firth near Inverness. It was farmland on one side of a ridge and and a strip of land below it right on the beach.

With a clever design, Hanse takes us along the beach for six holes- three on the front and three on the back - and then works over the ridge and into the farmland for the other dozen.

Fairways are wide as they should be on a wind=blown course, and forced carried are at a minimum.

The course is difficult enough as the pre-Open competitors will find out, but it also very playable for the rest of us, or the Retail Golfers as Mike Keiser, the Bandon owner, calls us.

In some ways, it was the course that pushed Hanse into the forefront of American designers. A protégé of Tom Doak, Hanse, from Pennsylvania, first did the Craighead course at Crail, just south of St. Andrews.

Parsinen knew something good when he saw it, picking Hanse before the Olympic folks in Brazil did, and before Mike Keiser did in naming him the architect of the so-called "Bandon Muni" south of town that awaits state and county approval.

Castle Stuart isn't a private club the way most of the Scottish courses you will play. The parking lot looks and feels like one at Bandon Dunes, with players coming in from all over to play the course.

Daily fee is $150, it isn't cheap, but the course is in great condition - ``best in the U.K., said the starter. Not bad for being four years old.

All in all, it is a wonderful experience, lacking, surely, some of the quirks and tales of original links golf, but with so many views and so many interesting hole and shots, and a chance to take them all in.
Revised: 06/05/2013 - Article Viewed 18,642 Times
Share Comment
Written By: Blaine Newnham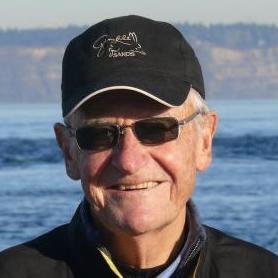 Thirty five years as a sports columnist - last 23 in Seattle - during which he witnessed five Olympic Games as well as Tiger Woods four consecutive major championship victories. He covered Willie Mays when he played for the San Francisco Giants, Steve Prefontaine when he ran for Oregon, Ken Griffey Jr. when he debuted for the Seattle Mariners. He walked 18 holes with Ben Hogan at the 1966 U.S. Open, and saw Larry Mize chip in to beat Greg Norman at the Masters. He has written two books, including Golf Basics for Barnes and Noble and played everywhere from Ballybunion to Bandon Dunes, his most recent trip in May, a nine-rounds-in-seven-days gambol from Dublin to Northern Ireland and back. He and his wife, Joanna, live in Indianola, Wa.