Share: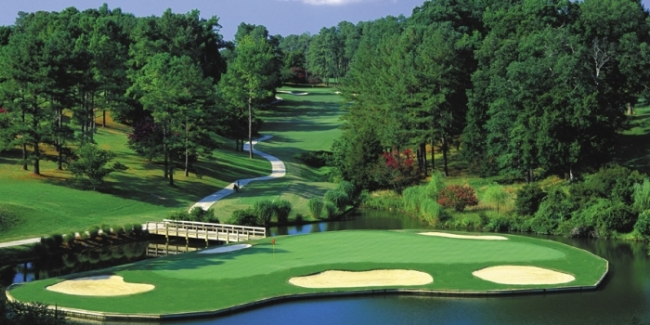 Colonial Williamsburg earns huzzahs for real-life enactments of 18th century life
By Katharine Dyson
You're walking down the Duke of Gloucester Street in Colonial Williamsburg in no particular rush. You're soaking up the beautiful surroundings with gardens all around, the fragrance of boxwood mingling with roses. Suddenly, bam. The sound of musket fire pierces the air sending you into a recoil not unlike the one you pulled off earlier in the day following your deep-into-the-ravine shank on the 11th hole of the Gold Course.

At the Benjamin Powel House, you watch a couple of kids try to get the hang of rolling a wooden hoop with a stick. Doesn't look like they are missing their iTouches at all. These kids are into it.

Located in Virginia on the Jamestown River, Colonial Williamsburg is not only America's colonial capital, it is an interactive, living museum with the emphasis on "living."
Costumed characters engage you in conversation and pose provocative questions like, "What has happened to our rights and liberties?" And "What does 'All men are created equal' really mean?" Their language is peppered with 18th century words and phrases such as "Tis" and ""How does your lady, sir?"

A lot of the action takes place on the Palace Green where interpretive actors recreate what colonists were doing and thinking in the 1700s. They argue the pros and cons of going to war with Britain and prompt 21st century visitors to join a protest against Britain's confiscation of the colonists' gunpowder. It's the closest thing you'll get to being brought back two centuries without a time machine.

You may hear Patrick Henry, George Washington, Thomas Jefferson or other legendary giants of their time, voice passionate views. "It is a question of freedom or slavery," cries Patrick Henry. "There is no longer room for any hope. We must fight, Sir.... Give me liberty or give me death."
Then a cool head ponders, "But what have we to oppose them (the British)?" Cannons are discharged, parades marched and muskets fired. The Fifes and Drums Corp steps lively and people cheer as the Declaration of Independence is passionately read.

Just as in the 18th century, when the movers and shakers of their time habitually headed to local watering holes like the Kings Arms Tavern to discuss politics and business as well as exchange all the latest local gossip, so you too can partake in the Tavern's feasts while costumed balladeers entertain and perhaps a Founding Father from the past such as Thomas Jefferson or George Washington stops by your table to share tidbits of history and ideas.
You may need help from your server to interpret some of the tasty items on the period menu like "Scuppernong "(chutney) and a chop of shoat" (pork) accompanied by Mr. Purdie's Home Brew which probably needs no explanation. But rest assured, portions are hearty, food up to 18th and 21st century standards.
For those who come to play the Golden Horseshoe Golf Club's magnificent courses here's a happy thought: you can play guilt-free knowing when you are finished, your kids or friends will hardly know you were missing. There is just so much to do and discover and it's all so much fun as 21st century mingles with 18th century citizens on the very ground where American independence was born.
Then after all that marching or playing golf, you may be ready for The Spa, a perfect place to unwind for those whose idea of a good time doesn't include learning to be a blacksmith or loading a cannon.

The colonists may not have had luxuries like whirlpools and pedicure stations, but they certainly were familiar with the soothing properties of many of the oils and herbs used in The Spa's treatments. For example the Colonial Herbal Spa Experience starts with a soothing herbal footbath followed by an orange and ginger body scrub followed by a massage.

Colonial Williamburg's places to stay include the world-class 75 year-old Regency-style Williamsburg Inn, the granddaddy of the hotels built by the Rockefellers and the place Queen Elizabeth II stayed in 1957 and 2007. There is also the very comfortable Williamsburg Lodge, the Woodlands, popular with families, the Governor's Inn on the more modest side and cozy historic houses located within Revolutionary City.

One of the great things about staying in Colonial Williamsburg is that everything is so accessible. Just park your car at your hotel, then walk or take the shuttles to places like Revolutionary City, the Gold Course and the Abby Aldrich Rockefeller Folk Art Museum. Visit tradesmen at work and see a blacksmith forge weapons to be used in the Revolutionary War. Watch how baskets, bricks and books are made and taste food as it was prepared in earlier days.

Here in the genteel south, pecan pancakes, sticky buns and biscuits and gravy conspire to start your day off with a cholesterol nightmare. But you tell yourself digging into yet another bun, "Oh, who cares. I'm on vacation."
Colonial Williamsburg, a rich repository of history brought to life, exists today because in 1926 John D. Rockefeller Jr. and the Reverend Dr. W.A.R. Goodwin, rector of Bruton Parish Church, had the foresight to preserve Williamsburg's historic buildings, a project that started modestly but expanded to include 85% of the former colonial capital.

And did we mention, service? On a cold day imagine hot chocolate laced with Bailey's delivered to you on the course?


Getting Here:
Fly into Richmond, Newport News or Norfolk. If you drive via I-64, Colonial Williamsburg is about 30 minutes from Newport News and an hour from Norfolk or Richmond. Rt. 5 along the James River is a more scenic way to go passing by plantations and farms. From Northern Virginia or Washington, DC, it's less than three hours. Amtrak services the northeast corridor stopping at Williamsburg's quaint station.
The Jamestown-Scotland Ferry is the only way to get across the river between the James River Bridge at Newport News and Benjamin Harrison Memorial Bridge near Hopewell. Approaching from the south, this ferry ride can save you a lot of time plus it's fun, free and frequent.
Golf Here:
This year Colonial Williamsburg is celebrating the 50th Anniversary of the Golden Horseshoe Golf Club. When the Gold Course opened in 1963, Robert Trent Jones described it as his "finest design." In the spring when the cherries are flowering, it seems like pink pixie dust has been sprinkled over the immaculate deep green fairways.
Whereas Gold is more a target layout, Green designed by Rees Jones is more forgiving with mounding helping to nudge off-course hits into the fairways. With water on all par 3s - you encounter the first one on hole #7 - Green features some dramatic elevation changes while bunkers are bigger than on Gold.
Warm up on the nine-hole executive Spotswood Course, the original Williamsburg Inn's nine updated by Jones Sr. in 1963. This is a fun play for families.
Courses are real estate-free and as Certified Audubon Cooperative Sanctuaries, a haven for birds and wildlife.
Don't Miss:
* Visit the Jamestown Settlement nearby, the site of the first permanent English settlement. Nothing beats watching the archaeologists at work on the ongoing excavations.
* Order traditional fare from Williamburg's restaurants like fried green tomatos from Traditions, Old Stitch Ale from Chowning's Tavern, syllabub and Indian pudding from King's Arms Tavern and beer brewed from an 18th century recipe at Huzzah!
* Catch the view from Green's 18th tee looking down to the right where you can spot of John D. Rockefeller Jr.'s weathered boathouse on the lake.
* Shop in Merchants Square and pick up a bottle of wine and cheese at the Cheese Shop and head to the public green for a picnic under centuries-old trees.
Revised: 10/07/2013 - Article Viewed 26,211 Times - View Golf Course Profile
About: Katharine Dyson
---

Katharine Dyson is a freelance golf and travel writer, author, and columnist for several national & international publications and websites as well as guidebook author and blogger. Realizing that a golf and travel writer is the most underpaid, over privileged profession on the planet, she embraces the life style traveling all over the world to play golf and check out resorts. She is a member of the Golf Writers Association of American, Golf Travel Writers of America, the Society of American Travel Writers, and Metropolitan Golf Writers Association.
---
More Articles by Katharine Dyson