Share: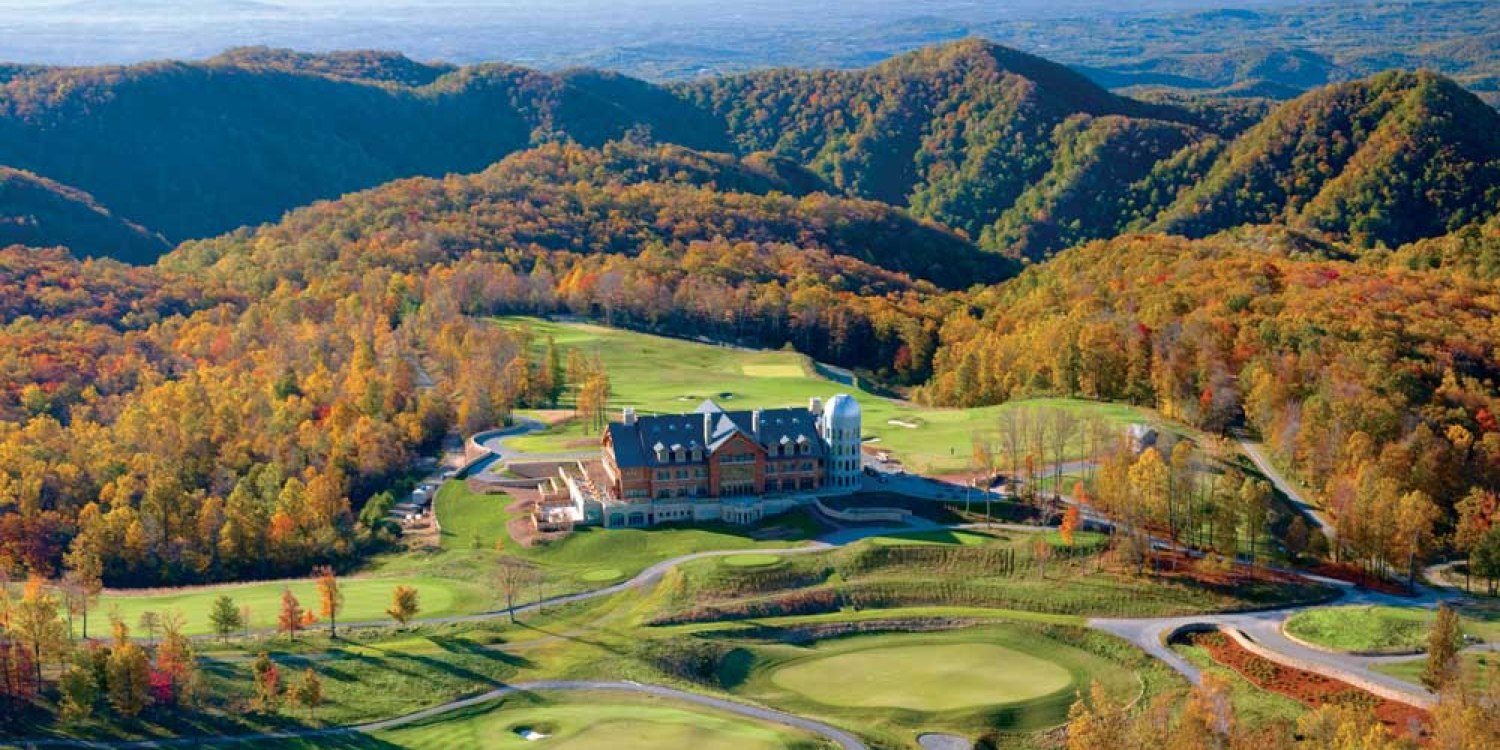 The Highland Course at Primland
By Katharine Dyson
Riding along the top of Virginia's Blue Ridge Mountains, Primland with its golf, fishing and hunting is a sportsman's paradise

When renowned British architect, Donald Steel set out to design and build the golf course at Primland in southwestern Virginia's Blue Ridge Mountains, he decided the best place to lay it out was along the top of the mountain accessed by a steep climb up a rough logging road.

"When I learned the land on top had been farmed, I knew there would already be a good base in place for a course," he said. "It was wildly exciting. How many architects have a chance to work with land like this?"

Working from a topographical map, Steel routed the fairways to the outer extremes of the ridge revealing views of Dan River Gorge and the twin Pinnacles of Dan. "The only hole we had to blast through was the first hole," says Steel.

Primland is vast, pristine. Driving there you typically pass through Mount Airy, NC, Andy Griffith's hometown and site of Snappy's Lunch and Lloyd's Barber Shop. Its main lodge and golf course are a seven-mile drive from the north gate to the top but once you get there, in whatever direction you look, you see mountains, ravines and valleys. Spectacular.

"Some courses seem built to a formula rather than to suit the land," says Steel. "Even when people are given very good land, they sometimes feel they have to turn it upside down and put it back together again." But he says, "Why mess around with something God created."

Steel is the only architect to have had a hand in the design of every course played in the British Open Championship. A member of the Royal and Ancient since 1962, he also provided the master plan for the modern St. Andrews and is the only golf course architect that as an amateur played in the (British) Open Championship.


Like Carnegie Abbey in Rhode Island, another course created by Steel, Primland is designed as a sporting retreat offering much more than golf. At Primland you have great fishing, hunting, hiking, disc golf, horseback riding, kayaking, mountain biking, sporting clays, ATV tours, tree climbing, geo-catching, tennis, spa and even an on-site astronomer offering high tech stargazing.

There are about 60 guest bedrooms between the Lodge, the Fairway Cottages, a handful of Mountain Homes, and cliff-hugging tree houses. That adds up to 200 acres per guest but with your own golf cart and shuttle service getting around in easy. And fun.

At Primland, it's kind of like going to summer camp where adults can have as much fun as the kids but instead of sleeping on canvas cots, you're snoozing on thick luxurious mattresses made up with Frette linens and goose down duvets. Instead of showering under outdoor spigots you're splashing around in huge glass-enclosed showers and sinking up to your neck in deep tubs.

And instead of grilling burgers you're dining on artfully prepared cuisine made from locally produced ingredients like wild game and vegetables. And.... roasting marshmallows around the fire pit on the patio.

Unlike many golf developments, Primland has no real estate component, probably a good reason those who appreciate nature will love it here

"A golf course should not intrude," says Steel. "You should be rewarded when you hit the fairways." Steel also believes is designing layouts with variety. "You don't want every hole to look the same," he says. Yet with Steel's designs, there is nothing "tricked up" about his courses. "I hate gimmicky things," he says.

Steel also believes in making his courses enjoyable for all levels. "These days there is too much focus on professional golf - we should be catering to the 98% of all the other golfers," he says. With that in mind, women and shorter hitters will find Primland not just visually powerful but quite playable especially if they use the tee best suited to their game.

"Not the least of golf's attributes is that it affords us access to some of the most beautiful place on earth," adds Steel. Certainly Primland is such a place.
Revised: 10/07/2013 - Article Viewed 21,458 Times - View Golf Course Profile
About: Katharine Dyson
---

Katharine Dyson is a freelance golf and travel writer, author, and columnist for several national & international publications and websites as well as guidebook author and blogger. Realizing that a golf and travel writer is the most underpaid, over privileged profession on the planet, she embraces the life style traveling all over the world to play golf and check out resorts. She is a member of the Golf Writers Association of American, Golf Travel Writers of America, the Society of American Travel Writers, and Metropolitan Golf Writers Association.
---
More Articles by Katharine Dyson