Share:
---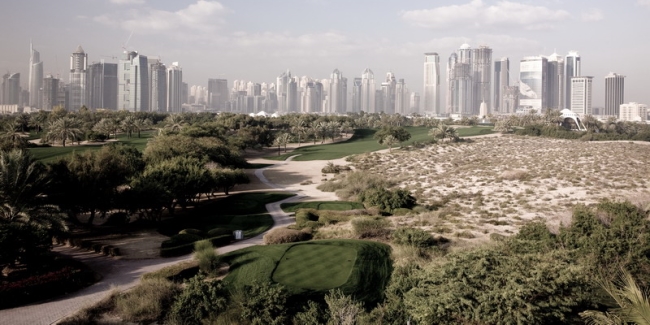 You Say Dubai and I Say Hello
By Larry Berle
The city of Dubai may not have even existed when The Beatles wrote that song but I am thinking about it as I sit in my hotel in Dubai.

There are seven Emirates in the U.A.E., the largest of them being Dubai and Abu Dhabi. The British empire gave up control of this area in 1971 and the U.A.E. was established in Dec of that year. It was probably all desert back then, but the discovery of oil in the 50's brought money, huge construction projects and now Dubai has become one of the most expensive cities in the world and everything is first class. If you search, you can find cheap local restaurants and hotels, so you can come here on a budget, but that is probably not why you are coming here.

The great football coach, Vince Lombardi is widely credited with the quote "Winning isn't everything, Its the ONLY thing." When the visionaries who created Dubal translated in into Arabic they must have thought he said " The biggest is not everything, it is the ONLY Thing." After a few days here this seems to be the driving force of Dubai.

In addition to golf, it is home to Burj Khalifa, the tallest building in the world, the only indoor ski area in the world, Abu Dhabi has the fastest roller coaster in the world and the list goes on. We even heard that as Saudi Arabia is planning a taller building, that Dubai is ready to go one taller than that (can't loose that tallest building the world status). The attitude just seems to be " the biggest or the best or why bother. They even have a 7 star hotel , The Burj Al Arab, and it is currently the only 7 star hotel in the world.

Then there is the man-made Palm Island which added over 300 miles of non public beach front to the city of Dubai so more people could buy waterfront property on the palm fronds that extend from the center of the island. Palm Island was such a success that there is a new development of Islands in the planning called The World, laid out as a map of the world.

The Dubai Mall is the largest mall in the world with over 1200 stores. There are probably over 600 hotels not to mention condos and houses to rent to visitors hotels with many more coming on line between now and 2020 when they host the World Expo. In 2013 Dubai hosted nearly ten million visitors.

Then there is what is left of the old city. We visited the spice market and Gold market (the Gold Souk is the largest in the world) and they are quaint and crowded and very much like the markets of many arabic countries. Our metro stop was on the other side of Dubai Creek and we took a .25 cent Dhow ride across the water to the other side. (these are the old water taxis of the region) But, go a few miles from there and the opulence begins. Dubai is so westernized that if I blindfolded you and dropped you in the middle of Dubai, you would not even know you were in an Arabic country.

There are many things to see, many beautiful hotels and plenty of wonderful golf. Let me give you a snapshot


Movenpick Hotel Jumeirah Lakes
There must be hundreds of hotels you can pick from here in Dubai, and in a few months there will probably be many more , one more glorious than the next. Dubai seems to be in a building frenzy. But we are visiting four different hotels on this trip and the Movenpick at Jumeriah Lakes is an excellent choice. It is brand new (opened Oct 2013) and intimate with only 168 rooms. The service is wonderful and our one bedroom suite is just perfect. The workout room has just what we need and the negative edge pool is beautiful and warm.- Did I mention the sumptuous breakfast buffet? You can eat enough for the entire day if you want. Compared to the other hotels in Dubai, this one in moderately priced.
http://www.moevenpick-hotels.com/en/middle-east/uae/dubai/dubai-jumeirah-lakes-towers/overview/
Jumeriah Emirates Towers Hotel
As we were being greeted at the door we were told this has been the number one business hotel in the world and after entering the lobby and seeing our room- I can imagine why.
With over 400 Rooms and Suites and over 14 restaurants and bars. Your needs in Dubai may be 2 simple things, Great golf courses and this hotel. It is apres golf at its best. No real need to go anywhere else. We had dinner at Al Nafoorah, (derived from the Arabic word for Fountain) their award winning Lebanese style restaurant. I have had a few Lebanese dishes in my day but tonight I was treated to some delicious Lebanese fare that I had not even heard of before. Its a delight for your tastebuds and you should experience it when you come here.
The views alone are worth staying here- the glass elevators all have panoramic views of the glass wall atrium and the skyline and Persian Gulf. You may just want to spend your day riding up and down the elevator. You can spend $35 to visit the observation deck at Burj Khalifa, the tallest building in the world at 140 stories, or come here and ride the glass elevators 50 stories for free.
www.jumeirah.com
Madinat Jumeirah Hotel
This resort is really 3 hotels in one resort and its on the beach in Dubai. The rooms and the service are as good as it gets and you get around the resort either by golf cart or water taxis. There are over 2 miles of waterways winding their way through the property so the water taxis are a wonderful way to get where you are going. If you are looking for a relaxing beach stay, this is the place
https://www.jumeirah.com/en/hotels-resorts/dubai/madinat-jumeirah/
If you want to see what this land was like 25 years ago, before all the development, take a desert Safari. We were picked up at our hotel in a 4 x 4 vehicle at about 3:30 and were taken about an hour out of town, where the development ends and the barren desert begins. The desert goes on forever with little or no vegetation and the sand blows up into giant dunes, some 15 or 20 feet high Off road we went for a half-hour thrill ride called Dune Bashing. Up and down and across the sand dunes, racing up one side then sliding down the other, until it was almost sunset, when we stopped for sunset photos over this barren desert. Then we were off to a camp with Camel rides, belly dancing and a huge BBQ dinner with enough choices for food that its bound to satisfy anyones dietary desires. There are many companies that offer this service.
Golf in Dubai
There are currently ten golf courses in Dubai and 3 in Abu Dhabi but like everything else in Dubai, Golf is growing at a rapid rate. Most golf visitors come from Asia and Europe. Less than 3% of golf tourism is generated from the United States. As Emirates airlines adds more non stop service to Dubai from several cities in the US, this too will grow. Several other airlines fly there from the U.S. as well. Its a long ride from the U.S. to Dubai but if you want world class golf and a fabulous cultural experience its worth the many hours on the plane.
The best way to arrange your golf trip is with Dubai Golf. They will arrange everything for you and a group of any size to play the best golf courses and stay at the best accommodations in the area. If you are looking for the best (and why else would you travel to a place like Dubai), then these are the people to arrange it for you.
For further information contact Pansey Gonsalvez +971 4 380 1234, email golfbooking@dubaigolf.com or visit
www.dubaigolf.com
Of the ten courses in Dubai, I am going to tell you about 3 of them.
The Track Meydan Golf
At first glance you may ask "why would I travel 1/2 way around the world, where there are world class golf courses and put The Track Meydan on my schedule. To play 18 holes you have to play it twice but when you are done, if you played the tips, you will have played a 7412 yard course. We played 9 holes at 5:00 in the evening (its open until 11 PM) and here is what I found intriguing about this place.
1. The entire course is floodlit, So in the dark you can see the course and your ball in flight quite well. If you love golf so much that there aren't enough daylight hours for you, come here and keep playing into the night. I had never played a lit up course at night so this was a new exciting experience for me.
2. There is water on almost every hole, and it just brings a beauty to a desert course that you wouldn't expect.
3. The fairways and greens were in very good shape (but stay out of the sand, you wont like it)
4. As you stand on the tee boxes of numbers 3,4 and 9 you are treated to a view of the Dubai skyline that is awesome, and if you don't understand what I am talking about, remember that it includes looking at the tallest building in the world. As we played number nine in the dark, with the lights of Burj Khalifa starting to glisten all over its impressive 2716 feet of height, It almost makes you forget to take your next shot.
I am guessing that night golf In the summer is quite popular, as there are daily highs of 115 degrees with overnight lows of 85 degrees . So golf at night would be quite appealing. Go try it after dinner one night and I think you will enjoy it as much as I did
www.meydangolf.com
rates are 595 AED for a round
The Emirates Golf Club
If you have watched the Dubai Desert Classic on TV or the Dubai Ladies Masters, you have seen the Emirates Golf Club. It's a club with 2 golf courses. Today we played The Faldo course called The Wadi. It is a typical Faldo design with high profile dramatic bunkers. It also has a wadi (valley) that runs the length of the course. The fairways and greens were in great shape and the rough is lush and beautiful. Enjoy wonderful views of the Dubai skyline from the front nine as you try to navigate your way through the water, sand and many palm trees.
Its not easy. If you want a challenge, you have come to the right place. You can even play it at night.
Address: PO Box 24040, Dubai, UAE.
Course details: Majlis par 72, 7,301 yards; Wadi - par 72, 7,328 yards
Did you know? The Wadi course was re-designed by six-time Major winner Nick Faldo and re-opened in October 2006
fees 695 AED sometimes as low as 500 AED
CONTACTS:
T: (00971) 043 802222;
W:
www.dubaigolf.com
Dubai Creek Golf Club
The Dubai Creek Golf Club has such an iconic clubhouse that it is the only clubhouse in the world that is featured on its countries currency, (in this case the Dh20 note). It has been voted as one of the top 100 must-play golf courses in the world by UK magazine Golf World. The club opened in January 1993. The clubhouse design is based on the sails of a traditional Arab dhow. Thus the clubhouse reminds you of a sailboat.
Dubai Creek has played host to numerous tournaments and events, including the Dubai Desert Classic in 1999 and 2000. It stretches along the banks of Dubai Creek, and the setting is beautiful and the course is in fabulous condition. If you are coming to Dubai on a golf trip, this course better be on your list.
A couple of the highlights: Number six with its floating tee built approx 30 yards into the creek, where you stand in awe as you prepare to hit your tee shot back to the mainland. If the challenge of the creek all the way up the right side isn't enough, on the left is a 3 level pond with a waterfall that will certainly get your attention.
Number thirteen is a 544 yard par five to a jaw clenching island green. Does this sound like there is lots of water in play at Dubai Creek? There is water in play on almost half of the holes, so if your ball isn't clean enough there will be plenty of opportunities to "rinse it off"
http://dubaigolf.info/dubaicreek/dubaicreek.html
Jumeirah at Etihad Towers (in Abu Dhabi)
Abu Dhabi, the largest of the Emirates is less than an hours drive from Dubai. It translates in English to "Father of the Gazelle" named for the Arabian Gazelle- found around here. It is an island city. This is contemporary architecture at its best. We are across the street from the Palace hotel, which is the Sheik's old palace, which apparently was not up to his standards. So it became a luxury hotel and the Sheik has a newer bigger palace just next door. I would tell you all about it but he did not invite us over. However our view of the gulf is fabulous, and the hotel may be one of the most beautiful I have ever stayed in.
http://www.etihadtowers.com
You can play golf in Abu Dhabi (there are 3 courses) but there are many other things to see and do. Ferarri World has the worlds fastest roller coaster and the Shieks palace is hugely impressive but don't miss Sheikh Zayed Grand Mosque.
Sheikh Zayed Grand Mosque
We went to visit the Sheikh Zayed Grand Mosque There are many impressive things about this beautiful mosque, you can read them on their website but here are just a few. The hand made Persian carpet is the largest carpet in the world. The Grand Mosque has handled up to 51,000 worshipers at a single time. There are seven chandeliers, all decorated with Swarovski crystals. The largest weighs twelve tons and was the largest chandelier in the world when it was installed. It opened in 2007 and took over 10 years to build. It is clad in white marble on every wall, inside and out, Its whiteness is overwhelming.
http://www.szgmc.ae/en/
10 things for families to do in Dubai and Abu Dhabi
Here is a very short list of family things to do in Dubai and Abu Dhabi (less than 1 hours drive apart) The activities are far to many to mention but here are some highlights. First of all this is just a fascinating place to visit. If I blind folded you and dropped you in the center of Dubai, you would never guess you were in an Arab country.
The great football coach, Vince Lombardi is widely credited with the quote "Winning isn't everything, Its the ONLY thing." When the visionaries who created Dubal translated in into Arabic they must have thought he said " The best and the biggest are not everything, they are the ONLY Thing." After a few days here this seems to be the driving force of Dubai.
1. Visit Burj Khlafia the tallest building in the world with a fabulous view of Dubai from the Observation deck. Its over 150 floors and over 1/2 mile high
http://www.burjkhalifa.ae/en
2. Go Skiing in the desert. Emirates Mall has the only indoor ski area in the world. Ski, Snowboard, Sled, Meet the Penguins.
http://www.skidubai.com
3. In Abu Dhabi ride the fastest roller coaster in the world reaching an astonishing top speed of 149 mph. Formula Rossa accelerates from 0 to 60 miles per hour in 2 seconds.
http://www.ferrariworldabudhabi.com
4. Visit The Sheikh Zayed Grand Mosque in Abu Dhabi, one of the largest mosques in the world with the largest carpet in the world, all done in white marble.
http://www.szgmc.ae/en/
5. Visit the largest shopping mall in the world, Dubai Mall, with over 1200 stores and a water fountain choreographed to music that is bigger than the one at the Belagio in Las Vegas
http://thedubaimall.com/en/
6. See Burj Al Arab the only 7 star hotel in the world built on its own island and its kids club. You can look but you can't visit unless you are staying there or eating in one of their restaurants.
7. Visit the Palm Island, which is man made and home to the Atlantis hotel
8. Take a Desert Safari, go "dune bashing" in a four wheel vehicle and have a barbecue buffet in a camp in the desert
9. Visit Old Dubai or the Bastakiya to experience the traditional roots of Dubai and visit the Gold Souk and the Spice Souk - it is unlike the remainder of the extravagant rest of Dubai
10. Jumeirah hotels and resorts has several properties in Dubai and several have kids clubs. The best we found was the Madinat Jumeirah. Its located on the beach with several swimming pools- a huge shopping area called the Souk, Two miles of water ways with water taxis and of course the Sinbad's Kids Club
https://www.jumeirah.com/en/hotels-resorts/dubai/madinat-jumeirah/
Revised: 03/03/2014 - Article Viewed 18,979 Times
Share Comment
Written By: Larry Berle

A Golfer's Dream is Larry Berle's first book. In his previous career, Larry owned SRO Productions in Minneapolis, Minnesota; a company specialized in concert promotion, event management, and CD compilations for radio stations. He worked with many artists, including Andy Williams, Tony Bennett, George Winston, Yanni, B.B. King, James Taylor, Bill Cosby, and Sinbad. After 31 years in the business, Larry sold SRO in 2004. He still produces small theatrical plays occasionally but spends most of his time playing, and writing about, golf.

Larry was introduced to the game by his wife Annie in 1990 and has been an avid fan and player ever since. Annie took him to Pebble Beach for his birthday in 1992 where the dream to play the Golf Digest Top 100 was born. What is truly amazing about Larry Berle is not only that he achieved his quest but also that he published this book. In June of 2006, with 90 percent of the first draft completed, he suffered near-fatal injuries as a result of a bicycle accident in Minneapolis. He lay in a coma for nearly two weeks and was hospitalized for two months. Larry not only survived but made a full recovery and regained his fabled drive and ability to concentrate. After months of therapy, he was able to complete and publish A Golfer's Dream, a testament to his remarkable achievements in golf and in life. A slightly above-average golfer (handicap index of 11.9), Larry has no handicap in networking and is not afraid to ask for help, especially when it comes to playing Top 100 golf courses.