Share:
---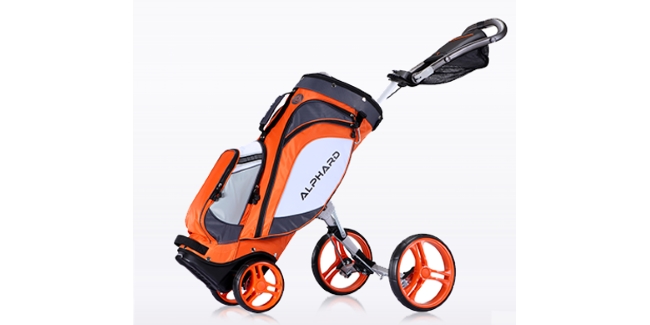 Alphard Golf Duo Cart Review
The Union of Cart and Bag
By David Theoret
When it comes to push carts, I think of Bag Boy - they were the big thing when I was growing up. Now it's names like Clikgear and Sun Mountain. I recently came across a company that I think will soon become a recognizable name in this niche market: Alphard Golf.

You may think of Alphard Golf is the new kid on the block, but the truth is, they have produced more than one million pushcarts under the guise of other brand names since 1999. With over 16 years of experience designing and fabricating walking carts, Alphard is striking out on its own, marketing its all-in-one cart/bag combos - as well as traditional stand and cart bags - under its own name. This Freemont CA based company has created something that could easily revolutionize the industry.

The Alphard Duo Cart is easier and faster to set up than any separate golf bag/push cart on the market. It's a simple two-step process that takes less than 10 seconds, thanks to the built-in hydraulics. It's also a lot more compact - about 30% more - then a separate cart and bag, making the Duo easier to fit into the trunk of your car. When folded, the Duo measures a scant 13 x 18.5 x 46 inches, leaving plenty of room for your partner's bulky setup.

And, should you get to the course and decide to ride in a cart, the "cart" portion of the Alphard Duo detached in seconds. Simply pop the front wheels off with the push of a button and remove the entire rear-wheel assembly by loosening the two set screws, leaving a bag that fits comfortably into the bag well of gas and electric carts.

Growing up, walking carts had two wheels and, for the most part, you pulled them. They have evolved to the point now that they are "push" carts - four wheeled, lightweight vehicles that can handle even the bumpiest terrain. The Alphard Duo is all this and more, mainly because of the unit's low center of gravity and polyurethane tires - 10.5" in the rear and 7" in the front - that never require maintenance. The handle is fully adjustable with independent adjustments for height and angle, making the Duo Cart suitable for junior golfers or basketball superstars. There is also a mesh compartment in the handle with a magnetic lid for scorecards and pencils. A detachable cup and umbrella holder come standard with the Duo and a parking brake will keep the cart from rolling down hills.

Now, let's talk about the bag. At first glance, it looks like any other 9.5" cart bag. The top features 14-way, full-length club dividers, making the clubs easy to organize. Then, there are nine pockets, including a velour-lined valuables pocket, an insulated cooler pocket and a full-length apparel pocket. The Duo also comes with a rain hood for the bag. You can store more golf stuff than you'll know what to do with.

But what separates Alphard golf bags from other bags is what Alphard calls "Detachable Skin." Think about it, how many times have you gotten rid of your golf bag because the outside was worn out and ratty looking? With Detachable Skin, simply unsnap the outside of the bag and snap on the new skin - it's that simple. You can change the color of the bag to match your outfit if you like! I live in a golf community and kept my bag on a cart, which wore a good-sized hole in the side of a really nice (and expensive) golf bag. The Detachable Skin would have let me extend the life of the bag and saved me a considerable amount of money in the process.

The Alphard Duo comes fully assembled right out of the box. All you need to do is snap the wheels on with a simple push of a button in the center of each hub, adjust the handle and you're off. No more slipping golf bags that need to be repositioned on the cart multiple times during the round.

The Duo Cart is available in three models: the Duo Deluxe, the Duo Lite and the Duo Evolution; all three offer the same convenient cart/bag design. The Lite retails for $330, Deluxe $350 and the Evolution will set you back $380. With most push/pull carts running in the $200 - $250 range and a decent bag going for around $200, why wouldn't you choose something that looks good, is more convenient, has all the features you will ever need and is cheaper? Looks like Alphard Golf has created a winner. This could very well be the last golf bag you will ever need.

If walking is a part of your game, you owe it to yourself to check out the new lineup of Alphard push carts and golf bags. For more information in the Duo Cart line up, you can visit Alphard's website: www.alphardgolf.com.


Revised: 03/17/2015 - Article Viewed 24,134 Times
Share Comment
Written By: David Theoret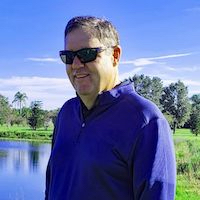 David Theoret has been in the golf and golf travel industry for over 10 years, primarily selling online advertising. For the past seven years, he has also been a golf writer, reviewing golf courses, resorts, destinations, equipment, golf apparel, and training aids - the latter of which never seems to help. David's articles and reviews have been posted on many golf travel and equipment websites.

Growing up in Southwestern Ontario, Canada, it was naturally assumed he would play hockey. Beginning at the age of 3 and continuing into his late 30's, he did just that. However, after one too many pucks to the head, he realized that golf was a lot easier on the body (whoever said hockey players were slow) and took the game up.

After moving to Florida and accepting a position with TravelGolf Media (now part of GolfNow) his love for the game grew exponentially. Most Saturdays you will find him on a course somewhere in Florida or on the practice range reinforcing his bad habits. David plays to a 10 handicap - unless there is money involved in which case it goes considerably higher. He currently resides in Lakeland, FL with his wife Belinda and their two "kids", Madyson and Molly.