Share:
---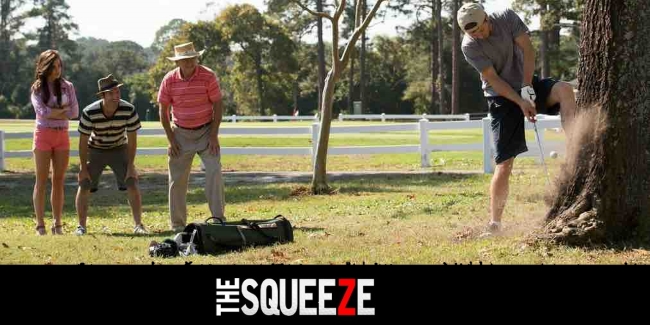 The Squeeze Movie Review
A Golf Movie With Real Golfers
By David Theoret
ARC Entertainment has acquired the rights to The Squeeze, a full-length motion picture based on a true story and written/directed by Terry Jastrow. Mr. Jastrow has numerous accolades including producing and directing many U.S. Opens, British Opens and PGA Championships as well as instructional video series for such notables as Nicklaus, Palmer and Watson.

Although not employing any A-List actors, you are sure to recognize some of the cast. Jeremy Sumpter, best known for roles in Friday Night Lights and Peter Pan, plays Augie, a well-grounded, going nowhere young man with uncanny golf skills. He and his girlfriend/caddie Natalie - played by Jillian Murray (American Carol and Cougar Hunting), live in small town, rural America and have big dreams of him someday winning the U.S. Open.

One day, Augie catches the eye of Riverboat, a professional gambler played by Christopher MacDonald - "Shooter McGavin" in Happy Gilmore. After hearing of Augie winning the City Golf Championship in a runaway, Riverboat and his girlfriend/banker Jessie (Katherine LaNasa) convince him to play a one-on-one match at a nearby club for some pretty big money. After winning the match and getting a taste of the high life, Augie abandons his U.S. Open aspirations - much to the disdain of his better half, and embarks upon an endeavor totally fueled by something that has been lacking in the past - money. It all comes to a head when the final match becomes a no win situation; instead of being "life or death" it becomes "death or death". There are a couple of other subplots within the film that add to its enjoyment so I won't give them away, nor will I mention the ending, which was quite a pleasant surprise.

The Squeeze has been previewed by such big golf names as Jack Nicklaus, Tom Watson and Phil Michelson; who all enjoyed it because of its authenticity. The actors (and actresses) can actually play golf. Steve Wynn of Wynn Resorts commented on how real the gambling scenes were.

Although I couldn't find out what The Squeeze has been rated, based upon what I saw it can't be any worse than PG-13. The Squeeze is set to be released on DVD June 9th, 2015.


For more information you can visit the website www.thesqueezemovie.com.

Revised: 03/30/2015 - Article Viewed 18,997 Times
Share Comment
Written By: David Theoret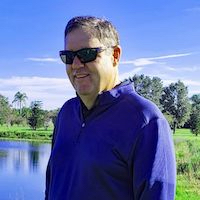 David Theoret has been in the golf and golf travel industry for over 10 years, primarily selling online advertising. For the past seven years, he has also been a golf writer, reviewing golf courses, resorts, destinations, equipment, golf apparel, and training aids - the latter of which never seems to help. David's articles and reviews have been posted on many golf travel and equipment websites.

Growing up in Southwestern Ontario, Canada, it was naturally assumed he would play hockey. Beginning at the age of 3 and continuing into his late 30's, he did just that. However, after one too many pucks to the head, he realized that golf was a lot easier on the body (whoever said hockey players were slow) and took the game up.

After moving to Florida and accepting a position with TravelGolf Media (now part of GolfNow) his love for the game grew exponentially. Most Saturdays you will find him on a course somewhere in Florida or on the practice range reinforcing his bad habits. David plays to a 10 handicap - unless there is money involved in which case it goes considerably higher. He currently resides in Lakeland, FL with his wife Belinda and their two "kids", Madyson and Molly.