Share: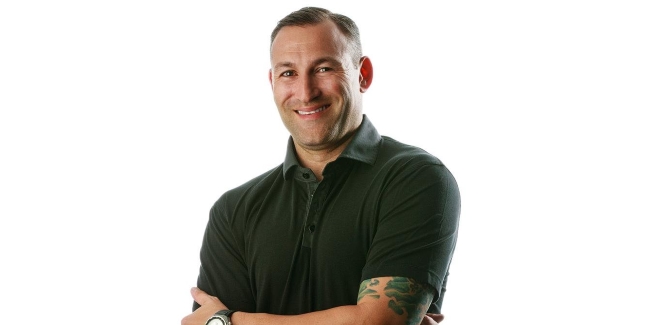 Interview With Mitch Sadowsky - Director of Golf Fitness, Lake Nona Golf & Country Club; Owner of Mitch11 Strength & Performance
By Patrick McCabe
I recently interviewed Mitch Sadowsky, Director of Golf Fitness at Lake Nona Golf & Country Club and Owner of Mitch11 Strength & Performance. We chatted about golf in general and more about fitness and golf.

Can you provide our readers a brief biography?
Mitch Sadowsky is the Director of Golf Fitness at Lake Nona Golf & Country Club in Orlando, FL, working with professional and amateur golfers and athletes on functional, strength and speed training. A member of the National Strength and Conditioning Association, Mitch is a Level 3 Fitness certified member of the Titleist Performance Institute, and holds certifications as a USA Weightlifting Level 2 Advanced Lifting Coach, Sports Performance Specialist, and Functional Movement Systems. Some of Mitch's clients include PGA touring professionals Ian Poulter and Graeme McDowell and European Tour players Maarten Lafeber and Gary Boyd.

In addition to Mitch's role as the Director of Golf Fitness, he is also owner and president of Mitch11 Strength & Performance. As a part of that role, he works directly as the strength coach for Olympia High School Golf, Florida MOJO Volleyball club, and the Eckerd College Indoor and Sand Volleyball programs.
A native of Milwaukee, WI and graduate of Ball State University, Mitch was a member of the Men's Volleyball Team from 1993-1998, serving as Team Captain during the 1998 campaign.

You are an accomplished athlete (volleyball).....When did you start golfing and who introduced you to the game?
I started golfing in grad school. I ended up repeating a LOT of the same classes in grad school that I did in undergrad which left me a lot of time, which I ended up spending on the golf course.

To date, what is your proudest athletic accomplishment?
Proudest golf accomplishment? 3 final fours while I played at Ball State, by far. My proudest golf achievements are getting a birdie on the 2nd hole I ever played and winning a longest drive and closest to the pin at a charity tournament.

What is your biggest golf pet peeve on the course or range?
Unrepaired divot marks on the greens. BY FAR.

What is your favorite club in your bag and why?
My 56 and 60 degree wedges because they say "Go Pack Go" (Thanks to Ben Schomin at Cobra!!)
What is your favorite golf destination? Ha, anywhere there's golf! Funny enough, anywhere near Calgary/Banff. The backdrops and views with the mountains are incredible and I love it up there!

What course is on your bucket list that you have not played yet?
Augusta, Pebble Beach, St Andrews. Tied for 1st

If you woke up tomorrow and could play one course you played before, where would you play?
Eagle Crest in Summerlin-Las Vegas. It was the very first course I ever played and was with my grandfather

Dream foursome (living)?
I'm from Wisconsin. Robin Yount, Paul Molitor, Jim Gantner, Aaron Rodgers

Who are some players you have worked with?
Ian Poulter, Graeme McDowell, Gary Boyd, Maarten Lafeber, Lisa "LongBall" Vlooswyk

What do you see as the biggest difference between being "fit" and being "golf fit"? (fitness vs golf fitness)
The difference between being fit and golf fit is being to call upon the necessary motor recruitment patterns necessary to hit a golf ball consistently. Namely, can you rotate, do you have good pelvic rotation, do you have good pelvic/lumbar stability, do you have good thoracic spine extension. The ability to move and move WELL is key for golf.

What exactly is golf fitness?
It's a lot of what I wrote above. Being able to move well with healthy patterns is not only key to a good round of golf, but to being healthy in general.

What is the biggest benefit?
a) hitting the ball further,
b) staying injury free
c) faster recovery when injuries occur
d) being able to make a repeatable/proper swing
e) other I'm going with
F) All of the above.
Everyone wants to hit the fall farther. I want them to hit it straighter. Many times when you don't have the proper swing path and face angle, the added rotation will decrease the distance anyway so if you aren't hitting it straight, you're not hitting it far either.

How does it help/can this help the weekend golfer, or just the pro? EVERYONE.
This is transferrable to the guys/girls on tour and people behind a desk. I would say even more so for the occasional/recreational golfer since pro's have an amazing ability to figure out their body and know how to move to achieve a desired swing result. Most people don't.

What areas do you see as the biggest/most consistent weaknesses among players (both pro and amateur)?
Well, that's kind if a funny question and I would say there are two answers. 1) The ability to move with their non dominant side. I've found a LOT of golfers can not do a darn thing with their non dominant side. Throw, rotate, whatever it is, if they're right handed, it's like Derek Zoolander (they can't turn left). Left handers same thing, can't move with their right. We work a LOT on the non-dominant side to move sure their patterns are evened out. The other is sprinting. Man, golfers (yes, I am generalizing here) can NOT sprint, haha. Funny enough we work a lot on this since there are a lot similarities in sprinting and golfing. You'd be surprised.

In your opinion, what is the most interesting part of blending fitness/strength and golf?
Any Good strength program, and that goes for golf, should include pushing, pressing, pulling, rotary and lateral movements. Putting together individual programs that entail all of these qualities that can enhance a person's ability to move in general is always interesting. There are dozens of ways to fix someone's thoracic extension, finding the one that works for someone is always interesting.....

Most challenging?
....And it's the most challenging

You work with a lot of Junior golfers....what is the biggest thing younger players should focus on?
Movement. That's it. Move. A LOT. Run, jump, skip, throw, fall down, get up, crawl, squat, lunge, sprint and most of all HAVE FUN DOING IT!!

What about middle aged golfers?
Movement quality first, strength second. Humans lose 1% of their muscle mass every year after age 30 if it is not properly trained so maintaining a strength program is crucial to keeping the aging process at bay, or at least slowing it down.

Senior golfers?
Similar to middle age. Move more. Older populations need more work on mobility because of tissue quality deterioration and sarcopenia (the natural effects of aging and losing muscle mass) BUT, studies have shown that older populations also show the greatest increases in muscle mass after strength training programs have started.

Do you have a favorite golfing exercise?
Ha, it's a tie. It's the same as my favorite exercises in general squats, deadlifts, cleans, snatches, lunges and kettlebell get ups, swings, cleans, snatches, squats and presses

Good pre-round warm-up stretches?
I really like the World's greatest stretch, brettzels, rotational lunges, med ball tosses, lateral lunges. As usual, the best stretches are the ones that work best for you!

What are some good exercises to do at home for golf fitness?
Squats, split squats, rotational and lateral lunges, inch worms, single leg deadlifts, open books, Turkish get ups, glute bridges.

What are some specific ways/areas to help lower scores through fitness?
Work on your single leg stability. I am always working on unilateral stability. I have found lots of asymmetries can lead to deterioration in performance. Single leg work (lunges, split squats, single leg deadlifts) and glute strength will help lower body stability. A lot of this shows in fine motor control skills like chipping and putting.

Do you do personal training?
Yes, one on one, small groups and online/mobile training

Do you just work with golfers?
Primarily but I also work a lot with volleyball

Contact Info:
Mitch11strength@gmail.com
www.facebook.com/Mitch11strength
www.mitch11strength.com


Revised: 04/29/2015 - Article Viewed 21,849 Times - View Golf Course Profile
About: Patrick McCabe
---

Pat McCabe, a former University of Wisconsin - Milwaukee basketball shooting guard, can pop a three pointer from beyond the arc and sink birdie putts from the fringe.

Pat is a regular golf contributor to GolfWisconsin.com, ChicagoGolf.com and IndianaGolf.com.
---
More Articles by Patrick McCabe