Share:
---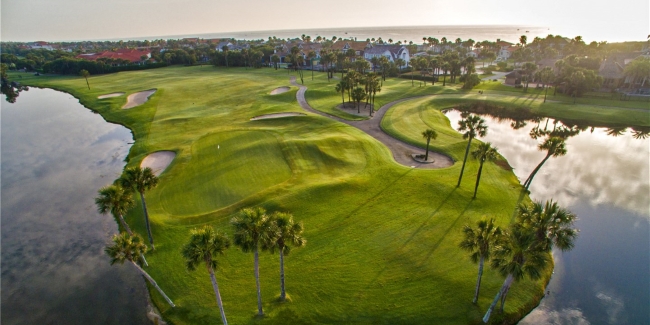 The Ocean Course at Ponte Vedra Inn Review
Golf As It Should Be.
By David Theoret
When Joe Average Golfer thinks about golf in the Ponte Vedra area, nine times out of 10 the first thing that will come to mind is TPC Sawgrass and #17 the Island Hole. However, if you trace golf in this area back far enough, you will find that the original Island Hole can be found at the Ponte Vedra Inn, just down the street from TPC.

The Ocean Course was originally designed by Herbert Bertram Strong in 1928. In 1947 it was tweaked by Robert Trent Jones and underwent its most recent renovation by Bobby Weed in 1998. It will give just about any golfer all he (or she) can handle from the back tees, playing 6,811 yards to a par of 72 with a rating of 73.3 and a slope of 138. Less masochistic individuals such as myself, find that the Blue (6498/71.6/134) or White (6,066/69.2/128) tees will provide a substantial challenge.

Bertram Strong originally shaped the course contours with 100 mules dragging slip pans. He dredged lagoons and built up a number of earthen mounds that created dramatic undulations along the fairways. Land your ball in one of these areas and you're likely to experience something rarely seen in Florida - the uneven lie!

Several holes offer a great view of the ocean and the 99 bunkers throughout the venue create a challenge. Most greens are elevated and the pins can be tucked away in some very defensive positions. Thoughtful and accurate shots both off the tee and into the green will go a long way in scoring well on the Ocean Course.


Favorite Holes
Number 3:
Par 5, 547 yards. Play your tee shot hit over the middle fairway bunker and you can cut off a little distance on the long par five third. Bunkers dot the fairway and earthen mounds from the original 1928 design are quite visible as you play the hole. You'll soon figure out why this is the number one handicapped hole after a good layup shot still leaves you around 180 yards from the green - and significantly uphill at that. You'll need to play your approach shot over water to a green that slopes significantly from back to front. Number 3 is often recognized as one of the toughest holes in Florida.
Number 9:
Par 3, 144 yards. The area's original "Island Hole" is definitely the course's signature hole. At 144 yards, it plays about the same distance as its more popular cousin down the street however I feel this hole has a lot more trouble which can lead to higher scores. Putting it in the water at either course can easily boost your score, but this island hole has seven bunkers surrounding the green as opposed to just the one pot bunker short right at TPC Sawgrass. The grass swales and undulating putting surface will challenge any golfer's quest for par.
Number 10:
Par 4, 308 yards. Long ball hitters may think about going for the green; the white tees at only 258 yards, is extra tempting. However, this hole is best played with caution. Hit your tee shot with a hybrid or long iron just right of the center fairway bunker about you'll be left with about 100 yards. This makes your approach to the peninsular green that much easier. Once again the green is elevated with quite a bit of undulation and slopes back to front.
Number 16:
Par 3, 131 yards. Number 16 is an aesthetic beauty; it's all about the green on this short par 3. Your tee shot plays over water with very little room for error. The green is triple tiered, and it's critical to be on the same tier as the pin. Land on the wrong tier and anything can happen, especially if you have to putt down a couple of tiers. On the green in regulation can still leave a difficult par.
Last Word.
With the Ocean Course, you get the best of both worlds: a beautiful golf course with unparalleled views that provides a challenge. The Atlantic Ocean provides a stunning backdrop on several holes, while the immaculately groomed course will keep you intrigued and interested in your round. There are no boring old Florida golf holes here; from the moment you tee off until you sink that last putt, the Ocean Course will keep you thinking. It's certainly not the longest course in the area, but the way you have to play it, you'll need every club in the bag to master it, and wish you had a couple extra. The 9th hole is particularly challenging and can be even more so depending on the prevailing winds at the time you play.
Access to either the Ocean or Lagoon Course requires a hotel stay and you will be hard pressed to find a nicer place to stay in the area. The driving range is directly across the street from the pro shop and allows you to hit every club in the bag. For more information or to book your next stay, give them a call at (904) 285-1111 or visit them online at
www.PonteVedra.com
.
Revised: 08/31/2015 - Article Viewed 19,807 Times - View Golf Course Profile
Share Comment
Written By: David Theoret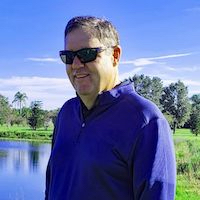 David Theoret has been in the golf and golf travel industry for over 10 years, primarily selling online advertising. For the past seven years, he has also been a golf writer, reviewing golf courses, resorts, destinations, equipment, golf apparel, and training aids - the latter of which never seems to help. David's articles and reviews have been posted on many golf travel and equipment websites.

Growing up in Southwestern Ontario, Canada, it was naturally assumed he would play hockey. Beginning at the age of 3 and continuing into his late 30's, he did just that. However, after one too many pucks to the head, he realized that golf was a lot easier on the body (whoever said hockey players were slow) and took the game up.

After moving to Florida and accepting a position with TravelGolf Media (now part of GolfNow) his love for the game grew exponentially. Most Saturdays you will find him on a course somewhere in Florida or on the practice range reinforcing his bad habits. David plays to a 10 handicap - unless there is money involved in which case it goes considerably higher. He currently resides in Lakeland, FL with his wife Belinda and their two "kids", Madyson and Molly.