Share:
---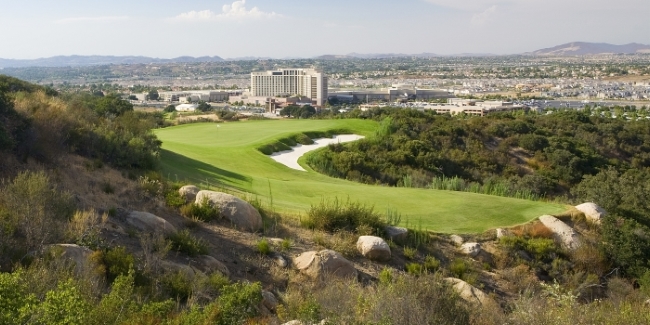 Temecula Valley Golf
The Perfect Escape
By Bruce Leonard
Life is too busy for most of us. As much as we try to convince ourselves that our duties, obligations and responsibilities add richness to what would be a bland existence without them, the most self-aware among us will admit that attempting to cram 30 hours into each 24-hour day can be unhealthy in numerous ways.

Temecula, California, less than 60 miles north of San Diego and 90 miles southeast of Los Angeles, can rejuvenate the most frazzled travelers, provided they want to slow their pace while pursuing the good life. To golfers, the good life invariably means easy access to quality courses, and if those golfers also appreciate good wine, then Temecula is a hole-in-one.

Straddling Interstate 15, Temecula Valley has established a sterling regional reputation as Southern California's premier wine destination. Wineries of various sizes, 32 of them, draw oenophiles and casual imbibers alike to the properties, most of which give tours and offer tastings. Choosing a favorite among the wineries is on par with trying to choose one's favorite golf hole - it can be done, but it's not worth the effort and defeats the point of the exercise. Golf and wine should both be enjoyed by amateurs, and analysis should be left to the professionals.

Pechanga Resort & Casino draws San Diegans, Los Angelinos and travelers from elsewhere by the thousands. The 517-room hotel sells out so frequently that another one will spring up next door soon. Because the casino features a gaming floor of nearly 200,000 square feet, almost 4,000 slot machines, more than 130 table games and a stellar poker room, it is no wonder that Southern Californians frequently choose to avoid the drive to Las Vegas and instead try their luck at Pechanga. When travelers consider the fact that the resort also features nine restaurants, including Paisano's - an Italian restaurant that delivers excellent meals at reasonable prices and outstanding service - it makes sense that USA Today readers ranked Pechanga Resort & Casino the best in the country. Of course, The Journey at Pechanga, the breathtaking golf course located just steps from the hotel and casino, certainly contributed to that top ranking.

Though it may be a fool's errand to attempt to declare a single golf hole one's favorite, every golfer keeps a mental list of holes that he or she would love to play again. The fifth hole at The Journey, which forces a "which-fairway" decision off the tee because a creek crosses diagonally from right to left, absolutely makes my list, because it is both visually stunning and strategically challenging. Depending on which tees they play, big hitters may even try to drive the green on this short par-4.

Many golfers may not consider the fifth the course's signature hole because it does not afford the views of the resort and the surrounding valley that some of the other holes cut into the mountains do, and golfers are free to gawk all they want and to rank the holes accordingly, of course.

Now that I've played The Journey a handful of times, however, I realize that the opening of the back nine - the short 10th with the enormous fun-house green, the 11th with the enormous ravine on the right, the 12th, with its sharp dogleg left, the uphill 13th that forces golfers to negotiate another creek, the downhill dogleg left 14th and the short, pretty par-3 15th - all act in concert to create a wonderful, memorable stretch of holes that concludes with my favorite, the par-4 16th. Playing 393 yards from the black tees, this hole forces golfers to be honest with themselves about their driving abilities, because they have to choose how much of the lake on the left they want to cut across to reach the fairway. Of course, the bunkers on the right also demand accuracy, and though the approach is visually beautiful, the shot can also be daunting, and the combination is perfect. No gimmicks or "oh-wow" views - just a great golf hole.

At Spa Pechanga, golfers can top their rounds off by getting a sport-specific massage, then, after perhaps visiting the wineries and the casino, they can relax in their well-appointed rooms.

Just a short distance from the big, bustling resort sits another property that will appeal to golfers who get enough hustle and bustle in their everyday lives. The Temecula Creek Inn has done "understated" to perfection. The place exudes "upscale" but without showiness. From the moment I checked in to the moment I begrudgingly left the property two days later, I felt a sense of inner calm so often lacking in my daily life. Of course, the corner room I stayed in, with its wrap-around balcony that grants views of one of the three nine-hole tracks on property, was so soothing that, upon entering the room, the most type-A personality would be immediately tempted to catch some Zzzzs.

Chris Proctor, one of the assistant golf professionals at Temecula Creek Inn, describes the three nines onsite as "resort golf at its best." Golfers who appreciate wide fairways and large greens will agree with this assessment as they play the Creek and Oaks nines. Golfers who prefer courses to have more bite, however, need to play the Stone House nine. I have played hundreds of courses, and I don't recall having as much fun playing nine holes as I did while zipping through Stone House, negotiating the roller-coaster hills with my tee shots and my cart, barely lining up putts as I raced to beat the darkness. I lost a sleeve of balls, jotted down scores that were neither low nor entirely accurate and felt like I was levitating as I hit my approach on the par-5 ninth across water to a severely sloping green. I missed the par putt and couldn't have cared less.

The one course every challenge-loving golfer in the Temecula Valley or who travels to it should play - particularly if money is tight - is CrossCreek Golf Club, located less than a half hour away from Pechanga and the Temecula Creek Inn.

CrossCreek definitely is not "resort golf at its best" but is instead a demanding track that will likely impress and annoy golfers. Finding a level lie in fairways can be challenging, and strategizing how to play some holes is best done by people with advanced degrees. These are not criticisms but endorsements.

The courses I've mentioned all show the effects of the drought that has plagued California for years, but CrossCreek has done the best job minimizing those effects. The greens were in great condition - they held approach shots and rolled true. The guys I was paired with the day I played found an online deal that granted them a round of golf, including cart, for $28. Paying three times that price would still make CrossCreek well worth playing.

The daily grind of L.A. pulled me away from my respite in Temecula Valley, but knowing that this tranquil escape is so accessible put me at ease, even while stuck in traffic on the way home.

More Information:
VisitTemeculaValley.com
Pechanga.com
Temeculacreekinn.com
Crosscreekgolfclub.com

Revised: 12/13/2015 - Article Viewed 19,832 Times - View Golf Course Profile
Share Comment
Written By: Bruce Leonard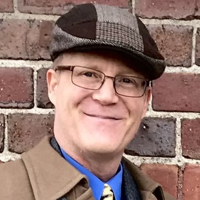 Bruce Leonard has been a freelance writer/photographer specializing in adventure travel for two decades,
his work having been published in dozens of publications, including the Robb Report, Playboy, Travel+Leisure Golf,
National Parks and the L.A. Weekly. His first solo art show recently closed, and his writing,
photos and paintings can be found at freelanced.com/bruceleonard.