Share:
---
Adena Golf Club Review
Florida's Best Kept Secret
By David Theoret
Search any list of Golf Course architects you can find on the Internet, and I'd be willing to bet that the name Frank Stronach won't be on any of them. Stronach is neither a certified golf course architect nor a landscape designer; he is however a very successful Canadian businessman, who made his billions creating Magna International, a multi-billion-dollar automotive parts supplier. He's also big into horseracing and owns several racetracks, including Santa Anita in California and Gulfstream Park in Florida. His interests in horseracing explains his ties to Ocala, FL, one of the best-known breeding grounds for thoroughbred horses in the US. Stronach also owns a 90,000-acre working ranch supporting all grass-fed Angus beef cattle.

Adena is not Stronach's first residential community/private golf club; he also owns/developed Magna Golf Club, just outside Toronto, which affords his auto parts company's top executives the opportunity to live, work and play literally minutes from the company's headquarters.

The residential development at Adena is still in the planning stages, however the golf course opened in late 2015. Adena offers 5 sets of tees to make the course entertaining for golfers of all skill levels. Ladies will find the course enjoyable from about 5,200 yards while guys can choose course lengths of 5,885, 6,384, 6,879 and 7,086. I wouldn't recommend playing from the tips unless you are a PGA professional or are prepared to lose a lot of money. The Blue Tees at 6,384 provide a great challenge for high single digit handicappers.

Adena sits on 450 acres of land and is built around four limestone quarries that are spring fed and filled with vivacious blue green water. The journey from tee to green is far more aesthetic than it is arduous. Holes that look narrow from the tee box - Number 10 for example - have a lot more landing area than meets the eye. Water and/or trees frame one side of the fairway on many holes but none of them are what I would consider extremely tight. As always, there is one exception to the rule and that is Number 3. It's a tree-lined fairway, dogleg right that plays slightly uphill. It's not that long - 356 yards from the Blue tees - but requires tremendous accuracy off the tee to leave a clear uphill shot to the green. If Adena was ever to name their holes, this one would be called "Redheaded Stepchild." Trees do come into play on other holes too. On the par 5, 6th hole, you'd swear there's one in the middle of the fairway. Oak tree frame the landing area on the par 4, 13th hole too and on the long par 5, number 14, trees line the right side, and then give way to a lake. By the way, from the back tees, number 14 is considered one of the longest par 5 holes in North America.

Playing from the fairway is crucial if you want to score well here. The thick, Bermuda rough produces many "flyer lies" and in many cases, requires at one least extra club. When you do find the fairway, you can rest assured that you will have a perfect lie.

As luscious and plush as the fairways are, what separates Adena from other courses are the greens and green complexes. The greens are ample in size, not your typical oversized Florida greens. What they do have is a lot of subtle undulations, many of them cannot be seen by the untrained eye. And fast; on our visit, they were running about 13 on the stimpmeter and were being taken up to 14 the following week for the member's tournament. Many bunkers around the green are deep, but are filled with fluffy sand.

Let me tell you a few other interesting aspects of the course. The par 3 holes have a lot of character. And apart from the first par 3, the other three play around 200 yards. Granted, a couple of them play shorter because of the elevation, but they are still going to require skill and accuracy to make par or better. The two that play over a quarry have wide but shallow greens making club selection that much more important. Ten of the 18 holes play over, around or through four limestone quarries.

Before playing your second shot on number 10, turn around at look at the clubhouse. With the dramatic waterfalls and clubhouse in the background, it may take some effort to reassure yourself that you really are in Florida. There are several other locations throughout the course that will have you questioning what state you're in.

Number 11 provides a significant carry over wetlands to reach the fairway and may prove a little too much for senior players playing from the Blue tees. Not that getting over from the White tees is a sure bet either. A good drive over the hazard will still a long, uphill approach shot to a deep, well-contoured green.

In putting together a world-class golf facility, Stronach also assembled a world-class staff. Senior Director of Golf Course Operations at Adena, Asa High, was plucked from Augusta National (yes, that Augusta National) where he spent almost 8 years and served as Senior Assistant Superintendent where he learned from the best. High has helped Adena Club to be recognized by Golf Digest as one of the year's best new courses. He's been charged not only with maintaining the current conditioning and beauty of the course, but also planning future projects that will keep Adena at the top of Florida's Best Courses List.

General Manager Mike Moss is no stranger to first-class golf. Prior to Adena, Moss was at Arnold Palmer's Bay Hill Club & Lodge, where he served two stints - one as Food and Beverage Director and more recently as Assistant General Manager. Prior to that, he was General Manager at Palmer's Latrobe Country Club. Moss sees big plans in Adena's future as new homes are built around the course and their National Membership program becomes very popular among golfers familiar with the property.

As you can imagine, Adena offers several membership classifications. For my money, the two best options are the Golf Member and the National Golf Member. To qualify as a National Member, your primary residence must be outside a 60-mile radius of the Club. You have the same privileges as a full-blown golf member, however your usage is limited to six months a year. Initiation fees are astonishing low and monthly dues are right in line with other high caliber clubs.

If you're a serious golfer, or simply want to see or be a part of one of the greatest courses in Florida, you need to do whatever you can - within moral and ethical bounds - to get in a round at Adena. The golf is outstanding and the scenery is even better.

For more information on membership, your best bet is to call the Director of Membership, Stacey Rollins. To take an online tour of the course, visit www.adenaclub.com

Revised: 04/11/2017 - Article Viewed 7,017 Times - View Golf Course Profile
Share Comment
Written By: David Theoret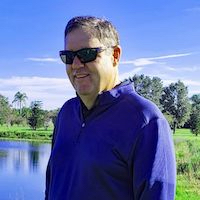 David Theoret has been in the golf and golf travel industry for over 10 years, primarily selling online advertising. For the past seven years, he has also been a golf writer, reviewing golf courses, resorts, destinations, equipment, golf apparel, and training aids - the latter of which never seems to help. David's articles and reviews have been posted on many golf travel and equipment websites.

Growing up in Southwestern Ontario, Canada, it was naturally assumed he would play hockey. Beginning at the age of 3 and continuing into his late 30's, he did just that. However, after one too many pucks to the head, he realized that golf was a lot easier on the body (whoever said hockey players were slow) and took the game up.

After moving to Florida and accepting a position with TravelGolf Media (now part of GolfNow) his love for the game grew exponentially. Most Saturdays you will find him on a course somewhere in Florida or on the practice range reinforcing his bad habits. David plays to a 10 handicap - unless there is money involved in which case it goes considerably higher. He currently resides in Lakeland, FL with his wife Belinda and their two "kids", Madyson and Molly.