Share:
---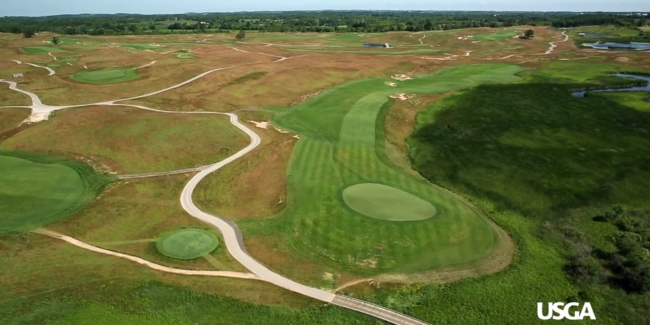 Erin Hills Setting Up as a U.S. Open Unlike Any Other
The USGA is hoping the wind will blow to test the best players
By Matt Tevsh
Hosting three PGA Championships over an 11-year span, Whistling Straits rarely got the chance to show its true teeth. Mother Nature just would not cooperate.

More often than not during the play of those championships (2004, 2010 and 2015) weather conditions proved to be relatively calm along the Lake Michigan-shoreline course. The scores responded in kind, most notably with 2015 champion Jason Day firing a major championship record of 20-under par in a battle with Jordan Spieth during a particularly steamy August week.

This year's U.S. Open at inland Erin Hills down the road will take place in mid-June (ending on Father's Day) when the winds and temperatures tend to be more unpredictable. Just ask the long-time local caddies who offered their insight here: www.usopen.com/watch/features/2017/05/11/the-caddies-of-erin-hills--how-wind-will-play-a-role-54301069930.html).

United States Golf Association (USGA) executive director Mike Davis is well aware, too, and is looking forward to what Erin Hills has to offer.
"This is obviously a very windswept property," said Davis at a U.S. Open Preview Day event. "As many times as I've been out here, it's a rarity to go out on this property and not get any wind. Somebody many decades ago coined the phrase that wind is kind of the invisible hazard for a golfer, and really I think for us, we are hoping for some wind. This golf course was designed for some wind."

Historically, the U.S. Open has presented the sternest of championship tests. Erin Hills figures to offer that again at a variable 7,693 yards. But there will be factors to this Open that could make it different from all the others in the 116-year history of the championship.

Erin Hills is a new host, first and foremost, and the first Wisconsin locale to ever host. The course will play to a Par 72, which marks the first time since 1992 (Pebble Beach) that a U.S. Open course has not been a Par 70 or 71. Erin Hills has four par-fives expected to range from 560 to 675 yards (from the back tees at the 18th hole).

The brownish tint of putting surfaces and baked-out fairways often associated with the Open are expected to give way to greener, yet firm conditions at Erin Hills. The fairways are made of fescue, the same type of grass that frames each hole on the property. The putting surfaces are bentgrass, and according to many sources, will be some of the smoothest and truest that the championship has ever seen. Their difficulty might seem tame compared to say last year's host Oakmont, which was established in 1903.

"We're going to see a lot of putts made at this U.S. Open," said Davis. "Part of that's because of the design of the green, that these are relatively subtle greens, but part of it is just because they are so well-conditioned. When you hit a putt, if you get it on the right line, the right speed, it will go in here, and we don't expect to see many things hit and moving sideways."

Davis also estimates that the fairways will be 50% wider and in some cases double the width historically of the traditional courses that have hosted the championship.

Forget about thick rough around the greens, too. Closely-mown chipping areas, some that run down slopes and into bunkers, will rule the day at Erin Hills. Participants will have the options of several chips shots or even putting from long distances off the green, much like Pinehurst in 2014.

Erin Hills, as has been well documented, is a natural layout with little dirt being moved during construction. The Kettle Moraine acreage it was laid upon is sharp-moving, creating unusual fairway slopes, backstops and several blind shots. Erin Hills has been altered, enhanced, and re-conditioned during its 11-year history, but the natural effects remain the draw.

"The amplitude or the rhythm of the ups and downs on this piece of property is what makes it unique," said co-designer Michael Hurdzan. "There's a lot of property that has high places and low places but it just so happens that the high and low places here just were naturally suited to the game."
Even the putting surfaces are close to the original grade of the land they were laid upon.

The bunkers, described as erosion or blowout style, should represented truer hazards than PGA Tour players are accustomed to. Co-designer Ron Whitten said the bunkers are more about "escape" than "recovery."

A performance like Day's at the PGA in 2015 is unlikely at Erin Hills, but scoring opportunities could be more prevalent than would be expected at a U.S. Open. Of course, Mother Nature could change that, specifically the wind factor on a course without any real buffer other than the natural depressions. Only a few select oaks remain within the confines of course.

"If there's no wind for four days, that would be highly unusual, but they'll definitely shoot lower scores," said Davis. "If it's softer, they're definitely going to shoot lower scores. These greens are so good, as I mentioned. They're going to make putts, and then you've got a par 72, so I think all of those factors - but listen, at the end of it, contrary to what so many think, we're not after a certain winning score. What we really are after is to see if we can set the golf course up in such a way that tests every aspect of the game. As one of our fellow staffers said, we want to see all 14 clubs in a player's bag get dirty, and if it's windy, the test is just going to be a little more stern, and if it's not, we're still going to give out the trophy and the Jack Nicklaus gold medal for the low 72-hole score."

More information on the 2017 U.S. Open and great video features can be found at www.usopen.com. Ticket information can be found by clicking on the ticket icon in the upper right-hand portion of the home page.

Revised: 05/23/2017 - Article Viewed 2,445 Times - View Golf Course Profile
Share Comment
Written By: Matt Tevsh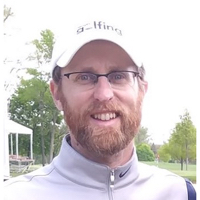 Matt Tevsh has been a freelance sports journalist since 1996. He has been published in multiple periodicals including Midwest Golfing Magazine and on various websites including GolfTrips.com. He is an avid golfer and a former member of the Golf Writers Association of America.