Share:
---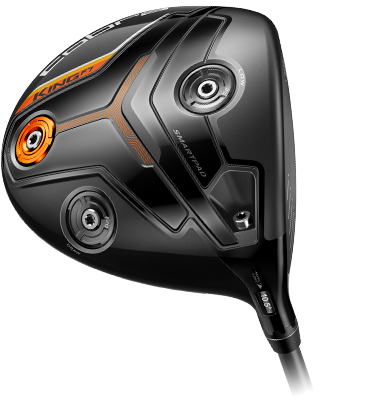 Cobra KING F7 Driver
Adjustability on Steroids
By David Theoret
For 2017, Cobra introduces a new KING Driver, the F7. With the F7, Cobra has created 3 drivers in one. They've gotten away from the moveable slider weight in the F6, and gone with a moveable weight system, which creates 3 center of gravity (CG) settings - and saves weight. Each setting creates significant changes in spin, distance and flight for maximum distance. Set the 12g colored weight to the front position for a lower, penetrating ball flight with less spin and more roll, or place it in the back position for higher, towering drives with added spin and more carry. You can also place it in the heel position, which helps to create more draw spin in order to correct a slice and hit straighter drives. So many options, just pick the one that's right for your game.

The Cobra F7 is all about adjustability. In addition to the three moveable weights in the sole, COBRA's MyFly8 allows you to fine tune the trajectory and launch with eight different loft and lie combinations. This technology, coupled with SmartPad, is the easiest way to dial-in distance and hit straighter drives down the fairway. MyFly8 works in conjunction with their Smart Pad on the sole, which allows the clubhead to pivot as you change the loft, keeping the face square at impact. Also, the face of the F7 is 5% larger than last year's F6.

Cobra's TeXtreme Carbon Fiber creates a crown that is 20% lighter, which allows more weight to be redistributed lower and deeper into the club head for a lower center of gravity (CG) which in turn delivers extreme distance and forgiveness.

Cobra has gone uber high tech, incorporating Arccos technology into the F7 driver. COBRA CONNECT is COBRA's first "connected" golf club and allows golfers to automatically track the distance and accuracy of their drive. An Arccos Driver unit is installed into the butt end of the F7 driver; all you need to do is pair it with the free Arccos Driver smartphone app and swing away. Over time, if the unit continues to detect the same flawed swing (for example a slice), it will start to suggest videos for Cobra's stable of PGA Tour pro s on how to correct the problem. Cobra is definitely ahead of the curve when it comes to "smart" golf equipment. The Arccos app can also be used as a GPS system on over 40,000 international golf courses.

Standing over the ball at address, you will notice that the clubhead is slightly rounder than other drivers and seems to deliver more confidence at address. You're probably not going to gain a lot of distance over last year's KING F6, but what you will gain is the ability to dial it in to suit a certain swing, which should reap rewards in the performance stakes.

The new Cobra KING F7 driver comes stock with a Fujikura Pro 60 shaft in one of four flexes: lite, regular, stiff or extra stiff and a Cobra Lamkin REL grip with the Arccos unit embedded into the butt end. You'll also need to choose a color: Silver, Blue, Black or simulated Woodgrain. Retail price on this driver is only $350, considerably less than comparable drivers with less adjustability. To learn more about or order the new Cobra KING F7 driver, visit the Cobra website at www.cobragolf.com.


Article Tags: Driver, Cobra, King, F7
Revised: 07/21/2017 - Article Viewed 605 Times
Share Comment
Written By: David Theoret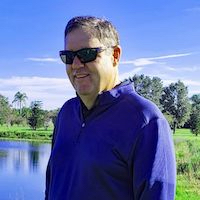 David Theoret has been in the golf and golf travel industry for over 10 years, primarily selling online advertising. For the past seven years, he has also been a golf writer, reviewing golf courses, resorts, destinations, equipment, golf apparel, and training aids - the latter of which never seems to help. David's articles and reviews have been posted on many golf travel and equipment websites.

Growing up in Southwestern Ontario, Canada, it was naturally assumed he would play hockey. Beginning at the age of 3 and continuing into his late 30's, he did just that. However, after one too many pucks to the head, he realized that golf was a lot easier on the body (whoever said hockey players were slow) and took the game up.

After moving to Florida and accepting a position with TravelGolf Media (now part of GolfNow) his love for the game grew exponentially. Most Saturdays you will find him on a course somewhere in Florida or on the practice range reinforcing his bad habits. David plays to a 10 handicap - unless there is money involved in which case it goes considerably higher. He currently resides in Lakeland, FL with his wife Belinda and their two "kids", Madyson and Molly.