Share:
Willbrook Plantation
A Top Grand Strand Track and The Ladies Choice in Myrtle Beach
By David Theoret
When Willbrook Plantation opened in 1988, golf course architect Dan Maples referred to it as "One of my best". The ladies seem to agree. In fact, Golf Digest named Willbrook Plantation as one of America's Top 50 Courses for Women in 2010. Golf for Women Magazine has ranked the course as high as 25th in the US for women. However, all the guys I spoke with describe it to be a challenging layout, as well. In 2006, Golf Digest awarded Willbrook 4.5 stars in their "Best Places to Play."

Willbrook Plantation is built on land that was once two Carolina plantations, dating back to 1798 as evidenced on their logo. As you make your way around the course, you'll see several historical markers denoting the various historic points of interest. One tells about the mounding built by slaves in the 1700s that served as the property lines between plantations. All kinds of non-golf related facts that add to the round's enjoyment.

Willbrook Plantation plays 6,722 yards from the back tees with a rating of 72.4 and 133. The White Tees at 6,292 yards (70.3/129) provided a great test for me. Ladies play from 4,981 yards (68.3/120). Pick the right set of tees and when it doubt, do what Jack says and play it forward.

The golf course at Willbrook Plantation weaves its way through lowcountry marshes, and natural grasses. Along the way you'll encounter centuries-old oak forests and a blend of wildlife you don't see at other venues. It's not uncommon to see the occasional deer, hawk or alligator during your round. The course is very player-friendly, especially for those that have never played the course. Water hazards that may have gone unnoticed, are marked with large yellow flags, so the "I didn't know there was water there" defense is no longer valid. Water is very much a part of the action at Willbrook Plantation; you'll see it in some form or another on at least 14 holes, although it only comes into actual play on about half of them.

There are several holes at Willbrook that could be considered "signature-worthy" but here are my choices:

Most Memorable Hole: Number 6, Par 3, 127 yards (White Tees). A challenging island green gets your attention on this short par 3 hole. A large bunker guards the left side of the green and two grass swales guard the far end, so if you miss the green left, up and down becomes an arduous task.

Favorite Par 3: Number 17, 160 yards (White Tees). This hole may be easier from the back two sets of tees than the forward two, because you won't have the large tree to deal with. The water in front of the tee should not come into play; if it does, you may want to get a lesson from Head Professional Kevin McGuire. A back pin location will probably require an extra club.

Favorite Par 4: Number 10, 356 yards (White Tees). Remember that Lynyrd Skynyrd song with the line: "Oak tree you're in my way"? That seems to be the mantra on a number of holes at Willbrook, but none more so than on the par 4 10th hole. Not once, but twice. Off the tee you'll need to avoid the large oak between the water and the fairway; hit the tree and there is a good chance it's going in the water. Your best play is down the left side, This takes not only that tree out of play but also the large oak that guards the right side of the green. You'll just have to clear two greenside bunkers on the left. Your choice: trees or sand?

Favorite Par 5: Number 3, 520 yards (White Tees). Number 3 is both challenging and appealing to the eye. With sand dotting the landscape down the right side, your best play off the tee is up the left. This is easier said than done as Mr. Maples planted a large oak tree near the edge of the fairway, so to maximize your distance up the left side, you'll need to hit a draw. For the majority of players, this is going to be a three shot hole. As long as you keep your layup shot in the fairway and leave a manageable distance for your approach, you can score well here. A single greenside bunker guards the front left while two grass swales make for an interesting up and down from behind the green.

Pro's Pick: Number 15, Par 5, 538 yards. A long tree-lined par 5 with a creek running through it that cuts the hole in half. If you've been waiting to show off that new draw shot, now's the time to use it. Any drive landing in the left half of the fairway off the tee is going to provide the best angle into the green. Play your layup shot over the creek, avoiding the two fairway bunkers on the left to set up your approach. You'll need to fly it on the green to avoid the two front bunkers that guard the putting surface. No wonder it's rated the hardest hole on the course.

Last Word: It's easy to see why Willbrook Plantation is consistently ranked one of the top courses in the Myrtle Beach area. Accuracy is at a premium, especially when avoiding large trees. It's not the longest course on the Strand, but it is going to make you think your way around it. It's also very peaceful and serene on the course; I think this is what Mark Twain was talking about when he said, "a good walk spoiled."

In addition to the course, Willbrook has a great practice area and a grill that is popular with both visitors and locals. In fact, when I asked several players on the course which hole was their favorite, the majority said it was the 19th!

Article Tags: Willbrook Plantation. Waccamaw Golf Trail, Myrtle Beach, SC, South Carolina
Revised: 07/27/2017 - Article Viewed 1,926 Times - View Golf Course Profile
About: David Theoret
---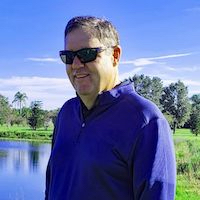 David Theoret has been in the golf and golf travel industry for over 10 years, primarily selling online advertising. For the past seven years, he has also been a golf writer, reviewing golf courses, resorts, destinations, equipment, golf apparel, and training aids - the latter of which never seems to help. David's articles and reviews have been posted on many golf travel and equipment websites.

Growing up in Southwestern Ontario, Canada, it was naturally assumed he would play hockey. Beginning at the age of 3 and continuing into his late 30's, he did just that. However, after one too many pucks to the head, he realized that golf was a lot easier on the body (whoever said hockey players were slow) and took the game up.

After moving to Florida and accepting a position with TravelGolf Media (now part of GolfNow) his love for the game grew exponentially. Most Saturdays you will find him on a course somewhere in Florida or on the practice range reinforcing his bad habits. David plays to a 10 handicap - unless there is money involved in which case it goes considerably higher. He currently resides in Lakeland, FL with his wife Belinda and their two "kids", Madyson and Molly.

---
More Articles by David Theoret