Share:
Stoney Creek Golf Club Review
A Must Play in the Greensboro NC Area
By David Theoret
Over his 45-year career, golf course designer Tom Jackson has created over 100 golf courses, many of them in the Carolinas. I recently had the opportunity to play a couple of Tom Jackson-designed golf courses; the River Club in Pawleys Island, SC and Stoney Creek Golf Club outside Greensboro, NC. Both were outstanding facilities, but Stoney Creek had some features that really caught my eye. After all, could you expect anything less from a designer who honed his craft under the tutelage of Robert Trent Jones and George Cobb?

In building Stoney Creek, Jackson has created a course that can be enjoyed by both members and guests every day of the week, and each time they play, they will feel like they are experiencing something different. The course can be enjoyed by both men and women of all levels of ability. In fact, the prestigious NC Golf Panel named Stoney Creek as one of the Top 100 Golf Courses in North Carolina.

Six sets of tees provide an opportunity for all golfers to play from a yardage they are comfortable with. From the Black Tees, Stoney Creek tops out at 7,016 yards with a course rating of 73.8 and a slope of 139. I found the golf course to be a challenge from the Blue Tees (6,256/69.8/131). Seniors will have a great time from the White Tees (5,852/68.4/127) while the ladies will enjoy the Dark Green Tees (5,351/71.1/129). Choose the right set for your game and you'll have a great time.

On several holes, you will find a water way that cuts across the fairway; this is Stoney Creek. Knowing where it is and being able to avoid it is a necessity if you want to score well. The front nine boasts two of Stoney Creek's prettier and more challenging holes back-to-back. Number 5 is a 386-yard par 4 that plays from an elevated tee box with Stoney Creek looming about 300 yards out from the Blue Tees. Your approach shot plays at least two clubs uphill to a small green protected on the left by sand.

Number 6 is another par 4 that plays a similar distance (379 yards) and is the course's #1 handicap. Once again, you'll have to cross the water off the tee, but it shouldn't be a problem. If it is, you may want to consider taking a lesson from one of Stoney Creek's friendly PGA professionals. Once again, you play from an elevated tee box, downhill to a fairway that doglegs to the left. With all the trees on the left, there is no real advantage to cutting the dogleg. Make it to the turn and you'll have a mid-iron into a wide, shallow green protected in front with a single pot bunker.

Stoney Creek comes into once again on Number 10, which is my personal favorite. Actually, you have to cross it twice on this hole. It's a par 5 that plays 525 yards from the Blue Tees and takes three well-struck - and well-thought - shots to hit the green. It's a dogleg right with water that could conceivably come into play off the tee. Favoring the left side of the fairway off the tee will take the pond on the right out of play. Choose your club carefully on your second shot; you'll have to cross Stoney Creek twice. A successful layup short of the water sets up a short downhill iron shot into a long, narrow green that slopes back to front and is protected by the creek in front and right. This is a challenging and fun golf hole.

The 14th hole is a par 3 that plays 165 yards downhill from the Blue Tees. It's a very scenic hole with the flowers and sand trap behind the green, neither of which should come into play, but are nice to look at nonetheless. Play your tee shot over the lake to a large, angled green that slopes back to front. This is a good hole to gain a shot with proper execution off the tee.

Number 16 is a dogleg left par 4 that plays 385 yards from the Blue Tees. Your tee shot plays uphill and your approach shot plays downhill, a little bit of everything in one hole! The fairway bunker catches a lot of tee shots, so if you play just short of the bunker, you'll have a clear shot in to a long, narrow green protected on the left by a large, deep bunker. Par is a good score here.

Last Word: Tom Jackson has created a golf course with multiple tee boxes and interesting green complexes that is fun to play for any level of golfer. The grounds crew keeps the course in prime condition year-round. The course winds its way through North Carolina hardwoods and pines and you'll get to know Stoney Creek - the water hazard - very well. Strategically placed bunkers along the edges of the fairways force you to keep it in the fairway or pay a price. All in all, Stoney Creek is a course that should be played by any golfer in the Greensboro area at least once.

For more information or to book your next round at Stoney Creek, visit the website at www.stoneycreekgolf.com

Article Tags: Stoney Creek, Greensboro, NC, North Carolina,
Revised: 10/27/2017 - Article Viewed 3,127 Times - View Golf Course Profile
About: David Theoret
---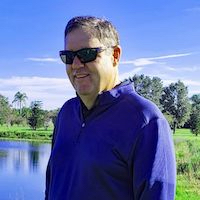 David Theoret has been in the golf and golf travel industry for over 10 years, primarily selling online advertising. For the past seven years, he has also been a golf writer, reviewing golf courses, resorts, destinations, equipment, golf apparel, and training aids - the latter of which never seems to help. David's articles and reviews have been posted on many golf travel and equipment websites.

Growing up in Southwestern Ontario, Canada, it was naturally assumed he would play hockey. Beginning at the age of 3 and continuing into his late 30's, he did just that. However, after one too many pucks to the head, he realized that golf was a lot easier on the body (whoever said hockey players were slow) and took the game up.

After moving to Florida and accepting a position with TravelGolf Media (now part of GolfNow) his love for the game grew exponentially. Most Saturdays you will find him on a course somewhere in Florida or on the practice range reinforcing his bad habits. David plays to a 10 handicap - unless there is money involved in which case it goes considerably higher. He currently resides in Lakeland, FL with his wife Belinda and their two "kids", Madyson and Molly.

---
More Articles by David Theoret
More Related Articles