Share:
Revo Sunglasses Review
Enter the World of Golf Eyewear
By David Theoret
Since being founded in 1985, Revo has quickly become known around the world as the leader in polarized lens technology. Revo's sunglasses were first created by using the same lens technology that NASA uses as solar protection for their satellites. Now, more than thirty years later, the company continues to build on its storied tradition of technology and innovation and offers the clearest, most advanced high-contrast polarized eyewear in the world.

Revo's Light Management System (LMS) manages the full spectrum of light, including blue light and high-energy visible (HEV) light. LMS filters out harmful light and only allows in light that is beneficial for vision. This is extremely important for a sport with such unique light requirements. Revo's lens palette has numerous offerings for golfers to improve contrast ad visual acuity while at the same time highlighting key parts of the light spectrum for more precise vision on the course.

All Revo lenses feature Digital Polarized Plus technology which offers 100% polarization to protect against glare, while still allowing you to view your electronic devices.

Recently, Revo introduced several pair of their eyewear to the golf industry. I found their Harness Sunglasses to be perfect for golf. They block 100% of the sun's harmful UVA, UVB and UVC light and absorb 87% of visible light with 99% polarized light efficiency. They also offer 91% protection against Blue light and HEV light.

The Harness sunglasses feature Revo's High-Contrast Polarized Serilium lenses, which are a lightweight and shatterproof formulation of polycarbonate. They have a more curved fit, relative to your face. The frame of the Harness sunglasses is very lightweight and won't be a distraction during your round.

In addition, Harness also incorporate Revo's SurfacePro Protection System, including 3-6 layers of high-tech performance mirror coatings and 5 layers of back surface protective coatings, aimed at reducing intrusive back surface reflections. There's a permanent coating on the back of the lens to repel water and sweat and another coating on the front that repels oil and fingerprints. No telling what happens if you get water on the front and fingerprints on the back of the lens, but I'm sure Revo's got you covered!

Another style that Revo is touting for golf is the Carlisle, part of their premier Windsor-rim sunglass line. The Carlisle features a classic aviator frame which is wrapped in rich brown leather and comes with Revo's high-contrast polarized Crystal lenses in three colors. They have a much flatter fit relative to your face than the Harness and also feature Revo's Light Management System and the same special coatings found in the Harness model. The Crystal glass lenses are scratch-resistant and are ground and polished to nearly the same specs as a camera lens. Although not my first choice for golf, the Carlisle offers crystal clear views and the polarized lenses eliminate virtually all annoying glare. The metal frame is highly durable and very light.

Revo offers a pretty impressive warranty too: two years from the date of purchase against defects in material or workmanship; just be sure to hand on to your receipt. Scratches to the lenses aren't covered either. For more information on either the Harness or Carlisle sunglasses, or to see other models and styles, visit www.revo.com.

Revised: 12/21/2017 - Article Viewed 16,087 Times
About: David Theoret
---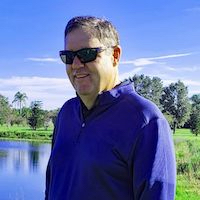 David Theoret has been in the golf and golf travel industry for over 10 years, primarily selling online advertising. For the past seven years, he has also been a golf writer, reviewing golf courses, resorts, destinations, equipment, golf apparel, and training aids - the latter of which never seems to help. David's articles and reviews have been posted on many golf travel and equipment websites.

Growing up in Southwestern Ontario, Canada, it was naturally assumed he would play hockey. Beginning at the age of 3 and continuing into his late 30's, he did just that. However, after one too many pucks to the head, he realized that golf was a lot easier on the body (whoever said hockey players were slow) and took the game up.

After moving to Florida and accepting a position with TravelGolf Media (now part of GolfNow) his love for the game grew exponentially. Most Saturdays you will find him on a course somewhere in Florida or on the practice range reinforcing his bad habits. David plays to a 10 handicap - unless there is money involved in which case it goes considerably higher. He currently resides in Lakeland, FL with his wife Belinda and their two "kids", Madyson and Molly.

---
More Articles by David Theoret
More Related Articles