Share:
Tail Activewear's Spot On Collection Hits the Mark
By David Theoret

Blue - Damsel in Tail Activewear language - is the color of choice in the company's latest collection of women's golf apparel. And no one does this color better than Tail Activewear. They continue to lead the way in reintroducing ladies to golf dresses and the new Danville Dress does not disappoint. It's sewn from their Performance Jersey (91% Polyester/9% Spandex) material, as are many pieces in this collection. This sleeveless dress features a mock neck, zippered placket and two pockets, deep enough to keep a gal's golf valuables safe and secure. Shorties are built-in for added modesty and the UPF 50 finish keeps you safe from the sun's harmful rays. The Danville Dress is available in sizes XS - XXL and in an eye-catching Outlier print with Black. Retail price is $99.

The Mulligan Short makes a return appearance in the Spot On collection. With its flattering fit and sleek, clean lines, you'll look your best, even if you're in that fairway bunker! The bi-woven stretch material in the Performance Jersey fabric means these shorts move with you every step of the way and the UPF 50 protection keeps the sun at bay. The Mulligan Short features a modern pull-on design and the two front and 2 back pockets provide ample storage for golf essentials. These shorts are wrinkle resistant and ready to wear in a jiffy. You'll perform well and look great. The Mulligan Short is available in sizes 2 - 24 and in solid Damsel. Retail price is $89.

Another Performance Jersey garment is the Darby Skort, which features a straight pull-on design, built-in shorties and UPF 50 protection. Zipped pockets keep valuables safe and secure and the 91% Polyester/9% Spandex fabric moves with you through every phase of your swing, whether it looks like Jordan Spieth's or Charles Barkley. The Darby Skort is available in a flattering geometric print and in sizes XS - XXL. One of the tops the Darby Skort pairs best with is the Beckett Top for the Back to Basics collection. Retail price is $89.

The Aldora Skort features a straight pull-on design Skort. It's sewn from Tail's 94% Polyester/6% Spandex refined pique fabric and features built in shorties and zippered pockets for added security and UPF 5o sun protection. The strapping on the sides highlights the front pockets and adds a unique look. The Aldora Skort is available in sizes XS - XXL in their Spot On design. If there were such a thing as a blue leopard, it would look like this. The Aldora Skort retails for $89 and pairs well with the Byron top.

Speaking of which, the Byron Top is sewn from the Performance Jersey fabric, so you know you'll have enough stretch to get through the golf swing. The sleeveless design features a mock neck with zipper placket and mesh side panels for added breathability. A UPF 50 finish keeps the sun's rays away. The design is unique, with the Spot On print framed by Damsel on the top and White on the bottom, providing a very chic look. The Byron Top is available in sizes XS - XXL and retails for $83.

Tail's Brooks Top is a little different; it's sewn from their Brushed Jersey material which provides ample stretch with no pinching or binding. It's short sleeved and features a mock neck and zippered placket and enough sun protection that you won't have to worry about it. The Interlace design and Damsel side panels are eye-catching. The Brooks Top is available in sizes XS - XXL and carries a retail price of $83.

The Damsel accents on the sleeves and placket of the Camilla Top catch your eye as you gaze at this garment. It's sewn from the company's Performance Jersey fabric, so you know it's going to be with you every step of the way. This sleeveless top features a mock neck with a metal zipper placket and UPF 50 sun protection. The intermesh print with Damsel and White is sure to turn a few heads. The Camilla Top is available in sizes XS - XXL and retails for $83.

In case you can't get enough of Tail's Performance Jersey garments, check out their Albany Top. The fabric stretches with you as you move and the short sleeve design with mock neck and zipped placket makes a fashion statement on the golf course. UPF 50 protection keeps you well protected from the sun's harmful rays and the 25" length provides added coverage. The Albany Top is available in sizes XS - XXL and in White with Damsel accents. It pairs well with the Darby Skort. Retail price is $79.

These are just a few of the many tops and bottoms available in Tail Activewear's Spot On collection. For more information or to see the rest of what Tail has to offer, including past collections, be sure to visit their website at www.tailactivewear.com.

Revised: 03/07/2018 - Article Viewed 377 Times
About: David Theoret
---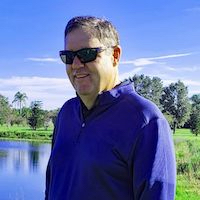 David Theoret has been in the golf and golf travel industry for over 10 years, primarily selling online advertising. For the past seven years, he has also been a golf writer, reviewing golf courses, resorts, destinations, equipment, golf apparel, and training aids - the latter of which never seems to help. David's articles and reviews have been posted on many golf travel and equipment websites.

Growing up in Southwestern Ontario, Canada, it was naturally assumed he would play hockey. Beginning at the age of 3 and continuing into his late 30's, he did just that. However, after one too many pucks to the head, he realized that golf was a lot easier on the body (whoever said hockey players were slow) and took the game up.

After moving to Florida and accepting a position with TravelGolf Media (now part of GolfNow) his love for the game grew exponentially. Most Saturdays you will find him on a course somewhere in Florida or on the practice range reinforcing his bad habits. David plays to a 10 handicap - unless there is money involved in which case it goes considerably higher. He currently resides in Lakeland, FL with his wife Belinda and their two "kids", Madyson and Molly.

---
More Articles by David Theoret
More Related Articles