Share:
The Slammer and the Squire Golf Course Review
Created by Two Legends
By David Theoret
If you're into golf, one venue on your bucket list should be the World Golf Village in St. Augustine, FL. There's plenty to do there, for example, you could spend all day at the World Golf Hall of Fame, taking in all the exhibits, viewing movies in the IMAX theater and testing your stroke on the Challenge Hole - reminiscent of Number 17 at Sawgrass. Or, if you're looking to play a round of golf designed by a couple of legends, you can book a round on the Slammer and Squire Golf Course, one of two courses connected with the World Golf Village.

The Slammer & Squire Golf Course is the property's original course and is located just a wedge shot away from the World Golf Hall of Fame. It was designed by noted golf course architect Bobby Weed with considerable input from the course's namesakes: Sam "The Slammer" Snead and Gene "The Squire" Sarazen.

Five sets of tees plus a blended set - a combination of the Blues and Whites - makes The Slammer & Squire enjoyable for any golfer - provided you play from the set that best suits your game. From the back (Stone) tees, the course plays 6,939 yards with a course rating of 72.7 and a slope of 127. The Blue tees at 6,132 yards (69.2/121) will challenge most golfers and still enable them to leave with a little dignity. Ladies will find the Green Tees at 4,996 (68.0/115) an enjoyable test.

The Slammer & Squire opened to the public in May 1998 and features two distinct nines. The outward nine traverses through fairways lined with giant Loblolly pines, while wooden pathways and bridges guide you through traditional Florida wetlands. On the back nine you will find generous fairways, contoured greens, and plenty of water hazards. You'll also be treated to impressive views of the World Golf Hall of Fame.

Just behind the pro shop is a full length driving range with plenty of targets, a large practice putting green as well as a short game area that includes a sand trap. The Clubhouse has a fully stocked pro shop with lots of logoed gear from a number of top apparel companies as well as Men's and Women's locker rooms complete with showers. Inside the clubhouse you'll also find the Legends Grille where both breakfast and lunch are served. The food is reasonably priced and very delicious. I highly recommend the Philly Cheesesteak Sliders or the Caribbean Fish Tacos after a round of golf. The bar has all of your favorite libations as well as several domestic and craft beers on tap.

Memorable Holes (All Yardage is From the Blue Tees)

Most Memorable Hole: Number 18, Par 4, 371 yards. The distant bunker is a good line for your tee shot. With water running down the entire left side, there is ample room right of the green to bailout. The subtle undulations of the green will make your last putts quite memorable and the view of the Hall of Fame across the water is quite spectacular and definitely camera worthy.

Favorite Par 3: Number 7, 143 yards. This hole is truly a shotmaker's delight. Fashioned after The Redan, the famous 15th at North Berwick, the flag can be attacked either by carrying the bunkers straightaway, or better yet, by fading a tee shot. This allows the ball to feed down to the hole. Miss the green and you're most likely staring a big number right in the face. No wonder The Redan is the most copied par 3 in all of golf.

Favorite Par 4: Number 1, 358 yards. The wind will dictate how difficult this hole plays. Keep your tee shot left of the right-side fairway bunkers on this dogleg right. Make it to the dogleg off the tee and you'll have a short approach to the slightly crowned green. Par - or better - is a good way to jump start your round.

Favorite Par 5: Number 16, 527yards. The last three holes are a daunting task and feature the longest par 5 and the longest par 4 on the course. Shot placement off tee is essential on #16. If you're feeling good about your game thus far, you may want to take an aggressive line over the fairway bunkers in an attempt to get home in two. Should you choose to layup, you must avoid the left hazard as well as the trees on the right side. The green's false front slopes heavily back towards the fairway.

Last Word: The Slammer and the Squire provides a challenge regardless of which tees you play from or how good you are. Low handicappers will be challenged by a number of risk/reward opportunities; playing these holes smartly will yield a low score. High handicappers will be glad to know that the greens are pretty straight forward with not a lot of hidden breaks and subtle undulations. They are quick, running about 11 or 12 on the stimpmeter. There's a full length driving range as well as a large practice putting green and short game area to hone your skills. Should you arrive hungry or get so during your round, the Legends Grille is a great place to grab breakfast or lunch. The food is very good as are the portions. You won't leave hungry.

For more information about the course or to book your next round or golf vacation, visit the website at www.golfwgv.com.

Article Tags: World Golf Village, Gene Sarazen, Sam Snead, St. Augustine, Bobby Weed, Florida, Slammer & Squire
Revised: 03/12/2018 - Article Viewed 22,909 Times - View Golf Course Profile
About: David Theoret
---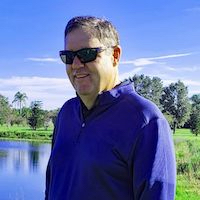 David Theoret has been in the golf and golf travel industry for over 10 years, primarily selling online advertising. For the past seven years, he has also been a golf writer, reviewing golf courses, resorts, destinations, equipment, golf apparel, and training aids - the latter of which never seems to help. David's articles and reviews have been posted on many golf travel and equipment websites.

Growing up in Southwestern Ontario, Canada, it was naturally assumed he would play hockey. Beginning at the age of 3 and continuing into his late 30's, he did just that. However, after one too many pucks to the head, he realized that golf was a lot easier on the body (whoever said hockey players were slow) and took the game up.

After moving to Florida and accepting a position with TravelGolf Media (now part of GolfNow) his love for the game grew exponentially. Most Saturdays you will find him on a course somewhere in Florida or on the practice range reinforcing his bad habits. David plays to a 10 handicap - unless there is money involved in which case it goes considerably higher. He currently resides in Lakeland, FL with his wife Belinda and their two "kids", Madyson and Molly.

---
More Articles by David Theoret