Share:
---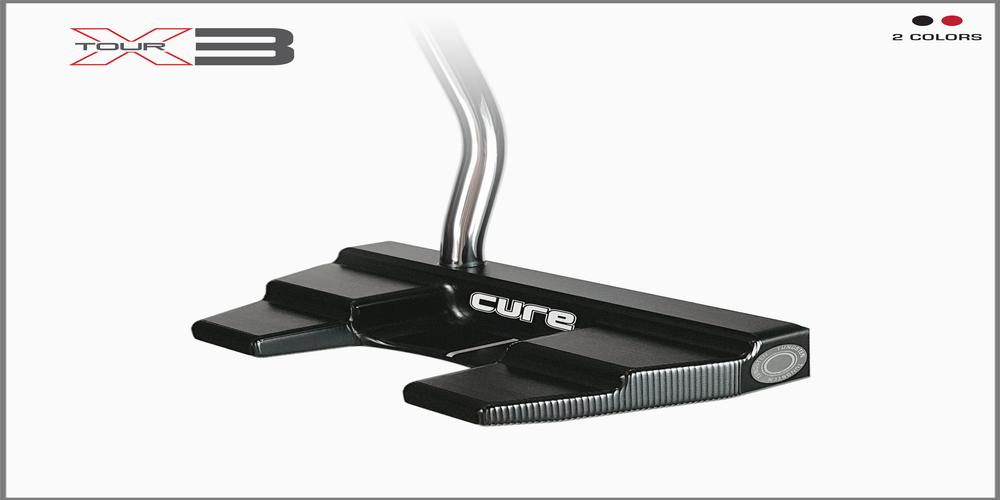 Cure Tour X-3 Cure Putters -
The Proof is in the Putting
By David Theoret
Cure Putters have been tremendously successful with PGA Tour players over the past couple of years, especially those on the Champion's Tour. In fact, Jerry Kelly has had multiple victories with his Cure Putter since joining the Champions Tour.

Kelly began using a CX1 model in the 2nd round of the 3M Championship and went on to win his next tournament, the Boeing Classic with the CX1 in his bag. Then he went on a roll and captured another win a few weeks later at the Pacific Links Bear Mountain Championship. Kelly played the CX1 throughout 2017 for 2 wins and 6 Top-10s and set a Tour record of 14 consecutive rounds in the 60s. His putting prowess helped him to be named the PGA Tour Champions 2017 Rookie of the Year.

For those of you not familiar with the brand, Cure makes putters with a very high MOI, better roll, adjustable weights and lie angles and interchangeable shafts. They are some of the most reliable and forgiving putters on the market and eliminate several variables that lead to problems with the putting stroke.

Recently, Cure introduced a new line of their putters based on feedback they had received from touring pros. The result is the new Tour X Series, a line of putters that feature a slightly smaller head with a sleeker, lower profile, multi-metal design. Three models are available: the TOUR X1, which has a square, boxy look to it and the X2 which has a rounded backside, while the TOUR X3 has a "two-wing" design which seems to be one of the most popular putter head shapes these days. All three TOUR X models have a lightweight aluminum head and heavy tungsten weights in the heel and toe. There are also removeable steel weights that give you flexibility in adjusting the weight and feel of the putter. The X1 and X2 models are available in a right-hand orientation only, while the X3 can be had in either. A straight or offset shaft is available for any model. Retail price is $299. All Cure putters conform to USGA rules and are made in the USA.

This combination delivers optimal weight distribution and gives the TOUR X3 extremely high MOI, putting it on a par with the leading high MOI mallets! You'll also find incredible stability throughout your stroke with the TOUR X3, which helps you square the putter at impact. It's also very forgiving and yields a tighter putt dispersion. Great feel, true roll and 60 grams of weight adjustability makes the TOUR X3 extremely versatile while it easily outperforms the competition.

Some players may be put off by the oversized head of just about any Cure Putter; granted, it doesn't appeal to everyone. But put one in your bag and play it for a few rounds and I guarantee you will se a difference in your putting. Th ball rolls better of the face and once you get the speed down, you'll start to see more putts drop. I like the design of the Tour X3 because it's a familiar style and design; just a bit larger (OK, a lot larger). Roll a few for yourself and you'll see.
To see the complete line of Cure Putters or to place an order online, visit their website at www.cureputters.com.


Revised: 04/11/2018 - Article Viewed 254 Times
Share Comment
Written By: David Theoret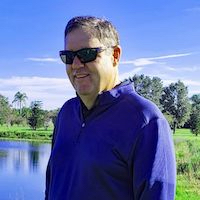 David Theoret has been in the golf and golf travel industry for over 10 years, primarily selling online advertising. For the past seven years, he has also been a golf writer, reviewing golf courses, resorts, destinations, equipment, golf apparel, and training aids - the latter of which never seems to help. David's articles and reviews have been posted on many golf travel and equipment websites.

Growing up in Southwestern Ontario, Canada, it was naturally assumed he would play hockey. Beginning at the age of 3 and continuing into his late 30's, he did just that. However, after one too many pucks to the head, he realized that golf was a lot easier on the body (whoever said hockey players were slow) and took the game up.

After moving to Florida and accepting a position with TravelGolf Media (now part of GolfNow) his love for the game grew exponentially. Most Saturdays you will find him on a course somewhere in Florida or on the practice range reinforcing his bad habits. David plays to a 10 handicap - unless there is money involved in which case it goes considerably higher. He currently resides in Lakeland, FL with his wife Belinda and their two "kids", Madyson and Molly.