Share:
World Golf Village
A Golf Lover's Paradise
By David Theoret
If you're into golf, The World Golf Village in St. Augustine FL has everything your heart desires. From world class golf on their two championship courses designed by four Golf Hall of Fame members, to the World Golf Hall of Fame and the acclaimed Renaissance World Golf Village Hotel, golf enthusiasts will leave thoroughly impressed and content. Need to improve your game? The PGA Tour Academy is also on site and ready to put the latest technology to work to help cure your swing woes.

The Renaissance World Village Resort has received a AAA Four-Diamond rating and is located next to the extraordinary World Golf Hall of Fame. The resort offers 301 Colonial Asian-designed guest rooms which feature spacious spa-inspirited bathrooms complete with granite countertops. In the sleeping area you will find comfortable beds, a mini refrigerator, coffee maker, sink and a 37-inch, flat panel TV. Each room provides a great view of the property, whether it's the Hall of Fame or the golf course. High speed Internet access is also available in each room. Downstairs you will find the Villagio Italian Grille, which features fresh seafood, great steaks, traditional Italian cuisine and more. If you're looking to catch your favorite sporting event, odds are you'll find it on one of the 7 televisions. There's also a complimentary shuttle service to and from historic downtown St. Augustine for registered guests as well as a gift shop where you can pick up World Golf Village memorabilia.

Also on property is the PGA TOUR Golf Academy, a one-of-a-kind, full-service game improvement facility. Their goal is to improve your golf game and exceed your expectations in every facet of their work. Since opening in 2000, the PGA TOUR Golf Academy has become one of the most recognized instructional academy locations in the country and serves as a training headquarters for all certified TOURAcademy instructors. They use all of the latest technology, including Trackman, Flightscope and V1 Digital Sports Coach.

PGA TOUR Golf Academy offers 2-day and 3-day golf schools, private lessons and club fittings. Junior golf camps are also available and, if you just want them to evaluate your swing and make a few suggestions on how to improve, they can do that too.

No trip to World Golf Village is complete without a visit to The World Golf Hall of Fame. Golf Historian Dr. Tony Parker and his staff do a wonderful job of keeping the exhibits fresh and interesting. The World Golf Hall of Fame keeps visitors engaged with interactive storytelling and exhibitions featuring artifacts, works of art, audio, video and photography that are meaningful and memorable to the history of golf and beyond. You'll find genuine artifacts that have been sought out by Dr. Parker and donated or are on loan to the museum in a variety of constantly changing exhibits. The journey through the Hall of Fame starts with a history of the game and how different cultures may have had an influence on the origin of golf and ends with a trip through the Member Locker Room. The Member Locker Room features a locker for every inductee into the Hall of Fame and provides some insight into their personal lives and interests outside of the game of golf. Your ticket price includes all-day admission, a round on the 18-hole natural grass putting course and a shot on the Challenge Hole; a 132 -yard island green reminiscent of the 17th at TPC Sawgrass. You can also take in a movie at their IMAX theater. Group pricing is also available. It's best to allow yourself at least half the day to wander through and take in all the exhibits.

The Slammer & Squire Golf Course is located on the World Golf Village property, just a wedge shot away from the World Golf Hall of Fame. It's an 18-hole championship course that was designed by Bobby Weed, with considerable input from its namesakes: Sam "The Slammer" Snead and Gene "The Squire" Sarazen.

The course features two distinct nines with generous fairways, contoured greens, and plenty of water hazards. The Slammer and the Squire provides a challenge regardless of which tees you play from or how good you might be. Low handicappers will be challenged by a number of risk/reward opportunities; successful navigation of these holes will yield a low score. High handicappers will be glad to know that most approach shots have bailout areas and the greens are straight forward with not a lot of hidden breaks and subtle undulations. They are quick, running about 11 or 12 on the stimpmeter. A full length driving range as well as a large practice putting green and short game area to hone your skills are within walking distance of the pro shop. Should you arrive hungry or get so during your round, the Legends Grille is a great place to grab breakfast or lunch. The food is very good as are the portions. You won't leave hungry.

Number 7 is a 143-yard par 3 that is truly a shotmaker's delight. The hole is designed after the famous Redan hole; number 15th at North Berwick. The flag can be attacked either by carrying the bunkers straightaway, or better yet, by fading a tee shot. This allows the ball to feed down to the hole. Miss the green and you could very well be staring at a big number. It's no wonder The Redan is the most copied par 3 in all of golf.

On the par 4, 371-yard finishing hole, the bunkers in the distance provide a good line off the tee. Even with water running down the entire left side, there is room right of the green to bailout if you feel the need. The subtle undulations of the green will make your last putts quite memorable and the view of the Hall of Fame across the water is quite spectacular and definitely camera worthy.

The King and Bear Golf Course is located a few minutes down the road from the rest of the World Golf Village, with shuttles available to get you there. The course is "a collaboration of two friends," according to Jack Nicklaus. Arnold Palmer and Nicklaus joined together to create a course where each hole exhibits characteristics of both players. For Nicklaus it is the wide fairways and generous landing areas off the tees; for Palmer it's the fast greens. At the time it was built, King and Bear was the only course in the world that the two had built together.

The King and Bear meanders around pristine lakes and ponds with beautiful loblolly pines and stately oak trees throughout. These trees are spectacular to look at; that is until they impede your shot! The emphasis here is on a part of the game that both men were famous for - driving the golf ball. Regardless of which tees you play, you will be challenged. A good game from the tee boxes goes a long way in shooting a good score here.

The two most memorable holes are 15 and 16, which happen to be Arnie and Jack's favorites as well. Number 15 is a short par 4 and is probably the most photographed hole on the course. You'll need to hit an accurate, controlled shot off the tee to avoid the water on the right and tall loblolly pines on the left. A good hybrid or fairway wood off the tee will leave a short pitch into an elevated green protected by two sand bunkers on the left and rocks and water on the right. The green slopes dramatically from back to front. At only 311 yards from the Blue tees, par is a good score here.

The shortest par 4 is followed by the longest par 4, Jack's favorite. It's a long dogleg right with tall loblolly pines and water on the left side of the fairway and more trees right. The hole plays 416 yards from the Blue Tees, so regardless of how well you strike your drive, you're most likely facing a long iron, hybrid or fairway wood into the green. Try to avoid the large pine tree on the left side of the fairway which has been the downfall of many good-looking approach shots.

Last Word: No matter which course you play, make sure you warm up with some complimentary range balls and get in the grove before you hit the first tee. Once on the tee, grab a chilled apple from the wooden bins on the 1st and 10th tees.

Both courses are over seeded during the winter months which makes for superb playing conditions year-round and a caddy service is available at both courses if you would prefer to walk.

Both the Slammer and Squire and King and Bear offer exceptional breakfast and lunch menus as well. The menu is the same at both facilities with a couple of the names changed, but nevertheless, the food is outstanding. For breakfast, the Eggs Benedict is highly recommended. For lunch or after golf, start with the Classic Jumbo Chicken Wings which are very meaty and tossed in a variety of sauces. Then go for the Buffalo Bleu Burger, Caribbean Fish Tacos or the Fish and Chips. Legends and Champions Grille offer several non-traditional clubhouse menu items that will have you coming back. Both clubhouses have several large screen TVs where you can catch up on the latest happenings in the sports world while enjoying happy hour.

There is just so much to do at the World Golf Village; it takes several days to take it all in. A lot of resorts offer golf and dining which is fine but why settle for a half day's activities when you can have so much more. After all, an early tee time on either the King and Bear or the Slammer and Squire followed by lunch at either the Champions or Legends Grille and an afternoon at the World Golf Hall of Fame could very well be a golfer's perfect day.

For more information on these facilities, check out the following websites:

www.worldgolfvillage.com
www.worldgolfhalloffame.org
www.golfwgv.com
www.fla-golf.org

Article Tags: World Golf Village, King & Bear, King and Bear, Jack Nicklaus, Arnold Palmer, Jacksonville, Florida, Slammer & Squire, Slammer and Squire, Gene Sarazen, Sam Snead, Hall of Fame
Revised: 05/15/2018 - Article Viewed 1,339 Times
About: David Theoret
---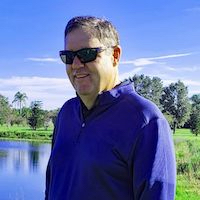 David Theoret has been in the golf and golf travel industry for over 10 years, primarily selling online advertising. For the past seven years, he has also been a golf writer, reviewing golf courses, resorts, destinations, equipment, golf apparel, and training aids - the latter of which never seems to help. David's articles and reviews have been posted on many golf travel and equipment websites.

Growing up in Southwestern Ontario, Canada, it was naturally assumed he would play hockey. Beginning at the age of 3 and continuing into his late 30's, he did just that. However, after one too many pucks to the head, he realized that golf was a lot easier on the body (whoever said hockey players were slow) and took the game up.

After moving to Florida and accepting a position with TravelGolf Media (now part of GolfNow) his love for the game grew exponentially. Most Saturdays you will find him on a course somewhere in Florida or on the practice range reinforcing his bad habits. David plays to a 10 handicap - unless there is money involved in which case it goes considerably higher. He currently resides in Lakeland, FL with his wife Belinda and their two "kids", Madyson and Molly.

---
More Articles by David Theoret