Share:
Tail Activewear
New Summer Collection is in FULL BLOOM!
By David Theoret
Tail Activewear' latest collection, Full Bloom, is nothing short of stunning. This new release is consumed with shades of purple, bright white, and deep black, just one more reason why Tail stands above the rest when it comes to women's golf fashion. This new collection, as many others, starts off with a golf dress that is full of color and style. The Maceo Dress in the Ombre' print is made from the same poly/blended, breathable fabric that Tail has become known for. It retails for $99 and comes with shorties for the right coverage for every woman.

As Tail Activewear's brilliant color schemes go, Full Bloom is up there with the best. This collection probably has more options of sleeveless tops than any previous release; and they pair with multiple pieces. Case in point, he Destiny and the Cindy Tops not only pair with the solid purple Giovanna skort, have just enough black or white in the prints to make them the perfect matchup to many of the bottoms in the new Better Than Basics collection.

If you are looking for that something that is really unique and will stand out on the course, look no further than the Diya and Danna Tops. The Danna Top is a brand new look with a Novelty Collar and is made from a no-fuss, anti-wrinkle fabric with comfort stretch and added sun protection. And you will love the "Placed Wave" print with the Lily color. The Diya Top has a Separated Mini Mock Neck for uniqueness. Both are made with that perfect blend of moisture wicking fabrics to keep you cool and comfortable, even in this summer heat. All of these sleeveless top options range in price from $79 - $83 are available in sizes XS - XXL. Good luck in choosing just one!

Looking for a little more shoulder coverage? Tail has a few options for that as well. The Xiomara and Baxley Tops are perfect choices if you're looking for a bright eye-catching print. More of a solid color kind of gal? Then you'll want to take a good look at the Brenna with a little cap sleeve for style. All are priced from $79 - $83 and are available in sizes XS - XXL.

You can't talk about a new Tail collection release without mentioning the great comfort and breathability of the skort selections. With Full Bloom, you have the Miley, Zaylee, Giovanna, and the Gaia skorts. Flowing and comfortable; lightweight and stylish, you'll have it all with any choice you make. Whether you like the full skort of the Giovanna or the straighter style of the Gaia with the flirty little ruffle, you simply can't go wrong with any choice. Not only comprised of the perfect fabric blends to keep you comfortable in the heat, each piece also has a UPF of 50+. All skort options are priced from $85 - 89 and everything is available in sizes XS - XXL.

All women's golf apparel designers offer polos, skorts, shorts, as well as all the necessities to look good and survive on the course in the heat of the summer but you will struggle to find such unique designs as the bright purple Ombre print or a Calypso print made up of a wide range of blue hues? And let's not forget about the Paradise Sunrise print with its purple and orange. It stands out as one of the most brilliant color patterns they offer. If you haven't checked out the Full Bloom print of Lily and White you don't know what you're missing. You just have to see for yourself.

There are many benefits to choosing to wear Tail Activewear; comfort, durability, detail and materials that wick away sweat (for those gals that tend to "glisten" in the heat). And with every new release of color each month, Tail works exceptionally hard to make their women's line of golf apparel unique in color, styles, and designs. To make an even better look and feel for the women golfer, Tail adds what many other designers simply do not have and that is: variety. So if you're looking to stand out on the course and play like a champion, or just look like one, Tail Activewear is where it's at. Check out all the designs I've mentioned and collections in every color on their website: www.tailactivewear.com.

Article Tags: Women's golf apparel, women's golf skort, golf polo, golf dress, Tail Activewear
Revised: 08/08/2018 - Article Viewed 205 Times
About: David Theoret
---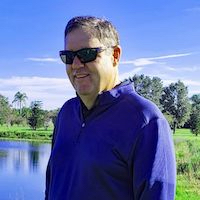 David Theoret has been in the golf and golf travel industry for over 10 years, primarily selling online advertising. For the past seven years, he has also been a golf writer, reviewing golf courses, resorts, destinations, equipment, golf apparel, and training aids - the latter of which never seems to help. David's articles and reviews have been posted on many golf travel and equipment websites.

Growing up in Southwestern Ontario, Canada, it was naturally assumed he would play hockey. Beginning at the age of 3 and continuing into his late 30's, he did just that. However, after one too many pucks to the head, he realized that golf was a lot easier on the body (whoever said hockey players were slow) and took the game up.

After moving to Florida and accepting a position with TravelGolf Media (now part of GolfNow) his love for the game grew exponentially. Most Saturdays you will find him on a course somewhere in Florida or on the practice range reinforcing his bad habits. David plays to a 10 handicap - unless there is money involved in which case it goes considerably higher. He currently resides in Lakeland, FL with his wife Belinda and their two "kids", Madyson and Molly.

---
More Articles by David Theoret
More Related Articles