Share:
Glove It
- Whatever Your Style, It's In the Bag!
By David Theoret
OK, let's say you just purchased the perfect activewear outfits, tops and bottoms. Now you're looking to accessorize them, but not sure where to turn. Look no further than Glove It!

Glove It specializes in accessories, everything from golf gloves and visors, golf bags, shoe bags, headcovers, tote bags, tennis gear, pickleball gear, backpacks, toe bags and sport towels. Enough said!

If you're the type of person that likes to "match" you're sure to become a fan of Glove It! Each piece is available in a wide variety of both solid colors and prints. We had a chance to check out several products. The Tennis Tote easily hold two tennis racquets and much more. There's a top zipper closure, a zippered back pocket, and an inside zip pocket. It's also perfect for the gym and beach. You'll fit right in if you order the right print!

The Rose Gold Quilted Zip bag looks much too luxurious for the golf course! This two-zip carry all bag is as functional as it is stylish and easily clips to your golf bag. With a 24" strap, it converts quickly to a body bag. It's available in all of Glove It's signature prints.

If you find it easier to carry your rackets on your back, the Tennis backpack is both fun and functional. It holds two racquets and the versatile strap lets it be work as either a sling or backpack. There's a side pocket for balls or a water bottle and a name tag compartment so you can identify it easily and a hidden top hook so you can hang it on the fence.

Now you can tote your shoes in style. Why wear them to the court or course when you can put them on display in a Glove It shoe bag. These shoe bags are available in all of the electric Glove It prints and provide extra protection for your shoes. They are sturdy and fashionable with a full-length zipper, a top carry handle and mesh ventilation, just in case!

Pickleball is the hottest sport in the country so why not get in on the act! The Pickleball Sling Bag is large enough to hold all of your pickleball gear including up to 6 paddles and pickle balls. Heck throw your phone, keys, and wallet in too! There's special compartments for them inside and a water bottle! The shoulder strap is adjustable and comes with a clip-on shoe bag.

Golf Gloves put Glove It on the map so it only makes sense to mention them as well. Glove It gloves let you put your fashion foot forward and are available in vibrant solid colors and all of their signature prints. They're made from stretch Lycra Cabretta leather palm and offer UPF50 sun protection, maximum breathability, and extreme comfort. These gloves are available in sizes S, M and L for either right or left hand.

Glove It lets you show off a side of your fashion and style that your friends may not know you have. Why not surprise them. To see the complete lineup of all of the Glove It product line, visit their website at www.GloveIt.com.

Article Tags: Gloveit, GolveIt, Headcovers, pickelball racquet, golf shoes, golf shoe bag, golf glove, Women's golf gear
Revised: 07/06/2020 - Article Viewed 455 Times
About: David Theoret
---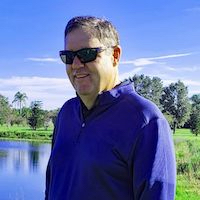 David Theoret has been in the golf and golf travel industry for over 10 years, primarily selling online advertising. For the past seven years, he has also been a golf writer, reviewing golf courses, resorts, destinations, equipment, golf apparel, and training aids - the latter of which never seems to help. David's articles and reviews have been posted on many golf travel and equipment websites.

Growing up in Southwestern Ontario, Canada, it was naturally assumed he would play hockey. Beginning at the age of 3 and continuing into his late 30's, he did just that. However, after one too many pucks to the head, he realized that golf was a lot easier on the body (whoever said hockey players were slow) and took the game up.

After moving to Florida and accepting a position with TravelGolf Media (now part of GolfNow) his love for the game grew exponentially. Most Saturdays you will find him on a course somewhere in Florida or on the practice range reinforcing his bad habits. David plays to a 10 handicap - unless there is money involved in which case it goes considerably higher. He currently resides in Lakeland, FL with his wife Belinda and their two "kids", Madyson and Molly.

---
More Articles by David Theoret
More Related Articles