Share:
Big Fish Golf Club - Hayward Wisconsin Lunker
By John Ehle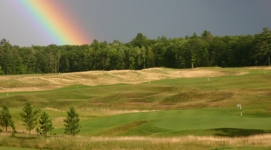 Hayward, Wisconsin is the home of the National Freshwater Fishing Hall of Fame, the host of the World Lumberjack Championships, the American Birkebeiner, their own special homecoming event called Musky Days and, since 2004, the location of the Pete Dye/Tim Liddy- designed Big Fish Golf Club. Big Fish is rated as the #7 best public course in Wisconsin, no small feat in a state as golf rich as ours. Hayward is only 2100 people but there is nothing done there which could be described as small. Sawyer County's population swells to 25,000 during the summer months and the Fishing Hall of Fame welcomes 35 to 40,000 visitors between April 15 and November 1.

Matt Vandelac is the PGA Professional/part-owner of Big Fish and he has been on-site since the beginning. When the list of potential names for the course had reached arm's length, he made a sage decision and turned the selection process over to his wife, Julie. Whether she was influenced by the gigantic musky sculpture which is located at the National Freshwater Fishing Hall of Fame or the deeply ingrained fishing culture that dominates recreational pursuits "up nort", Matt was hooked. The hiring of world-renowned designer Pete Dye and his associate, Tim Liddy was a real catch as well and the acquisition of a piece of land with two distinct looks provided Dye/Liddy with a challenge.

The piece of property selected for the first nine holes is runway-flat and situated between Hwy. B and the land to the south. The dramatically wooded back nine is in stark contrast to the inland links style of the front and provided the designers with different sets of challenges. When I first teed it up on the 10th hole, I thought of University Ridge, in Madison, which also has a front nine links presentation and back nine which is characterized by very challenging topography. Big Fish's inward nine has beautiful stands of conifers and hardwoods which frame the holes and cause one to hang on a little too tight as one ponders the possibilities when driving the ball. It also evokes a course located in the north; Timberstone GC in Iron Mountain, Michigan.

While looking out from the back tees on the outward nine, the first impression is that of a benign piece of property that just happened to become a golf course. Making a birdie on the first hole is always a blessing and sometimes a curse. Too often it is followed by the dreaded PB*U. Elated over the birdie and deflated with the following bogey on the 525 yard par 5 second, I moved on toward the sternest test on the front side, a 437 yard par 4 that played into the wind. The 5 that I made seemed like a par and I "walked away quietly" as Ken Venturi used to say. I finished the front nine with three consecutive pars and walked onto the back nine with high hopes.

To digress momentarily; it's no secret that Pete Dye is hired, in large part, because he has a much-deserved reputation for making difficult golf courses. Matt Vandelac worked with course shaper Mike Langkau of Oshkosh when working on the specs for the contours on the greens. Dye's propensity for the difficult was reflected in the blueprints and the decision was made to soften the contours because of Vandelac's intention to host golf tournaments at Big Fish. If superintendent Tod Blankenship were to be able to create Stimpmeter measures of 12, the contours would have to be softened to make the greens puttable during tournaments, when the greens would be double-cut and rolled. In addition, the opportunity to examine each putt from both sides of the hole should be taken. Subtleties are not always apparent from the ball side only.

Another Dye characteristic is to configure holes that play in all directions and rest assured, the doglegs will probably reflect a balance of L to R and vice versa. The devil is in the details and that's why some of his designs are referred to as being "Dyeabolical".

Number 13 is definitely the signature hole at Big Fish. A 525 yard par 5 which plays downhill, it offers one a chance to go for it in two but the wise play is to the left-leaning fairway which is likely to result in a 120 yard shot into a two-tiered green which is guarded by three signature Dye pot bunkers.

The Vandelacs are parents of high school-aged kids who, surprise, are avid golfers. They have aptly named #s 14 and 15 "Double Bogey Gulch". Rated as handicaps 3 and 1, respectively, they are cyanide tough. At 440 and 490 yards, these two par 4s can derail a good round in a thumping heartbeat. Playing uphill only increases the number of thumps. Bogeys are received with satisfaction and relief as is the par 5 17th hole. A straightaway par 5 which sports a smallish but receptive green, it is perched above the fairway and elicits a deep breath after the tough complexity of "Double Bogey Gulch".

Big Fish offers six sets of tees from 4938 to 7190 yards. Amenities include a well-appointed pro shop, pub, friendly shop staff and the outgoing, engaging Matt Vandelac who will welcome an opportunity to "talk golf".

More information at www.bigfishgolf.com.
Article Tags: Big Fish Golf Club, Hayward Wisconsin Golf
Revised: 11/08/2010 - Article Viewed 26,660 Times
About: John Ehle
---

John Ehle writes for GolfWisconsin.com, GolfTrips,com and other golf-related sites in the US. He has attended 6 Open Championships in the British Isles and many men's and women's US Opens and PGA Championships as well as Ryder Cups and President's Cups.

His primary international writing is golf course reviews and travel articles. He also writes about golf equipment and other golf-related products. Most recently he traveled to Cuba and will be in SE Asia for 6 weeks in February and March, 2012.

He writes a weekly column for a metropolitan newspaper in the Milwaukee, Wisconsin area. He is a 10 handicap golfer and has competed in many Wisconsin State Golf Association events.

---
More Articles by John Ehle
More Related Articles