Share:
Vineyard Vines
- Luxury Apparel for On and Off the Golf Course
By David Theoret
Ever since I saw Jason Duffner walking off the course at the 2015 Memorial Golf Tournament in Ohio in 2015, I was intrigued by the brand. After doing some research and finding out how the company got its start, I became a fan. Once I started wearing their apparel, I became hooked!

Each year, the company seems to not only come out with new products but also continually expand on existing product lines. For example, their On-The-Go Pants may look - and feel - like your favorite pair of khakis from yesteryear, but these pants are packed with performance. The 55% cotton/32% nylon/13% Spandex fabric has a soft cotton-like hand feel and added stretch that moves with you through your golf swing. The stretchy interior waistband means you can make that extra run through the buffet line and your pants will forgive you. The hidden zipper and media pocket give you extra security while you're on the move and the water-resistant fabric protects against unsuspecting spills. These pants fit straight through the thigh and slightly taper to the ankle. The On-The-Go Pants are available in waist sizes 24 - 42 and in 7 colors: Stone, Khaki, Harbor, Jetty Red, Blue Blazer, Tide Blue, and Sage Olive.

The Printed Sankaty Polo was named for the Sankaty Head Golf Club and Sankaty Lighthouse on the eastern end of Nantucket. By their admission, it is one of the best polos Vineyard Vines has ever made. It's one of the softest performance polos on the market with a classic, relaxed fit, built-in stretch for comfort and movement, wrinkle-resistance for a clean look, and UPF 30+ for sun protection. The collar stand and 3-button placket give the Sankaty Polo a classic golf look and the whale logo on the chest identifies the brand. It's available in sizes XS - XXL and in several colors including Flats Blue, Sliders Ocean Breeze, Jake Blue Tejeda, or Passion Fruit.

Our Garment-Dyed Shep Shoulder Sweater combines chunky, rugged cotton with their signature Shep Shirt styling. It's a mix of classic cable stitches and contrast woven detailing at shoulders with a zipper placket and a washed/faded vintage look. The result is a warm layer that can easily be dressed up for drinks at the club or a day on the course. It's available in sizes XS - XXL and only in Tide Blue.

The first pair of shorts Vineyard Vines brought to market was their Breaker Shorts and they've been making them better ever since. The 98% cotton/2% spandex fabric is super soft with just the right amount of stretch. These shorts are comfy, strong, and breathable. The slash pockets in front and button-through besom back pockets provide ample storage for all of your golf needs. These 9 Inch Breaker Shorts are available in sizes 28 -46 and in an embroidered design in Moonshine with embroidered fish heads. They look a lot better than they sound!

9 Inch Printed On-The-Go Shorts are sewn from the company's lightweight, stretchy, moisture-wicking, and quick-drying On-The-Go fabric. The flexible waistband creates unsurpassed comfort and the DWR "Durable Water-Repellent" coating repels water. A hidden media pocket is great for stashing gadgets. These Printed On-The-Go Shorts are available in sizes 28 - 46 and in Basket Bora. The non-printed design is available in 11 vibrant colors.

Soft, broken-in slub cotton lends its name to Vineyard Vines' Island Garment-Dyed Long-Sleeve Slub Crewneck. It's garment-dyed and washed down for a lived-in look and makes for a great three-season lightweight layer. It's 100% cotton and keeps its shape after numerous washes. The Slub is available in sizes XS - XXL and in several colors including Sharkskin, Jetty Red, Sunny, Moonshine, Vineyard Blue, Andros Blue, or Bright Peach.

For lounging around the house in total comfort I highly recommend the Whale Logo Long-Sleeve Harbor Performance Tee. These long-sleeve performance tee shorts are an essential addition to any active guy's wardrobe. The 94% polyester/6% spandex fabric is a performance blend with added stretch and UPF 30 sun protection. It's also moisture-wicking and quick-drying. The giant whale graphic gives the brand away. The Whale Logo Long-Sleeve Harbor Performance Tee is available in sizes XS - XXL and in White Cap, Medium Gray Heather, Bora Blue, Green Gecko, or Vineyard Navy.

The Bloom Sankaty Margo Shirt Dress is sewn from Vineyard Vines' signature Sankaty fabric with UPF 50+ sun protection. The fabric is lightweight and airy and looks amazing with its elbow-length sleeves, collar, and button-front placket. The Bloom Sankaty Margo Shirt Dress is available in sizes XS - XXXL and in Deep Bay/Marlin.

The 17 Inch (Seersucker) Scallop Skort is a preppy performer. The performance fit has added stretch for mobility and the moisture-wicking twill skirt keeps you dry and cool. The undershorts have gripper tape at the short hem to keep things where they should be. The two back pockets have seam zippers, and the scallop hem and pocket details add a feminine touch. There's a whale embroidered above the back pocket to help you remember the brand! It's perfect for the course or the clubhouse. The 17 Inch (Seersucker) Scallop Skort is available in sizes 00 - 16 and only in Cornflower. It will pair well with your favorite polo. It's also available in a 17 Inch, 88% polyester/12% spandex fabric in the same sizes and several colors including Stone, Deep Bay, and White Cap.

Vineyard Vines' Solid Pique Polo offers timeless style in a soft moisture-wicking pique fabric to help keep you cool and comfortable all day long. The jacquard styled collar has open sleeves and an open hem and a buttoned front placket to keep you cool. It's available in sizes XXS - XL and in White Cap. There's also a whale logo embroidered on the chest.

For lounging around the house, the Vintage Whale Long-Sleeve Pocket Tee could easily become your go-to tee! The 100% cotton fabric is soft and breathable, and the signature Vineyard Vines text down the left sleeve and whale graphic on the chest and back leave no doubt that this is indeed your favorite brand. It's available in sizes XXS - XL and in several colors including Lady Slipper Fuchsia, Papaya Punch, or Clearwater.

The Dreamcloth Striped Relaxed Shep Shirt is designed for a relaxed fit and typically runs big, so you may want to consider sizing down. The super-soft 48% rayon/48% acrylic/4% spandex fabric has a luxurious hand feel and there's a logo box on the chest and at the back of the neck. This garment is available in sizes XXS - XXXL and in Jet Black Stripe.

The Sun-Washed Fisherman Sweater was inspired by vintage fisherman sweaters and features several performance updates. It's 100% cotton, fits true to size, and is designed for a relaxed fit. The gorgeous all-over mix stitching and crewneck with a ribbed collar, hem, and cuffs create a classic fisherman look. The sun-washed colors make this the perfect sweater for spring golf! The Sun-Washed Fisherman Sweater is available in XXS - XL and in either Andros Blue or Cloud Blue.

Another great spring weather sweater is the Striped Heritage Cotton V-Neck Sweater. It too is 100% heritage cotton with a relaxed fit and a soft hand feel. In true classic golf sweater fashion, the collar, hemline, and sleeve openings are ribbed and the whale logo on the chest completes the look. The Heritage Cotton V-Neck Sweater is available in sizes XXS - XXXL and in White Cap/Deep Bay. It is truly a Vineyard Vines classic.

The Island Fisherman Super Luxe Crewneck Sweater is the perfect layer for chilly days on the course. The 57% Merino wool/25% cashmere/18% nylon fabric fits true to size and is designed for a regular fit. The super plush cashmere blend fabric is super soft with a luxe hand feel and the crewneck and full-length sleeves pair well with the Mango Shirt Dress. It's available in sizes XXS - XL and in Camel.

This is a brief glimpse of what Vineyard Vines has in store for golfers this spring. For more information or to see all of their wonderful golf and non-golf apparel, visit www.vineyardvines.com.

Article Tags: Vinyard Vines Golf apparel, Jim Nantz, golf shorts, golf polo, men's golf shorfts, women's golf dress, golf skort
Revised: 07/19/2021 - Article Viewed 266 Times
About: David Theoret
---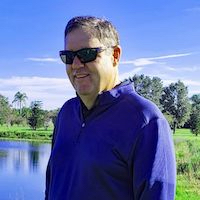 David Theoret has been in the golf and golf travel industry for over 10 years, primarily selling online advertising. For the past seven years, he has also been a golf writer, reviewing golf courses, resorts, destinations, equipment, golf apparel, and training aids - the latter of which never seems to help. David's articles and reviews have been posted on many golf travel and equipment websites.

Growing up in Southwestern Ontario, Canada, it was naturally assumed he would play hockey. Beginning at the age of 3 and continuing into his late 30's, he did just that. However, after one too many pucks to the head, he realized that golf was a lot easier on the body (whoever said hockey players were slow) and took the game up.

After moving to Florida and accepting a position with TravelGolf Media (now part of GolfNow) his love for the game grew exponentially. Most Saturdays you will find him on a course somewhere in Florida or on the practice range reinforcing his bad habits. David plays to a 10 handicap - unless there is money involved in which case it goes considerably higher. He currently resides in Lakeland, FL with his wife Belinda and their two "kids", Madyson and Molly.

---
More Articles by David Theoret
More Related Articles