Share:
---
Marriott Lincolnshire Resort Celebrates Women's Golf Month
Exclusive Golf Clinic, Special Pricing for Women in June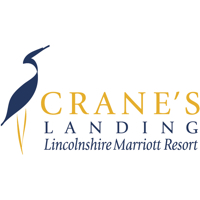 Moms, daughters, experienced golfers and newbies - all can hit the links as much as possible for fun and practice during the month of June at Crane's Landing, the PGA championship course at the Chicago Marriott Lincolnshire Resort. Every Monday through Friday evening in June, women will pay a reduced twilight-hour fee of $35 per person, and price includes cart and children 12 and under play for free. In addition, an exclusive women's golf clinic will be held on Thursday, June 23 at 6:00 p.m.

"Women's golf month is held all over the country in June, and we're excited that Crane's Landing is taking part," said E.J. Bertke, Director of Golf at the Chicago Marriott Lincolnshire Resort. "It's a fantastic opportunity to schedule an impromptu round with friends, or give golf a try. New players, both adults and kids, are encouraged to give it a go and have some fun."
Events and pricing

* Women's Golf Month Twilight Pricing: Starting at 6:00 p.m. Monday through Friday for the entire month of June, women can play 18 holes at Crane's Landing for $35 per person, a $65 value. Girls under 12 play free. Fee includes golf and a cart.

* Women's Golf Clinic: Thursday, June 23 at 6:00 p.m. Director of Golf E.J. Bertke along with Assistant Golf Professional Keith Benson will co-lead this two hour golf clinic focused on chipping and putting, and players will also split into groups and practice on the course for real-time green-side practice with coaching from the Crane's Landing professionals. Cost: $10 per person.

* Women's Golf Merchandise Discount: For the month of June, all women will receive a 20 percent discount on all items at the Crane's Landing Golf Shop.

News Source: Crane's Landing Golf Club at Lincolnshire Marriott Resort
Posted May 26, 2016 || Viewed 3,110 times || View Course Profile
Share Comment