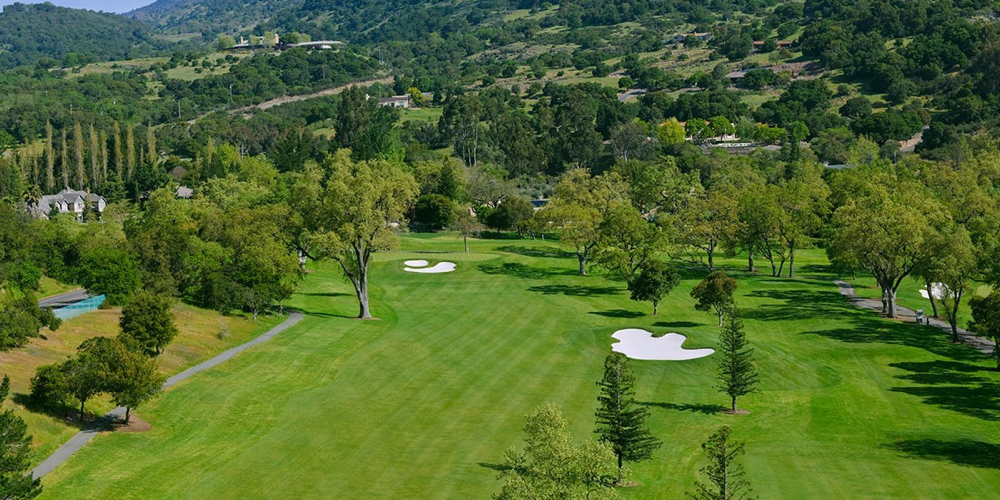 Grapes and Golf go together like Claret and Jug. California wineries have been producing outstanding vintages for decades. At the 'Top of the Vine' is the Napa Valley that nowadays celebrates golf in a 'Grand Magnum' manner. I recently took a tasting and playing road trip on the Silverado Trail, the eastern two-lane road less traveled in Napa, visiting some of the best family-owned wineries and playing a little golf. Instead of fighting the traffic on Highway 29, where there is a plentitude of tasting rooms and wineries begging you to stop, the Silverado Trail is snuggled up against the Napa hills of vineyards with trees lining the 30-mile route with some great vintners along the way.

Nestled a mile off the Trail, the 1200 acre Silverado Resort and Spa plays host to the beginning of the PGA TOUR's new season, the Safeway Open. As you drive in the entrance you approach an antebellum mansion typical of the deep south, wondering 'am I in the right place.' My open-concept Mansion Estate suite came with a complete living room, bedroom, full kitchen, dining area and a lovely patio to enjoy a hot cup of joe in the brisk morning air. It was a special delight to have a room close to the practice green and the first tee on the North course.

Speaking of golf, Silverado has two championship layouts, originally designed by Robert Trent Jones Jr. and opened in 1967. In 2011, PGA Hall of Fame member and Co-Owner Johnny Miller redesigned them both to be more in tune with the length of the pros and to give the duo a refreshing new look. The North course at nearly 7,200 yards is where the Open is held and has its challenges for mere mortals like me, but an enjoyable round can be had choosing the correct distance to play from. The North is a parkland style layout with no steep climbs or drops. Mature trees etch out the fairways and key bunkering can increase scoring numbers. Since Johnny's retirement from NBC, he is spending a bit more time at the Resort, particularly at his Golf Academy once a month from March to November, conducting classes at the school. The South course was much more enjoyable with comfortable elevation changes, not much bunkering, and just easier at 6600 yards. If you play in the afternoon expect the poana greens to run a bit slower.

After a few libations in the Mansion Lounge, I was privileged to enjoy a fine dining and pairing experience from Chef Pablo Jacinto who creates gourmet delicacies while sourcing most of his ingredients locally. Let's just say I had my fill of both wine and food. It was a five-star extraordinary evening.

There is an element of confusion on just how many wineries are in Napa. Some say 400, some say 1200...it all depends on whether you classify them as a winery or vineyard with a tasting room to sample the nectar. Hail Bacchus! I was in my element. In any event, there are more than enough to get oneself seriously delayed in arriving at my next destination further up the Valley, near the town of St. Helena.

If wine is not your thing, you can spend the day at Miller's other design before moving up the road, Eagle Vines Golf Club, an 18 hole, par 72, 7297-yard course that winds its way through 27 acres of vineyards, and has six sets of tees to allow everyone an enjoyable round.

Meadowood Napa Valley is one of only 13 properties worldwide honored with a triple Five-Star Award from Forbes Travel Guide. Settled on a private 250-acre estate Meadowood is known for its beautiful natural setting and gracious hospitality. With classic architecture and a myriad of chalet style suites-or if you will-cabins, dotted around the golf course and tennis courts, that all have elegant style and charm sure to please the most fastidious tastes. My suite was pleasingly sheltered from the sun by cork oak trees and only 20 yards from the 8th green. The golf course is a nine-hole walking course available to resort guests, members and their guests, with immaculate playing surfaces and ideal conditions for year round play. Northern California native and PGA Class A Member Doug Pike has a school at Meadowood and serves as head professional.

I thought my dinner at Silverado could not be topped, but the Three Michelin Guide Starred The Restaurant, one of only seven in California, is #1 in my book. The TRAMily(The Restaurant at Meadowood family) is there to meet your culinary wishes with daily created dishes by their imaginative staff of chefs under the direction of Executive Chef Christopher Kostow, a James Beard Foundation Award Winner.

My last stop on my Napa Golf Journey was at the northernmost point on the Silverado Trail to the town of Calistoga and their municipal 9 hole 'diamond in the rough' Mount St. Helena Golf Course located on the Napa County Fairgrounds. The par 34, 2800-yard Jack Fleming 1956 designed course has tree-lined fairways and tiny greens and is attractive to golfers of all abilities.

My interest in visiting wine country overcame my golf enthusiasm but when you are in an Oenologist home, the amateur connoisseur in me took over, much to my delight.