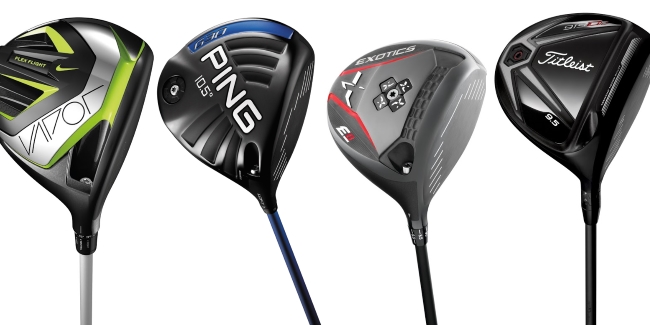 2015 Golf Driver Reviews
Tee Toys for the 2015 Season
As if you're not seeking more distance off the tee. Everyone is -- even the Tour pros. That's why all of the major manufacturers have recently debuted their latest models, promising -- you guessed it -- longer drives. In fact, many brands have introduced several new models, for specific player types and budgets. This new lot collectively seems to focus around ways to helping you get your tee shots up in the air quickly while getting plenty of distance and verve off of the clubface. Some new models accomplish that with the use of multiple materials, some with unique crown configurations, and others with slots or channels behind the clubface that essentially boost the trampoline effect of the clubface to catapult the ball forward. Whatever approach each company takes, it's working. I've tested out many of these models and they're truly hot -- especially compared to models of just two years ago. So if you haven't upgraded in a while, it's worth your while to try these. And even if you recently bought a driver, head to your local store and hit the demo models. You're going to be jealous.

Callaway's Big Bertha Alpha 815 ($450) offers three adjustability venues: loft for launch angle, sole weights for horizontal center of gravity (CG), and Gravity Core plug for vertical CG. In other words, you can quickly home in on your preferred ball flight. The midnight-colored clubhead produces low spin and forgiveness. To boot, it feels and sounds plain powerful at impact. Callaway's other new models: Big Bertha Alpha 815 Double Diamond, Big Bertha V Series.

Cleveland Golf's CG Black driver ($349) has a low CG and lightweight construction that collectively yield a high launch and revved-up clubhead speed. Which means more distance for slower swing speeds, seniors and women. Cleveland's other new model: CG Black Custom.

Mizuno's JPX-850 ($400) boasts a relatively smaller 440cc titanium clubhead bears movable weights on the sole that let you adjust lateral ball flight along a sliding mechanism to 10 unique variations of draw, neutral or fade. The hosel adjusts to eight loft/lie settings, so that you can tune shot height north and south.

The latest and priciest of Nike's three new Vapor drivers is the adjustable-lofted Vapor Flex ($600), which like its siblings, has a stiffened cavity and face-wide spring-like effect. But it also features a 15-gram tube with one weighted end in the cavity that you can flip to adjust the CG low/forward to low/back, to alter ball flight. Nike's other new models: Vapor Speed, Vapor Pro.

PING's adjustable G30 driver ($385) reduces aerodynamic drag, to rev up clubhead and ball speed for distance -- via protruding "turbulators" on the crown that also help with aim. The clubface is strong, thin and hot, and the CG is low and back, for a high launch and optimized spin. Two standard lofts -- 9 and 10.5 degrees -- can be adjusted +- 6/10 or 1 degree.

Srixon's Z 745 ($400) features three interchangeable sole weights and loft adjustable to 12 settings -- making for 36 possible launch combinations. With its forward CG and base lofts of 8.5, 9.5 and 10.5 degrees, it's intended for 0-12 handicaps. Srixon's other new model: Z 545.

TaylorMade's fix-lofted SLDR S ($330) sports a sliding sole weight that promotes up to 30 yards of left-right shot adjustment. A low-forward CG translates to fast ball speed, high launch, low spin and plenty of distance.

Titleist's high-MOI 915 ($499) comes in two versions -- each designed for distance with forgiveness through an "Active Recoil Channel" on the sole, clubface that boosts ball speed on mis-hits, and adjustable loft. The pear-shaped 460cc D2 maximizes forgiveness and is easier to draw. The deep-faced 440cc D3 has no draw bias, is more workable and generates less ball spin for extra distance.

Tour Edge's Exotics E8 driver comes in two options that both feature adjustability with loft modifications and an interchangeable sole weight, as well as a "Power Grid" channel system behind the clubface that generates a spring-like effect for distance. The CG in the standard 460cc version ($300) is slightly low and forward for a high launch, fast ball speed and less spin. The 440cc Beta's ($400) higher, more forward CG yields a penetrating trajectory, increased ball velocity and minimal spin. Tour Edge's other new model: Hot Launch.

Wilson Golf's Staff D200 ($300) features a clubhead that weighs a feather-like 189 grams, which is why the company bills it as one of golf's lightest adjustable drivers. It has six loft settings and variable face technology that further amplifies ball speed and forgiveness on off-center hits.