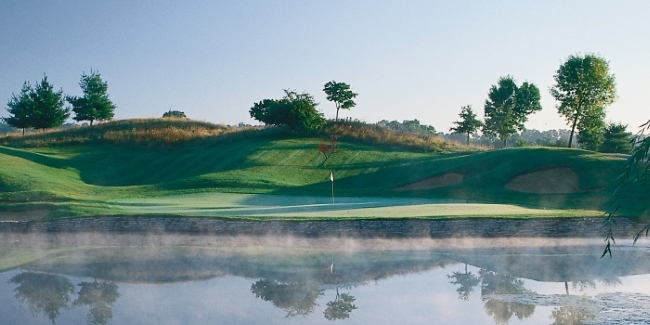 9 Stars of Golf Package
Play Two Amazing Golf Courses in Ohio - EagleSticks and Longaberger
Pricing for the 9-Stars of Golf is available anytime throughout the year. It includes a round of golf with cart at both EagleSticks and Longaberger Golf Club plus an overnight stay at The Comfort Inn with breakfast included. What it also includes is our PGA Professional lead travel staff to help take care of all the details. Your burden is light with us, because our staff will cater to every last detail so that you can enjoy your trip!

EagleSticks Golf Club:
* Ranked 100 on Golf Digest's Top 100 Public List 2004
* Named 2nd Runner Up, "Best New Public Facility in America", Golf Digest 1991.
* Named Top ranked "Public Access Facility in the State of Ohio", Golf Digest 1994.
* Ranked 14th on America's Top 75 Affordable Courses, Golf Digest 1996.

Longaberger Golf Club:
* Ranked #74 on "America's 100 Greatest Public Courses", Golf Digest 2016.
* Ranked #1 in Ohio Public Courses 2002 to present.
* Named "America's Best New Upscale Public Golf Course". Golf Digest, 2000.
* Ranked 65th on "America's 100 Greatest Public Courses", Golf Digest, 2006.
* Hosted 1999 Shell's Wonderful World of Golf, and the 2004 PGA Club Professional Championship.




More Information and View Package »
---
Old Kinderhook Announces New Lodge and Conference Center
Old Kinderhook, the Lake of the Ozarks' Premiere Golf Resort
Old Kinderhook, the Lake of the Ozarks' premiere golf and lake resort, announces the opening of The Lodge at Old Kinderhook, a new 84 guest room lodge, 250 person capacity conference center, breakout meeting areas, spacious and inviting Hearth Room, grand fireplace, coffee and full bar proudly serving Starbucks coffee, state of the art work out facility, indoor & outdoor pools, old fashioned outdoor ice rink (seasonal), two sand volley ball courts (seasonal) and poolside cabana serving a limited menu and full bar.

"The Lodge completes the destination resort experience at Old Kinderhook. For nearly 15 years, Old Kinderhook has built a reputation for exceptional golf, outstanding dining venues, marina facilities and lake living the way it's meant to be. With the addition of the new lodge, conference center and amenities, we will better serve 25,000 people that visit Old Kinderhook each year and welcome new guests," said Bob Renken, Executive Director of Old Kinderhook.

The Lodge at Old Kinderhook is now taking reservations. Please contact the lodging department at (573) 317-4314.
---
The Lodge of Four Seasons Provides an Artist Rendering of Guest Rooms
Missouri Resort Undgergoing a Multi-Million Dollar Remodeling
Lodge of Four Seasons, LLC, managed by Access Hotels & Resorts released the detailed artist rendering of the guest rooms as a part of the multi-million dollar renovation project of the famed Lodge of Four Seasons Resort located at the Lake of the Ozarks.

Renovation of the property will include remodeling of guest rooms which will include the addition of 55 inch televisions, new draperies, carpeting, fittings, beds and bedding, wall coverings, bath vanities, mirrors and lighting, ergonomic chairs and desk and other decorative accessories plus replacement of all exterior sliding doors.

In addition, all public areas will be renovated as well including the entry, lobby, restaurants, meeting rooms, atrium, hallways, and exterior building enhancements, including the main swimming pool, roadways and sidewalks plus the replacement of the heating and cooling systems as a part of the multi-million dollar remodeling.

Matchline Design Group in Dallas, Texas is a top designer for hotels and resorts, restaurants, and corporate offices, and has been selected as the interior decorator. Lesley Hughes Wyman, Principal/Partner of the firm said, "We intend to reinvigorate the Lodge with a warm and inviting palette that brings a fresh, yet still comfortable atmosphere. Updated finishes, furnishings and lighting will draw from the natural surroundings as inspiration to create a modern, approachable aesthetic without comprising the familiarity of the property that guests have come to know and love throughout the years."
---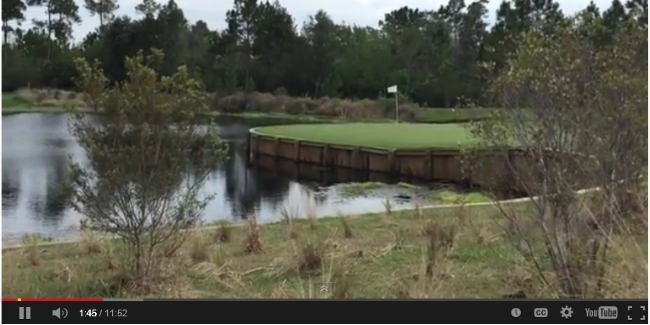 Road Trip And Golf Video In Biloxi
Traveling Golfer Journals Recent Trip To The Magnolia State
Michigan Golf Live Hosts Show in Gulf Coast - Biloxi, Mississippi. View video for ideas for your next buddies gulf trip.
---
U.S. Open & Masters Champion Fuzzy Zoeller Invites You To Play Covered Bridge & Champions Pointe Golf Clubs
Fuzzy Zoeller's Home Golf Courses, Covered Bridge & Champions Pointe Golf Clubs are located in Southern Indiana, just 15 minutes north of downtown Louisville, Kentucky. Both courses are premier Championship 18-hole golf courses designed by Fuzzy Zoeller and Clyde Johnston. Each course offers a fun challenge and beautiful scenery. You can expect top-notch service at Fuzzy's courses and to be treated as a member for a day! The courses are open to the public 7 days a week. Whether you are traveling to the area with a group of golf friends or on a business trip, plan a visit Covered Bridge and Champions Pointe for a round of golf. However, be sure not to park in Fuzzy's parking spot...you never know when he is going to stop in for a visit!

Covered Bridge & Champions Pointe offer Stay & Play Packages. Packages start as low as $104.96 per person. Stay & Play Packages include 18 holes of golf with cart, your hotel room and continental breakfast. All rates are based on double occupancy. Single Rates are available upon request.

To book your Stay & Play Package at Covered Bridge and Champions Pointe, please contact Kevin Grantz at kevingrantz@coveredbridge.com or 812-246-8880.

Contact Us For More Information »
---
Interview With Steve Lowery, Former PGA and Current Champions Tour Professional Golfer
A Light Hearted Golf Q & A Interview
During the Wednesday Pro Am Day at the Mississippi Gulf Resort Classic, I had the opportunity to play with and interview Steve Lowery, the Former PGA and Current Champions Tour Professional Golfer. In between shots and draining his birdie putts, he answered some of my favorite questions I love to ask Professional golfers. (Note: If the opportunity affords itself, it is a must to play in one Pro/Am event in your life. It is worth the price of admission. Rumor has it the Champions Tour players are much more enjoyable to play with and playing with Steve was a thrill of a lifetime. Treat yourself to next years event! More info at http://www.2015mgrc.com/pro-ams.php)

Brief Biography
Steve Lowery was born in Birmingham, Alabama. He has PGA Tour victories in 1994, 2000 and 2008. All three of his victories on the PGA Tour have come in playoffs.

Lowery has been featured in the top 50 of the Official World Golf Ranking. His best season on the PGA Tour was in 1994, when he finished 12th on the money list. He missed most of 2007 with a wrist injury. The PGA Tour granted him a partial exemption for the 2008 season. He needed to win more than $250,000 during his first eight starts in 2008 in order to re-gain his full exemption on the PGA Tour, but that became a moot point when he won the 2008 AT&T Pebble Beach National Pro-Am. The victory gave him a full two-year exemption.

Lowery also won the Birmingham Golf Association Junior and State Junior in the late 1970s, before embarking on his four years of college at the University of Alabama. He played for coach Conrad Rehling from 1979-1983, on the Alabama Crimson Tide golf team.

In 1998, Lowery was involved in a bizarre incident at The Players Championship, in which his successful approach shot to the infamous island green on the 17th hole was stolen by a seagull (which then dropped his ball into the adjacent water hazard). Under PGA rules, Lowery was allowed to replace his ball with no penalty.

Though it was in a losing effort, Lowery played a memorable stretch of golf at The International in 2002. He holed out a shot from over 200 yards for a rare double eagle (or albatross) on the 71st hole to pull within one point, ultimately losing by the same margin after missing a birdie putt on the last hole. Coming near the very end of the tournament and creating such a close finish, Lowery's double eagle was one of the most dramatic in PGA Tour history since Gene Sarazen made a double eagle at 15 in the final round of the 1935 Masters Tournament. Two holes before his double eagle, Lowery also holed out a wedge from the fairway for an eagle.

What is your current home course?
Greystone Golf & Country Club is a private, 36-hole golf club located just outside Birmingham, Alabama

To date, what is your proudest golf accomplishment?
On the course in 2002, I holed out a shot from over 200 yards for a rare double eagle on the 71st hole to pull within one point at The International.

---
Spirit Hollow Opens New Lodge At Golf Course
Now Offering Stay and Play Packages At The #2 Course in Iowa
Surrounded by the award winning Spirit Hollow Golf Course, the LODGE at Spirit Hollow is the ideal destination for travelers who simply want to relax in an idyllic setting. The LODGE is designed for golfers, romantic getaways, a girls or guys weekend, and corporate meetings.

The LODGE features a private dining room and a welcoming social area in which to relax; including gaming tables, TV's, complimentary Wi-Fi, comfortable leather chairs and a roaring fireplace. Each of the rooms are appointed with the finest bedding and furnishings and offer dramatic views overlooking the golf course.
---
State of Mississippi Offers Expenses-Paid Gulf Coast Golf Trip
Visit Mississippi - the Magnolia State's tourism bureau - is offering golfers and travel-lovers the opportunity to win a free golf getaway to the Gulf Coast via a sweepstakes.

One winner will enjoy two nights' luxury accommodations at the Palace Casino Resort, two rounds of golf at The Preserve Golf Club and a scrumptious, authentic Southern dinner at Dickey's Barbeque Pit.

To enter the sweepstakes, visit www.tinyurl.com/golfms2015 by April 15 and join the conversation on social media by tagging #GolfMS2015 on Facebook, Twitter and Instagram.

"Whether you're looking for a weekend getaway or a week-long vacation, Mississippi is a golf-traveler's paradise," said Director of Visit Mississippi Malcolm White. "Visitors can choose from more than 140 courses and complement their game with post-round options including non-stop entertainment, beaches, Blues Trail, Southern hospitality, historical attractions and more. The state's temperate climate makes conditions pleasing for year-round play and other guest experiences."

Designed by U.S. Open Champion Jerry Pate, The Preserve Golf Club encompasses 245 acres of dedicated nature preserve. The surrounding environment of bogs, cypress swamps, long-leaf pine savannahs and live oak groves are beautifully integrated into the course design.

Recently featured in Golfweek's "America's 50 Best Casino Courses," The Preserve offers stunning scenery and an exceptional playing experience.

The Palace Casino Resort is the only smoke-free casino on the Mississippi Gulf Coast. Home to 236 guest rooms and 14 suites, the hotel is equipped with 1,100 slots machines, 26 table games and award-winning restaurants.

To Enter Visit www.tinyurl.com/golfms2015 »