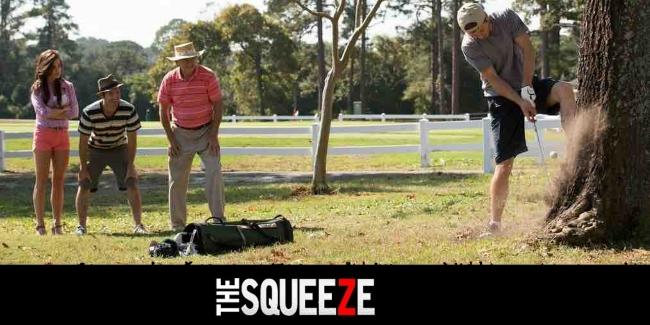 The Squeeze Movie Review
The Squeeze Movie - Now in Theaters
Phil Mickelson called the newly released movie "The Squeeze' as "the best golf movie ever.' That's a stretch when you put it beside my two favorites - the first version of "CaddieShack' and "The Greatest Game Ever Played.'

The Squeeze which opened in theaters on April 17, has received rave reviews amongst golfers and non-golfers alike.

Terry Jastrow, long-time producer and director for ABC Sports, wrote "The Squeeze,' the story of a young golfer from a small, rural town who gets caught in a life-or-death predicament between two Las Vegas gamblers. Jastrow's wife, Anne Archer, is a producer of "The Squeeze.' As an actress she had roles in "Fatal Attraction,' "Patriot Games' and many other notable movies.

Mickelson isn't the only other golf celebrity who had a favorable reaction after a sneak preview. Jack Nicklaus and Tom Watson also liked it for its authenticity, and Watson even invested in the project. He wouldn't commit, though, until seeing five swing videos of Jeremy Sumpter, who plays Augie Baccas - the lead character.

"If they can't swing the golf club, I'm not interested in investing with you,' Watson told Jastrow. After seeing the videos Watson admitted "I was duly impressed.'

Sumpter is a plus-1 handicap at a club in California but hasn't played serious tournament golf. "I'm an actor,' he said after the Chicago premier, and there's no doubt he is that.

More prominent acting names are also in the cast. The dueling gamblers are played by Michael Nouri ("Flashdance ' is just one of his many stage and screen credits) and Christopher McDonald, who played one of my favorite screen characters - Shooter McGavin in the golf comedy "Happy Gilmore.' McDonald's character in "The Squeeze' is loosely patterned after the notorious golf gambler Titanic Thompson.

"The Squeeze' has similarities to the two golf movie classics. Like "CaddieShack' it has its humorous side. Like "The Greatest Game Ever Played' (the story of Francis Ouimet's shocking win in the 1913 U.S. Open) it has an historical base.





---
Erin Hills Opens May 11, 2015
Host of the 2017 US Open
Erin Hills plans on opening for the 2015 season on May 11, 2015. If you are looking to play the course or start your planning for the 2017 US Open, please view our Erin Hills Travel Guide for valuable tips and recommendations.

Travel Tips and Insider Information
Erin Hills, located in the heart of Wisconsin's Kettle Moraine is the site of the 2017 US Open. After the USGA awarded the major, Erin Hills has been the buzz of the Badger State. If you are planning on attending the event or playing the course, here are some tips from a guy who lives a driver, nine iron away.

Getting There
The hardest part of your travels will be spotting the small wooden sign marking the entrance. The course and club house are tucked a mile off County Road O in the rolling terrain known as The Holy Hill area. So keen eyes will be needed the last stretch of your journey. Do not feel bad if you drive past it. On my first trek to the course, I drove past it 3 times. I was told the minimalistic entrance replicates the great courses in Ireland. Grand entrances and pearly gates are not needed when the golf course is that good.




---
Westin Lake Las Vegas Resort & Spa
Jack Nicklaus Signature Golf: Reflection Bay Golf Club + exclusive access to Southshore Golf Club (private)
What a difference a lake makes!

Just 30 minutes from the Las Vegas Strip, the Moroccan-themed Westin Lake Las Vegas Resort & Spa offers luxurious accommodations, 2 world-class Jack Nicklaus Signature golf courses, spectacular dining, 2 pools, cabanas, poolside bar & grill, private beach and spa. Experience the tranquility of Lake Las Vegas, but with the excitement of Vegas just 30 minutes away!

Westin Lake Las Vegas guests receive special discounted rates at Reflection Bay, plus exclusive access to the private Jack Nicklaus Signature designed Southshore Golf Club at Lake Las Vegas.

Our concierge can also arrange guest access to play the nearby private Dragon Ridge Country Club.

---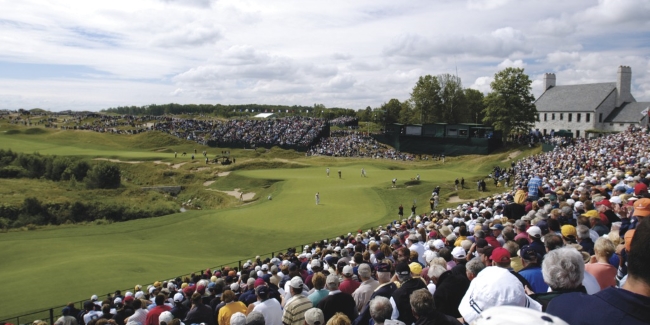 Play Whistling Straits
Play Before The Pros
If there is ever a year to golf Whistling Straits, site of the 2015 PGA Championship, this is it. We invite you to play before the world's best golfers descend on Kohler, Wisconsin, this August.

Located only one hour north of Milwaukee, Whistling Straits has been the site of the 2004 and 2010 PGA Championships, the 2007 U.S. Senior Open and is the future site the 2020 Ryder Cup.
---
Bellaire: Northern Michigan's Next Great Golf Town
Award-winning golf, desirable stay & play packages at Shanty Creek Resorts
The key elements of a great golf town are the quantity and quality of courses to play and places to stay. In addition golfers want a variety of off-course recreation, dining, and entertainment.

Over the past several decades northern Michigan has become one of America's premier summer golf destinations highlighted by great golf towns like Gaylord, Petoskey and Traverse City. Add to that list the lakeside town of Bellaire.

Located 30 miles northeast of Traverse City, Bellaire (pop. 1100) features seven golf courses amid the Chain of Lakes region, which includes Lake Bellaire, Elk Lake, and the nationally acclaimed Torch Lake, plus hip dining and entertainment venues such as Short's Brewing Company. Its golf epicenter is Shanty Creek Resorts, which is now open for the 2015 golf season.

Named among the "Top Golf Resorts in the World" (and Top Golf Resort in Michigan) by Conde Nast Traveler, its four courses are known for their variety of terrain and playability. This year the resort opens in the afterglow of being awarded Michigan's 2015 "Golf Course of the Year" for its Arnold Palmer masterpiece, The Legend, which was also a finalist for "National Golf Course of the Year."

For more information and to explore other golf package options, visit www.shantycreek.com.
---
SentryWorld Now Open
Wisconsin's First Golf Destination Re-Opens Better Than Ever
After a 20-month renovation, limited charity and community play in late 2014 and nearly 33 years since SentryWorld originally opened, SentryWorld's freshly reimagined golf course is now open for the 2015 season.

Expansive and gracious yet altogether intimate, the reimagined SentryWorld offers rolling green fairways, sparkling blue waters and impeccable white sands-all the best elements of a modern parkland experience that any level of golfer is sure to enjoy. Coupled with an array of recreational opportunities and a fresh, new restaurant in PJ's - SentryWorld, SentryWorld has truly come full circle.

SentryWorld is back and better than ever. Don't miss out on your chance to play one of the first rounds of 2015-remember, SentryWorld is open to the public-everyone is welcome to come out and golf!

BOOK NOW by calling 715-345-1600 or 866-479-6753

---
Featured Golf Course: Wheaton, IL
Arrowhead Golf Club
Since it's historic opening in 1927, Arrowhead Golf Club continues to offer a superb golf experience. The challenging Ken Killian design is composed of three nine-hole courses that can be combined to form three separate par 72 18-hole layouts.

The course is meticulously manicured and surrounded by forest preserve with no houses in play.

Tees, greens and fairways are bentgrass. The practice area consists of a lighted driving range, putting green, chipping green and bunkers.

Arrowhead treats golfers and guests as if they are members of a private club and is known to be one of the finest municipal courses in the Chicago area.

Join their Mobile "VIP" Club & Receive Exclusive Discounts and Offers

Winning message valid toward a free appetizer.
No cash value.

Text: Arrow
To: 49798

Text service provided by:
CMSText (866) 430-4751

Disclaimer: MSG & data rates may apply. Text STOP to 49798 to be removed from all campaigns and end subscription to mobile VIP Club. Winners will be randomly selected via computer and the odds of winning are 1 in 10.