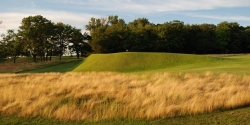 The Lure of Lawsonia Links
Wider, More Open Spaces in Green Lake Wisconsin
As the third finest course in the Badger State within Golf Week Magazine's 2014 Best You Can Play rankings, The Links Course at Lawsonia could have easily rested on its 85 year history of greatness. Fortunately for golf fans throughout the Midwest, the 1929 William Langford gem in Green Lake, WI has not. Under the direction of Oliphant Companies, who formed a partnership with Lawsonia last fall, a bold tree removal initiative is underway that in the end will restore The Links to its original intent. I was fortunate enough to recently interview Craig Haltom, vice president of golf management for Oliphant, and we discussed a variety of topics as it relates to the ongoing renovations at Lawsonia.
---
Golf & Gaming In One Package!
Green Bay Wisconsin
Thornberry Creek at Oneida has partnered with one of Green Bay's premier hotel destinations to bring you an affordable Stay & Play Golf Package. The Radisson Hotel and Conference Center is located just minutes from Thornberry Creek. This first-class, full-service Green Bay hotel is attached to the Oneida Casino and is located across from Austin Straubel International Airport. The hotel proudly provides complimentary Wi-Fi, high-speed wired Internet access, local and long distance calls and a variety of entertainment and dining options.

Package Includes:
* One night stay at the Radisson Hotel Green Bay

* One round of golf (18 holes) at Thornberry Creek at Oneida

* 10% off coupon at the Sports Pub & Grill and 10% off coupon at the Thornberry Creek at Oneida Pro Shop

* $155 Per Person
---
Leupold GX-4i2 Laser Review
Accuracy Beyond Compare
Earlier this year, Leupold launched their latest and greatest laser rangefinder - the GX-4i2. Even better, the R&A joined the United States Golf Association (USGA) in ruling that the new GX-4i2 rangefinder can be used when fitted with the chrome faceplate as long as a Local Rule permitting the use of distance-measuring devices is in effect.

There are many mixed feelings about the use of rangefinders and do they really have a place in golf. In actuality, rangefinders and GPS devices have been found to increase the pace of play and at the same time. More importantly - especially for the person using the device - they have been found to improve scores.
---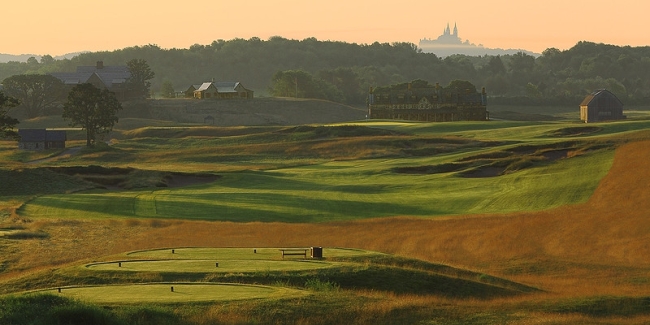 Erin Hills and The 2017 US Open Travel Guide
Travel Tips and Insider Information
Erin Hills, located in the heart of Wisconsin's Kettle Moraine is the site of the 2017 US Open. After the USGA awarded the major, Erin Hills has been the buzz of the Badger State. If you are planning on attending the event or playing the course here are some tips from a guy who lives a driver, nine iron away.

Getting There
The hardest part of your travels will be spotting the small wooden sign marking the entrance. The course and club house are tucked a mile off County Road O in the rolling terrain known as The Holy Hill area. So keen eyes will be needed the last stretch of your journey. Do not feel bad if you drive past it. On my first trek to the course, I drove past it 3 times. I was told the minimalistic entrance replicates the great courses in Ireland. Grand entrances and pearly gates are not needed when the golf course is that good.

For jet-setters, the largest and most convenient path is Milwaukee's General Mitchell International Airport (MKE). Your 45 minute drive will pass through the outskirts of Metro Milwaukee along Highway 894 and up Highway 41.

Depending on your itinerary, travelers can entertain flying into Illinois' O'Hare International (ORD) or Madison's Dane County Regional Airport (MSN).

Ticket Sales
Tickets will go on sale after the 2016 US Open
---
Great Indiana Golf Packages
8 Courses and 144 Holes of Championship Golf
Make the "Perfect Drive" to Northeast Indiana and experience some of the best golf Indiana has to offer. Here you can play several fantastic golf courses that have been recognized by Golf Digest. During your stay you will be hosted at the award-winning Best Western Inn where you will be made to feel right at home.

The heart of this Indiana golf vacation is Kendallville, Indiana which is conveniently located just north of Fort Wayne and minutes from I-69 and near I-80/90 (Indiana Toll Road). Fort Wayne offers big city entertainment, dining and shopping. Other visitors might enjoy the world famous Shipshewana Flea Market and Auction which is just 40 minutes north.

Our Midwest golf packages highlight some of the best Indiana golf destinations, Indiana golf resorts, and Indiana golf courses. Kendallville, Indiana is home to our featured courses: Cobblestone Golf Course and Noble Hawk Golf Links, both just minutes from the hotel.

Visit Great Indiana Golf Packages »
---
Coachmans Golf Resort
Madison Wisconsin Area Golf Resort
Sculpted from the heartland of Southern Wisconsin, Coachman's Golf Resort lies just southeast of Madison, nestled within the beautiful green countryside. A gently rolling landscape lined with oaks and willows line a 27 hole regulation course that is as fun as it is challenging. You'll find water hazards and roughs that can drive anyone to their knees, yet Coachman's is open enough for beginners to keep up. Our red, white and blue courses ensure that anyone, from a 25 handicap to a scratch golfer is sure to have a great time.

Even though there's never a need to go outside the resort, charming villages and nearby towns dot the landscape, offering the opportunity for some excellent craft shopping. Coachman's offers both guests and members alike an enjoyable, relaxing golf experience designed to help you let go and forget about everything - except playing golf.

Fall specials and golf packages available now!
---
Spirit Hollow Golf Course
A Burlington Iowa Gem
Spirit Hollow Golf Course and Burlington Golf Club along with PZAZZ! Resort Hotel and Catfish Bend Inn and Spa have teamed up to bring you an exclusive golf package, designed with you in mind. Save money on golf and your room by choosing to stay at the PZAZZ! or Catfish Bend Inn and Spa luxury suite hotel. With the "Stay and Play" package you can play 18 holes at Iowa's premiere golf course, Spirit Hollow or a top ten rated course in Iowa, the Burlington Golf Club.
---
Aldeen Golf Club
Rockin' The Muni in Rockford, Illinois
Aldeen was ranked the best municipal course in Illinois by Golf Digest in 2009 and rated 4-1/2 stars by 2008 Golf Digest Magazine's Places to Play guidebook. GOLF Magazine calls it one of the Thrifty Fifty (top 50 courses in the country under $50). Aldeen is ranked #23. The Aldeen Golf Club has set a new standard for upscale public golf in northern Illinois.

Aldeen Golf Club invites you to experience eighteen championship holes with expertly manicured greens, tees and fairways, challenging water hazards on 12 of 18 holes, and 62 sand bunkers including three Dick Nugent-designed "beach bunkers."

Keith Creek winds through the front nine past our signature 8th hole with its island green and replica of the Swilcan Bridge at St. Andrews. Subtle elevation changes, along with mogul filled roughs and numerous trees, provide a straightforward, challenging, and beautiful test of golf.