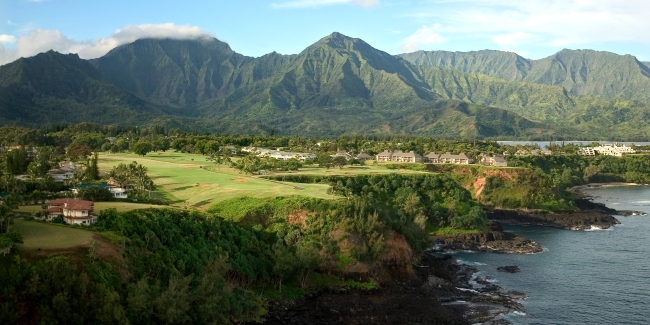 Kaua'i Golf Travel
Golf in a Land Called Hanalei
The scenery on Kaua'i seems impossible. The verdant rainforests display various shades of green that complement the endless expanse of blue ocean that laps at the 50 miles of white-sand beaches. Some of these pristine swaths of sand provide contrast with the sheer chocolate cliffs that soar skyward. The oldest and most northerly of the Hawaiian Islands has been filling tourists' scrapbooks with photos of its countless vistas for decades.

On a visit to any Hawaiian island, visitors will hear the word "aloha" spoken many times. Below is the A-L-O-H-A of golf on Kaua'i.

A - Area Courses
The Na Pali Coast on the north shore of Kaua'i serves up some of the most stunning scenery in the world. Before or after trying to comprehend the beauty while on a tour of the coast, travelers will likely luxuriate on the famous crescent-shaped array of sand and sea known as Hanalei Bay.

Princeville Makai (mah-kigh) Golf Club sits atop the North Shore bluffs and overlooks the bay. In 2010, Robert Trent Jones Jr. redesigned the three sets of nine holes that he originally built in the 1970s. The multi-million dollar renovation on the property of The St. Regis Princeville Resort combined the Ocean and Lakes nines into a championship-caliber course that currently is ranked by "Golf Digest" as one of "America's 100 Greatest Public Golf Courses" and by "GOLF Magazine" as one of the top 5 public courses in Hawai'i.

In the Hawaiian language, "makai" means "towards the ocean," and this course is true to its name. Each nine begins inland then flows toward the Pacific. The course features five holes that skirt the ocean and offer breathtaking views of Hanalei Bay and Bali Hai.

Golfers in a hurry can choose to play a three-hole sampler package or to take a Sunset Golf Car Tour. The latter, a self-guided tour, allows participants to take in five stunning vistas, including Anini Reef, Hanalei Bay, Queens Bath Tide Pool and Makai's signature hole, the 7th. Upon seeing this incredibly scenic, challenging par 3 that requires a shot across an ocean-filled chasm, golfers will likely race back to the pro shop to book a tee time.

On the South Shore, golfers can tee it up on a course that saw Tiger Woods add seven titles to his impressive total and where Phil Mickelson scorched the course by shooting a magical 59.

Poipu (poy-poo) Bay Golf Course, which hosted the PGA Grand Slam of Golf from 1994 to 2006, delivers plenty of impressive scenery, especially the 15th and 16th holes, as well as providing a nice mix of challenges. As impressive as the course is, the service is just as good.

In Lihue, the Kiele Course at Kaua'i Lagoons Golf Club delivers two wonderfully different nines, both designed by the incomparable Jack Nicklaus, who also ranks highly among course designers. The nine holes on the Kiele Mauka (inland) course maneuver gracefully through a dense rain forest that gives way to memorable scenic views. Though golfers may find it difficult to choose a favorite hole, Nicklaus himself dubbed the par-3 5th "one of the best holes anywhere." After using a long iron or more from the back tees to reach the elevated green perched above a valley of mango and guava trees, golfers lucky enough to play this course will likely agree with Jack.

The Kiele Moana (ocean) nine dances along the bluffs that overlook the ocean. By the time golfers reach the par-4 13th hole, they will already be amazed and perhaps humbled by the burly course. But when they then play the more than half a mile of continuous ocean holes - the longest stretch in Hawai'i - and conclude the cliff-hanging dance by taking a crack at the drivable par-4 16th that overlooks Nawiliwili Harbor, they just might be floating on air.

The wonders of Puakea (poo-ah-kay-ah) Golf Course will come as a complete surprise to golfers who pull into the course's parking lot and feel underwhelmed by the views of the nearby strip malls. Once they complete the first hole and transition into the lush rainforest, however, golfers will understand how this course earned Hawai'i's "Best New Course" distinction by TravelGolf.com and was named the fourth best course in the state by "Hawai'i Magazine."

The deep ravines that players must negotiate will make their rounds here memorable, as will the views of majestic Mount Haupu, which served as the backdrop to the original "Jurassic Park" movie. Neither of these features, however, is likely to stick with golfers the way the par-3 6th hole will. Golf balls can only reach the oblong green protected in front by a daunting reservoir after they fall 10 stories from the tee. Some golfers would rather face a charging Triceratops than this intimidating tee shot.

Travelers who tote their clubs to the far-off reaches of Kaua'i to play high-end courses crafted by renowned designers could easily look past Wailua (why-loo-ah) Golf Course, a muni built in the 1930s. Doing so, however, would be a mistake.

Designed by Hawai'i Golf Hall of Famer Toyo Shirai, Wailua has hosted three USGA Amateur Public Links Championships, a distinction earned by the quality of the course. This track, which combines ocean views with inland parkland holes, is regarded as one of the most beautiful municipal courses in America, and it indisputably provides one of the best values in the state. The photo op on the par-3 17th hole, replete with a Pacific Ocean backdrop, rivals any of the views on the more upscale resort courses.

L - Language and Lingo
Though travelers do not need to take a Rosetta Stone course to travel to Kaua'i - since it is, after all, in the United States - if they learn the words below they will ingratiate themselves with locals and be far more comfortable during their visits.

Aloha (a-lo-ha) - It means both hello and goodbye and should always be said with a smile. This is the Hawaiian word that travelers will hear - and should use - most frequently.

Mahalo (ma-ha-lo) - It means "thank you" and should be said often, especially if travelers have forgotten to say aloha.

Mai Tai (my-ty) - Containing rum, lime, orange Curacao and juices, this is the most popular alcoholic drink, for both locals and tourists. A perfect spot to try this Hawaiian classic is Kalapaki Grill at Kaua'i Marriott Resort on Kalapaki Beach, steps away from the ocean.
---
Alabama Golf Packages - The RTG Golf Trail
A Winter Getaway Like No Other
Take advantage of the best rates of the year with these Winter Specials from the Trail:

2 Days or More starting at $60/Day
Play one round of golf per day for two or more days with cart and unlimited range balls starting at $60 per day.
Valid November 9, 2015 - December 31, 2015.

Winter Unlimited Special
Play unlimited golf with cart and unlimited range balls.
$77 per person per day at all sites (excluding Ross Bridge & Lakewood) November 9, 2015 - December 31, 2015.
$140 per person all day at Ross Bridge November 9, 2015 - December 31, 2015

Winter Swing for $124
Special includes one round of golf at Magnolia Grove, one round of golf at Lakewood Golf Club, cart fees and range balls.
Valid November 9, 2015 - December 31, 2015.

Winter Magic for $139
Special includes one round of golf at Oxmoor Valley, one round of golf at Ross Bridge, cart fees and range balls.
Valid November 9, 2015 - December 31, 2015.

Book now by calling our reservations team at 1-800-949-4444 or submit the request form below and one of our reservationists will contact you.

---
Sawgrass Marriott Golf Resort & Spa
Jacksonville, Florida Golf Packages
The TPC Sawgrass Experience Golf Package

Stay two nights at Sawgrass Marriott with breakfast each morning and play two rounds of golf at the TPC. One round at The Stadium Course and one round at Dye's Valley Course. Packages are built for one, two and four people.

The Stadium Course sports one of the most challenging holes on the PGA TOUR - the notorious hole 17.

Dye's Valley Course at TPC Sawgrass is the sister track to the world-famous Stadium Course. Boasting perfectly manicured surfaces and water on every hole.

Reservations
Be sure that promotional code G4Y appears in the Corporate/Promotional code box when making your online reservation, or call 1-800-228-9290 in the US and ask for promotional code G4Y.
---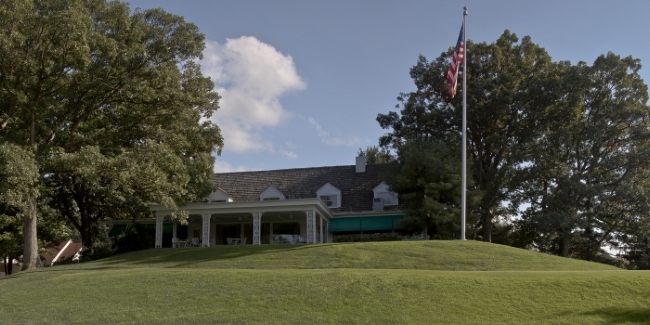 Arnold Palmer's Latrobe Country Club
Packages Through The SpringHill Suites by Marriott Pittsburgh Latrobe
Imagine yourself strolling down the same groomed fairways where Arnold Palmer learned to play the game of golf. Or muscling out of the deep rough where the Legend perfected his pitch shots. Maybe you're standing over a 20-foot putt on a two-tiered green that Deacon Palmer, Arnold's father, helped design and create. Following your round you walk into clubhouse and dine in the Palmer Grille. Playing 18 holes at Latrobe Country Club is much more than a game. It's something special that members call the Arnold Palmer Experience. There's nothing else quite like it in the world of golf.

The SpringHill Suites Pittsburgh Latrobe, where you will have a legendary experience, is situated less than one mile from the grounds of Arnold Palmer's Latrobe Country Club. The hotel offers all of the amenities you look for when on the road for business or pleasure.

As a guest of the SpringHill Suites Latrobe, you can be a member of the prestigious Latrobe Country Club for a day. You will have the ability to purchase a golf package, enjoy fine dining and check out the ProShop.

Don't miss out on this great opportunity to golf where the legendary Mr. Arnold Palmer started out.

Packages starting at $167
---
Win a 7 Night Scotland Golf Vacation
The Home of Golf - Play 7 Spectacular Golf Courses
Playing golf in Scotland is like a pilgrimage and something every golfer should experience in their lifetime. This is after all where the game began more than 500 years ago! You now have the chance to fulfill this dream and follow in the footsteps of the game's greats and play some of the best golf courses on the planet including; The Ailsa at Trump Turnberry, Carnoustie, Kingsbarns and The PGA Centenary at Gleneagles!

Enter this once in a lifetime sweepstakes and you could be the lucky winner of this 7 night golf vacation to Scotland for 4 people:

* 2 nights bed & breakfast at Trump Turnberry Resort 5*
* 2 nights bed & breakfast at Gleneagles Resort 5*
* 3 nights bed & breakfast at Fairmont St Andrews Resort 5*
* 7 rounds of Golf at - The Ailsa and Kintyre Courses at Trump Turnberry, The PGA Centenary (2014 Ryder Cup) Course at Gleneagles, Kingsbarns, Carnoustie, The Torrance and Kittocks Courses at Fairmont St Andrews
* Entry into The Old Course ballot
* Car rental for the duration of your stay (based on 4 people in the car)

Enter to win a 7 Night Scotland Golf Vacation »
---
Golf Packages at Coachmans Golf Resort
Southern Wisconsin
Sculpted from the heartland of Southern Wisconsin, Coachman's Golf Resort lies just southeast of Madison, nestled within the beautiful green countryside. A gently rolling landscape lined with oaks and willows encircles a 27-hole regulation course that is fun and challenging in equal parts. You'll find water hazards and roughs that can drive anyone to their knees, yet Coachman's also allows beginners to keep up.

The 19th Hole Package
* Unlimited Golf with Cart
* Unlimited Beverages (alcoholic and Non alcoholic,included in the beverages are domestic beer, house brand cocktails, and house wine.)
* Lodging Wednesday Evening
* Breakfast or Lunch
* Dinner
* $209.00 Per person based on double occupancy

---
Lakeview Hills Hotel and Golf Resort Golf Packages
Golf on a Great Lake in Michigan
Lakeview Hills is a unforgettable golf resort, with not one but two courses. Located just one mile from Lake Huron; spectacular views of one of Michigan's Great Lakes can be seen off several greens & tees. Whether your here for a weekend getaway, golf outing or fundraiser, Lakeview Hills has a number of amenities at your disposal.

Weekend Packages
- Standard Hotel Room
- Breakfast and Dinner
- 18 holes of Golf w/Cart per day
- Replay Rates

2 Days & 2 Night
Spring & Fall $260/person