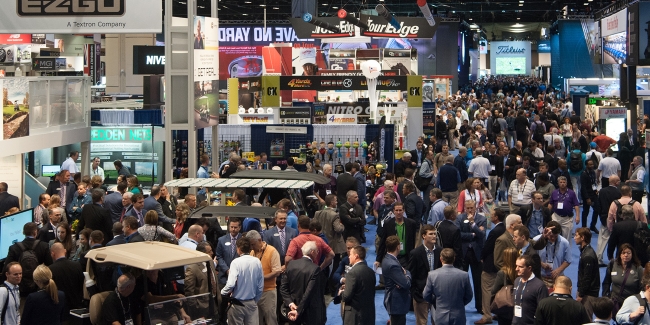 Hot Products For 2016
The PGA Merchandise Show in Orlando, Fla., is golf's grand summit, an event were people, places and things come together to present what's new, available and ahead for the industry. In its seventh decade, this year is no different, and if the Demo Day and Show Floor exhibitors are indicative, 2016 will be an exciting, compelling year as the following re-caps illustrate.

GolfBoard
GolfBoard is the hit of the 2016 show, and it's easy to understand why. Who doesn't enjoy an easy-to-ride vehicle that allows riders of all ages to "surf the earth" while enjoying the game they love? Some of golf's greatest players have a blast using GolfBoard, as the following video link shows.
https://www.youtube.com/watch?v=qkV0PcG8-HY

Premier Golf
It's a Ryder Cup year - held in the Midwest no less (Hazeltine National near Minneapolis) - and that's when Premier Golf thrives. And that's why its PGA Merchandise Show booth was buzzing with visitors. Premier has been licensed by the PGA of America as the exclusive distributor of Ryder Cup packages in the United States and Europe since 1991. If you have never been to a Ryder Cup, suffice it to say that there is no more electric event in golf. This year may be your best chance ever, and with the ticket lottery long past, Premier can ensure you're there through one of its luxury packages.

More Information: www.premiergolf.com

Galvin Green
While we'd all like to golf year-round in ideal playing weather, the Midwestern U.S. - and nearly three-fourths of North America - demands that players withstand occasional cold, wind and precipitation. Fortunately, Galvin Green offers premium outerwear, tops, bottoms and accessories for men, women and juniors. The company developed the sport's first apparel layering system - the Multi-Layer Concept - more than a decade ago. Apparently Galvin Green's products perform well, otherwise the company would not be the Official Team Supplier of Outerwear to the 2016 and 2018 European Ryder Cup Teams. Think those Euro players know anything about performing well in less than ideal weather?

More Information: www.galvingreen.com
---
The Best Golf School Instructors
Bird Golf's superb teaching staff includes not only PGA/LPGA professionals with extensive teaching backgrounds throughout their careers, but Tour Winners as well. Our world-class professional golf instructors include an LPGA National Teacher of the Year, PGA Master Professionals, multiple award-winning PGA Professionals and winners of the U.S. Open, the LPGA Championship and various LPGA Tour events, as well as six members of various Golf Halls of Fame. All of the Bird Golf Professionals have been PGA or LPGA Professionals for a minimum of 20 years. We feel that, without question, ours is the finest staff of golf teaching professionals in the world.

Schools Available In
* Arizona
* California
* Carolinas
* Colorado
* Florida
* Georgia
* Minnesota
* Nevada
* New Jersey
* Tennessee


---
Destination: Oklahoma
Overnight Packages for 2 as low as $135 per person!

2 Rounds of Golf with Cart at Patricia Island Golf Club (1 round per person)
Free Shuttle Service to the Golf Course!

1 Night, Double Occupancy Lodging at Indigo Sky Casino & Hotel
$30 Dining Credit

$200 in Slot Machine Credits at Indigo Sky Casino & Hotel
($100 credit per person, ID required, credit Not Valid on Progressive Slot Machines)

---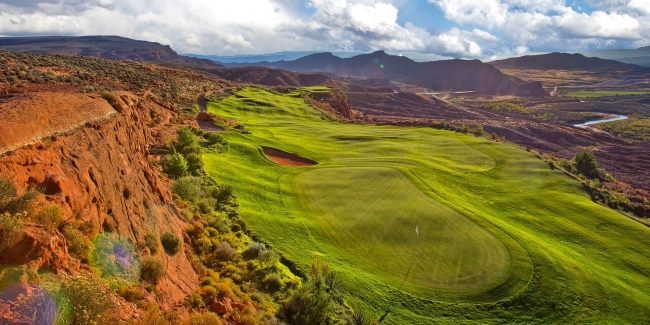 Golf The Red Tock Golf Trail
Looking to plan the perfect golf trip to St. George, Utah? Planning a buddies trip or a romantic golf getaway can be a full time job not to mention pressure filled to deliver a memorable experience. Below is an interview with Joe Newman, Media Specialist who shares some insider information about golfing and traveling to St. George, Utah, must play courses, a sample itinerary and where you can go for more planning tools.

Give our readers an overview of your destination and why they should consider it for their next golf trip?
St. George is perfectly set up for golf trips. We have 10 courses all within a 10 mile radius, so you don't have to worry about long driving time between courses or getting around town. St. George is a thriving community of 100k+ residents, so you'll find all your favorite restaurants and lodging options as well as exciting southwestern eclectic dining choices. The intriguing scenery and impressive courses make for great memories and we find that golfers are often shooting their cameras along side their clubs. Don't let the prices fool you. You'd pay double at other destinations for the quality of golf you get at St. George. We often are asked if the courses really are as nice as the photos look and honestly as a golf photographer the camera can't do the area justice. It's so hard to fit the majesty of the Towers of Zion National Park and the grandeur of the peaks of Pine Valley Mountain in the frame. With golf surrounded by such beauty it truly is a place where golfers connect with nature and their game is rejuvenated.

What are the must play courses in St. George, Utah?
Sand Hollow has been described as the iconic red rock golf experience. The front 9 has large red rock formations intermingling throughout the course, and large red sand bunkers provide an experience you'll not soon forget. Then as you turn the corner on the back 9, you find yourself shooting along the edge of huge red rock cliffs and across red rock ravines that leave you begging for another round. Sand Hollow also features a great 9 hole links course flawlessly blended with the desert's natural sand dunes and rock formations.

Coral Canyon is one of our most popular courses in the area. The natural play along the desert floor is exciting as you shoot across river washes and over desert brush. The fairways are typically fairly wide and forgiving, so go ahead and flex your muscles and go for your longest drive. The most common thing golfers say about Coral Canyon is just how fun it is. Golf? Fun? Hmmmm, now there's an idea.

The Ledges Golf Club comes with unique views of it's own. The red rock panoramas from the rim of Snow Canyon State Park make you feel like you're playing golf in a postcard. Designed by renowned golf course architect Matt Dye this course has a friendly atmosphere with an upscale pro shop and amazing restaurant. The front nine is set up well to help you break in your driver, and the back nine is a great test to see how well you can control your irons.

Sky Mountain is as scenic as it is challenging. Don't be fooled by the yardage, you'll earn every stroke here. But when you shave one or two off, it's all the more satisfying. The course is appropriately named for the amazing views from the elevated tee boxes. Don't be surprised if you find yourself gazing off at the cliffs of Zion National Park and the azure rim of the Pine Valley Mountains in the distance. Anywhere you look and anytime you play, it's simply gorgeous!
---
Trilogy Golf Club at Vistancia
Trilogy Golf Club at Vistancia is proud to be among the best values in Phoenix - the Valley of the Sun. In an area where a majority of the best courses are either private or $200+ to play, our 5-Star venue is available to everyone at a very reasonable price. Our rates and specials are always simple, because we don't want you to jump through hoops to enjoy your Great Golf Experience.

Special Twilight Rate
Jan 22, 2016 - Feb 29, 2016

Take advantage of the new preferred early twilight rate of just $49 Monday through Thursday and just $59 Friday through Sunday and Holidays when you play after 1:30pm in January and after 2:00pm in February.

The Twilight Rate includes golf car and use of the practice facility before your round.

To reserve this new preferred rate, call the Golf Shop at 623.328.5100.