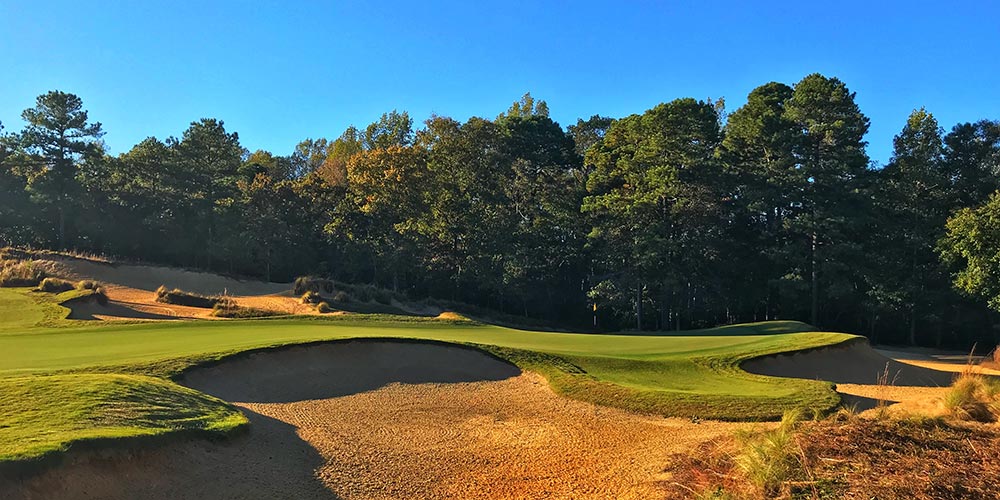 If you are planning a golf excursion to the Home of American Golf, scheduling a round at Tobacco Road Golf Club is something you need to seriously consider. The Mike Strantz design is truly unique, one of a kind and unlike any other golf course you will ever play. Strantz was a rare breed of designer and a Tom Fazio disciple who was only able to design a few, but highly touted golf courses before passing way too young from cancer at the age of 50 years old. In 2000, Golfweek named him one of the Top 10 Greatest Golf Course Architects of All-Time.

From the very first shot on Hole #1, Tobacco Road gets your attention. The drive demands accuracy as two massive and heavily grassed mounds at least 60-feet high guard either side of the narrow fairway. The shot is like driving the ball through the eye of a needle. Fortunately, the hole is a par 5, so if your opening shot is not the best, you can still scramble for a par and make your way to the next hole.

If you are playing with others who have not played the course, do yourself a favor and get a yardage book for the course. The course mapping will give you an idea where to hit your drives and subsequent shots because Tobacco Road has several blind shots off the tee and on some approaches.

Overall, Tobacco Road is visually stunning, so be sure to take a lot of pictures. Early morning and late afternoon rounds are great because the shadows created by the low angle of the sun really accentuates the natural contours, massive waste bunkers and rolling fairways and greens. Play the course with an open mind as it is atypical of the traditional courses in the Pinehurst area, many designed by Donald Ross. You will either love it, or loathe it, but you will never forget it!