Share:
Island West Golf Club Review
Fuzzy Zoeller Makes It Fun and Challenging
By David Theoret
As a player on the PGA Tour, Fuzzy Zoeller always seemed to have a smile on his face. Whether he was in the lead or missing the cut he was always having fun. So, it makes sense that in creating a golf course, a Fuzzy Zoeller design is going to be fun to play.

That's what you get at Island West Golf Club in Bluffton, SC, a fun yet challenging golf course that plays 6,803 yards from the back tees. Back here, the course rating is 73.2 with a slope rating of 140 and a par of 72. The White Tees (6,208/70.3/128) offer the majority of golfers a good challenge. Ladies will enjoy the course from 4,856 yards (67.8/123). Clyde Johnson, who has done many courses in the Lowcountry area, co-designed Island West

For a Lowcountry golf course, the fairways at Island West have a lot of roll and undulation to them. The course winds its way through naturally preserved marshlands and strands of live oak trees, creating a beautiful setting. Water comes in to play in one form or another on 10 holes, creating many risk-reward opportunities. Bunkers have been strategically placed along the edges of the fairways and all around the greens.

,bMemorable Holes
The two par 5s on the front nine are quite challenging, especially when one of them is your first hole of the day. Number 1 is a 477-yard (White Tees) par 5 that has plenty of room off the tee, so bomb away. Just be sure to avoid the fairway bunker on the left. A good drive will leave you with a decision to go for the green or not. Just know that, because of the large bunker in front, you'll need to fly it onto the green, which is wider than it is deep. There's more sand behind the green in case you go too deep.

Number 4 is the other par 5 on the front; it's also the course's #1 handicap. From the White Tees, the hole plays 498 yards. It's a very narrow driving hole with trees on the left and water on the right. It doesn't get any easier on your layup shot as the fairway slopes toward the pond that guards the right side of the green. If you've kept the ball in play this far, you'll have a pitch shot into a small triangular green. Play down the left side from tee to green and you'll be in good shape.

Number 8 is a par 3 that plays 158 yards from the White Tees, and shares a green with the 13th hole, another par 3. You'll need to carry your tee shot over water to a long narrow green, protected on the left by a large, deep bunker. A tree on the right side hangs over into the fairway and can be a problem with a front right pin placement.

It's probably a good idea to leave driver in the bag on the short dogleg right par 4 10th hole, which plays 341 yards from the White Tees. That will leave you short of the marsh area that crosses the fairway and a short pitch into a small, triangular green with a lone bunker in the back. Long is better than short; shots that don't quite make it to the green are likely to roll back in to the marsh.

Your round at Island West concludes with a par 4, 380-yard hole. Two lakes come into play on Number 18, however if you have trouble getting it past the first one, you may want to consult with one of the PGA professionals on staff and set up a lesson. With water on the right and sand on the left, the landing area is fairly small off the tee. The green is surrounded by sand, so you'll need to fly it on to the green. Take a par, be happy and head to the 19th hole.

Before your round, be sure to take full advantage of the practice facility. There's a full-length driving range where you can hit every club in the bag, a short game area and practice putting green. If your game's not up to par, or way over par, talk to one of the PGA professionals at Island West and schedule a lesson. Or better yet, become a member and lessons are free. I'll explain more in a bit. While you're in the pro shop, browse around at all of the latest golf equipment and logoed golf apparel from the game's top designers.

Last Word: Island West is a challenging course that makes you think and requires accuracy in order to score well, especially on the narrow, tree-lined holes. It's a course where new golfers won't be overwhelmed and skilled players will be challenged. Island West is exactly what Fuzzy Zoeller wanted it to be: fun!
Islands West also has the service part down. Upon arrival, an attendant will meet you at the bag drop, load your clubs onto a cart and then take it back to a "staging" area. After your round, they will clean up your sticks, hop on the back of the cart, and follow you out to your car. The staff is always smiling and willing to answer any questions you might have about the course or facility.

Brown Golf Management is offering a great membership program that includes unlimited golf at all 7 of their Bluffton/Hilton Head area courses, unlimited use of the practice facility and range balls, discounts for guests' greens fees and in the pro shop and something that makes the whole package worthwhile: free, unlimited golf lessons. For more information on Island West Golf Club or to inquire about a Brown Golf Membership, visit their website at
www.islandwestgolf.net

Article Tags: Brown Golf, Island West, Bluffton, Hilton Head, SC
Revised: 06/20/2017 - Article Viewed 11,478 Times
About: David Theoret
---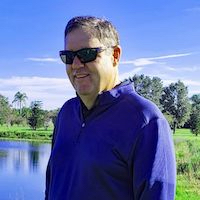 David Theoret has been in the golf and golf travel industry for over 10 years, primarily selling online advertising. For the past seven years, he has also been a golf writer, reviewing golf courses, resorts, destinations, equipment, golf apparel, and training aids - the latter of which never seems to help. David's articles and reviews have been posted on many golf travel and equipment websites.

Growing up in Southwestern Ontario, Canada, it was naturally assumed he would play hockey. Beginning at the age of 3 and continuing into his late 30's, he did just that. However, after one too many pucks to the head, he realized that golf was a lot easier on the body (whoever said hockey players were slow) and took the game up.

After moving to Florida and accepting a position with TravelGolf Media (now part of GolfNow) his love for the game grew exponentially. Most Saturdays you will find him on a course somewhere in Florida or on the practice range reinforcing his bad habits. David plays to a 10 handicap - unless there is money involved in which case it goes considerably higher. He currently resides in Lakeland, FL with his wife Belinda and their two "kids", Madyson and Molly.

---
More Articles by David Theoret