Share:
Dolphin Head Golf Club Review
Now Open for Public Play
By David Theoret
At long last, the public can play Dolphin Head Golf Club in Hilton Head Plantation, the only course in the area designed by Gary Player. In building the course, Player's main goal was to leave intact as much of the terrain and to move as little dirt as possible, keeping a natural look to the golf course.

The success he achieved is amazing, as is the golf course. It's one of the most visually stunning and best maintained courses in the area. The surrounding natural preserves and local wildlife were not interrupted and harmony between man and nature has been achieved.

Dolphin Head Golf Club opened in 1974 as the first course built in the Hilton Head Plantation. Local course architect Clyde Johnson renovated the tees, fairways and greens in 2010, installing denser Celebration Bermuda in the fairways and tee boxes and Mini-Verde Bermuda on the greens. The result is lusher fairways and quicker greens, something admired by the majority of golfers.

From the back tees, Dolphin Head measures 6,606 yards and chimes in with a course rating of 72.7 and a slope of 140. The White Tees at 6,169 yards (70.8/130) will provide as much golf course as the average golfer can handle, and still let you leave with a little bit of respect and dignity!

In building Dolphin Head, Player has created two 9-hole tracks that are completely different. The front nine meanders through tall, centuries-old trees and forests while the back nine has more open space yet brings more marsh and wetlands into play. Both circuits feature Players signature bunkering, resulting in one golf course with no two holes alike. The result is a golf course that is both scenic and playable and captures the natural surroundings.

Dolphin Head gets your round started with a hole that can put you on the right track in a hurry. It's a modest length par 5, dogleg right at 465 yards from the White Tees, however you'll need to avoid the pond on the right and trees on the left off the tee. Make it to the dogleg with your tee shot and you'll have a clear shot into a green protected on the front right and back left by bunkers. The elevated green slopes gently from back to front so be sure to put your approach shot below the hole and start off the round in a positive manner.

Number 4 is the first par 3 you encounter at Dolphin Head. From the White Tees, it plays a moderate 154 yards. With the pond on the left and a large oak tree and mounding in the middle, there is essentially no bailout area. Because of the way the green lies, most golfers can expect a long side hill putt.

At 401 yards from the White Tees, Number 6 is the course's toughest hole. If a draw is in your shot repertoire, now would be a great time to use it; anything short of the dogleg and you'll likely be blocked out by tall pine trees. A good drive will still leave a lengthy approach shot into an elevated green protected by sand front left and right as well as grass swales long. Par is a great score here.

Carry the fairway bunker on the right side off the tee and you're well on your way to a low score on Number 11, a par 4 that plays 365 yards from the White Tees. That will leave a short pitch shot to an odd-shaped green with a large bunker on the right and a small mound in front.

Straight is the key to success on Number 15, a long par 4 that plays 399 yards from the White Tees. The fairway bunker on the right seems like a ball magnet to many and the two-tiered green is well bunkered on either side.

Your round concludes on a signature hole. Number 18 is a dogleg right par 5, playing 470 yards from the White Tees. A good drive up the left side may just inspire you to go for the green in two, however danger awaits any errant attempts. A large pond makes up the right side of the fairway from about 300 yards out and the left side of the green is home to a rogue sand bunker. To further complicate matters, the green has two tiers and a bit of slope to it. Take your par and head to the 19th hole.

Although the golf course is the main attraction, Dolphin Head Golf Club is a place that, as a member, you can make friendships that last a lifetime. As a member, you'll also enjoy full-service dining, social events, card groups, book clubs, and more. With a Brown Golf membership, you'll get so much more than just being a member of Dolphin Head Golf Club. You'll enjoy unlimited golf at 7 championship, 18-hole golf courses, unlimited range balls and use of the practice facility, discounts on guest fees, lodging and pro shop merchandise and unlimited golf lessons with a PGA professional.
For more information on becoming a member or to book your next tee time, visit their website at www.dolphinheadgc.com

Article Tags: Dolphin Head, Bluffton, Brown Golf, Hilton Head, South Carolina, SC
Revised: 06/20/2017 - Article Viewed 11,442 Times
About: David Theoret
---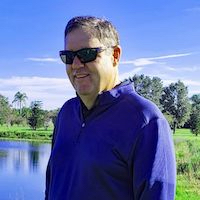 David Theoret has been in the golf and golf travel industry for over 10 years, primarily selling online advertising. For the past seven years, he has also been a golf writer, reviewing golf courses, resorts, destinations, equipment, golf apparel, and training aids - the latter of which never seems to help. David's articles and reviews have been posted on many golf travel and equipment websites.

Growing up in Southwestern Ontario, Canada, it was naturally assumed he would play hockey. Beginning at the age of 3 and continuing into his late 30's, he did just that. However, after one too many pucks to the head, he realized that golf was a lot easier on the body (whoever said hockey players were slow) and took the game up.

After moving to Florida and accepting a position with TravelGolf Media (now part of GolfNow) his love for the game grew exponentially. Most Saturdays you will find him on a course somewhere in Florida or on the practice range reinforcing his bad habits. David plays to a 10 handicap - unless there is money involved in which case it goes considerably higher. He currently resides in Lakeland, FL with his wife Belinda and their two "kids", Madyson and Molly.

---
More Articles by David Theoret