Share:
---
Gaylord at a Glance
Gaylord, Michigan Area Brimming with Top Flite Golf Destinations Lead by The Loon and Marsh Ridge Golf Resorts
By Glen Turk
The Loon Golf Resort
What to Expect - A stunning layout that features four tees boxes ranging from 6701 yards to 5123 yards. Nine distinctive water hazards dot the landscape that impact 11 of the 18 holes at The Loon. The back nine is a brute, highlighted by four par-4's at 400 yards or more and both par-3's playing at 170 yards plus. It's also important to note that The Loon celebrated the Grand Opening of the Townhomes at the Loon in 2010. These four bedroom, four bathroom townhomes provide convenient lodging just steps from the course, golf shop, and restaurant. And new for 2011, The Loon will become a Butch Harmon Signature Golf Course to coincide with the Butch Harmon School of Golf located on the property.
Also new for 2011, General Manager Matthew Preuss is proud to announce the addition of 18 more holes of championship golf with their acquisition of The Lakes Golf Course (formerly Mountain Lake). "The Lakes course will help broaden our appeal and allow us to expand the Loon experience at two courses. We focus on providing great lodging, exceptional golf, and quality dining and feel our best chance of repeat business is a relaxed environment focused on customer service. Being able to offer that experience at two locations is key. We will of course continue to offer stay and play packages that have our guests playing other area courses along with the Loon and Lakes - it's one of the great features of being located up in Northern Michigan," concluded Preuss. Below you will find a description of The Lakes Golf Course.
Flagship Hole
- 14th Hole, Par-3, 212 yards
Under the direction of Butch Harmon The Loon is unveiling a redesigned course for the opening of the 2011 season. One of the biggest changes is to the 14th hole, which is now a spectacular par-3, instead of the original 304 yard, par-4. From the back tees the hole plays 212 yards and is protected by water on the left and bunkers surrounding the green.
Unique Factor
- The Loon Golf Resort is also home to the Butch Harmon School of Golf. Their premier package includes:
* 3 night accommodations at The Loon Golf Resort
* 2 days of instruction with Harmon staff professionals
* Computerized video analysis
* Nine-hole playing lesson each full school day with Harmon staff
* Breakfast & lunch at the Loon each day of the school
Prices start at $895 per person with discounts available based upon the number of participants.
Butch Harmon will be appearing at The Loon Resort on the weekend of July 29-31, 2011. The three day event includes a 36 hole showcase in a four person team format. This unique weekend affords you the opportunity to be side by side with the game's #1 teacher as he conducts clinics, plays the course, and hosts contests all weekend. For more information on the event, visit
www.loongolfresort.com
or call toll free at 1-877-732-4455.
The Lakes Golf Course (Formerly Mountain Lake Golf Club)
What to Expect
- Expect the quality that designer Jerry Matthews demands from himself. As architect of over 70 courses in Michigan, Matthews was elected to the Michigan Golf Hall of Fame in 2005. The 6418 yard par 72 tree-lined gem plays to a slope of 130, a true indication that straight is much more superior than far on this layout. This property needs to be played in the fall as eye popping colored leaves combined with the green grass and blue water set a dramatic scene. Very rarely will you find a course that contains elevation drops you'd expect on a mountain course one minute and then flatter, water-laden holes the next. If you see the name Jerry Matthews on a scorecard, it's a safe bet you'll want to play it.
Flagship Hole
- 13th Hole - Par 4, 389 yards
It's not too often you find a golf hole completely surrounded by water that is not an island green par-3. In a brilliant design maneuver - the entire hole is in the middle of Mountain Lake. How about this for an intimidating tee shot? The hole is tree-lined on both sides and features three bunkers in your landing area. And oh did we mention you'll need to hit your drive at least 175 yards as the aforementioned Mountain Lake juts in across the entire fairway.
Unique Factor
- Holes 12 through 17 form a circle around Mountain Lake. Bookend par-3's are sandwiched by four par-4's ranging from 350 to 399 yards. In another cool design feature of the other 12 holes, six are played through a pine forest, while the other six are on alpine terrain with stunning vistas. You'll never really know what's around the next corner at The Lakes Golf Course.
Marsh Ridge Golf Course and Resort
What to Expect
- Marsh Ridge is a stately layout tucked in the forested region just southwest of downtown Gaylord. The course is also adjacent to the Marsh Ridge Resort that features seven different lodging options from Jacuzzi suites to intimate townhouses. Jac's Place Restaurant is also on site meaning that vacationers never have to leave Marsh Ridge for a packed day of entertainment. "Marsh Ridge and The Natural is the best value for your dollar," stated General Manager Larry Bowden. "First of all, we have wonderful views around the resort and throughout all 36 holes of our two golf courses. For your convenience we have a fine dining restaurant on premises. And when you're done golfing you can lounge by the pool, soak in the Jacuzzi, or enjoy the steam from the sauna. You will feel truly spoiled by our staff's hospitality," stated Bowden.
Flagship Hole
- 10th Hole - Par-3, 172 yards
The description on their website for this one-of-a-kind hole is priceless. It reads, "Don't be intimidated, there's only one alligator on this hole." All I can tell you is I was scared stiff standing on this tee box and no one had even told me about the alligator. The hole plays straight down hill to a postage stamp green surrounded by water and trees. The only factor that makes this hole survivable is that you've already had 9 holes to warm up before trying to execute this perilous shot.
Unique Factor
- Marsh Ridge may only measure 6231 yards from the tips, but you'll be faced with a lot of pressure shots throughout your round. Sure many of them will be with short irons, but they will be daunting none the same. Marsh Ridge's yardage is cleverly hidden through forced carries, elevation changes, and some of the most visually intimidating par-3's you'll ever see. Marsh Ridge resides on truly a beautiful piece of land, with no two holes being even close to each other in length or design. It's Point A to Point B golf at Marsh Ridge as often times you can only see what's directly in front of you and not the entire hole. For more information on Marsh Ridge, visit their website at
www.marshridge.com
or 1-800-743-7529.
The Natural Golf Course
What to Expect
- The Natural is the new sister course of Marsh Ridge and is located only miles from the resort. The Natural is a Jerry Matthews design that opened in 1992 and has been celebrated by Golf Digest as a Four-Star Property. The par-71 layout plays 6355 yards from the tips and is highlighted by towering stands of pines, oaks, birch, and maple trees combined with native wetland areas throughout.
Flagship Hole
- 18th Hole - Par-4, 455 yards
The hole dubbed as the "Monster 18" is by far the most difficult hole at The Natural. It plays downhill and is a tight dogleg left, requiring a good drive. The next shot is a long carry over wetlands to an elevated green. General Manager Larry Bowden has a unique perspective on why the finishing hole is so highly thought of. "Hole 18 is located close to my favorite hole (the 19th hole) where you can sit and have a burger and replay all the great shots of the day. To improve your score on our last hole you need not to overpower your drive. A tee shot of 270 yards leaves a 160 yard shot into the green which is what you should strive for," concluded Bowden.
Unique Factor
- Among many other notable features at The Natural are large, undulating greens, oversized bent grass tees, practice putting green, double-row irrigation, watered roughs, strategically-placed sand traps, and manicured, tree-lined fairways. The par-3's are short and tough with bunkers, 40-foot drop-offs, and 100-foot elevated tees. The key to enjoying your round at the Natural is to pick the right tee box to play from and to keep your neck on a swivel - that way so can take in all the panoramic views The Natural has to offer. For more information on The Natural, visit
www.thenaturalgolf.com
or call (877) 646-7529.
Michawye Pines Golf Course
What to Expect
- Course architect Don Childs has expertly woven a series of strong golf holes in a serene setting. Childs, who designed the course in the early 70's, had the unique opportunity to go back 32 years later and update the course to meet updated irrigation and agronomic needs. The alterations also have made the course more high handicap player friendly as most bunker positioning now allow for shots to be run up on the green. The lower handicap player will find Michawye Pines extremely challenging as the black tees play over 7000 yards and to a slope of 129.
Flagship Hole
- 17th Hole, Par-5, 545 yards
Michawye's penultimate hole presents numerous challenges with the Ausable River running through the fairway at the 100 yard mark. Large reeds protect the putting surface and create a visually intimidating approach to a well-bunkered green. Michawye's trademark collection of birch and pine trees greet golfers throughout this three shot hole and elicit that "We're the only group on the course feeling."
Unique Factor
- Michawaye is not only home to a Championship course, but also offers fine dining and on-course living options. Over 800 homes are located on the 2000+ acre community and home owners receive a bevy of stellar amenities including use of their indoor/outdoor pools, spa, sauna, and tennis courts. Michawye's exclusive restaurant, Inn The Woods, is open 362 days a year and is regarded as one of the best dining experiences in the area.
Gaylord Country Club
What To Expect
- A classic tree-lined, parkland course that was founded in 1924. The Wilfrid Reid designed 6472 yard course is one of the few private clubs in northern Michigan that allows public play. The layout is consistent with those created in the 1920's, as the green complexes are small and the course was built with walking in mind. For a course of this magnitude their rates are ridiculously good, as you will never pay more than $59 to enjoy a journey back in time.
Flagship Hole
- 8th Hole, Par-4, 400 yards
One of Gaylord Country Club's most difficult holes is one of their prettiest as well. The big par-4 requires a mighty poke off the tee to a slanted downhill fairway. Make sure your second shot comes from a level lie, so big hitters might want to hit something other than driver off the tee. From there the hole meanders down and to the right and is guarded by bunkers and water on the starboard side. The safe play is to favor the left side and hope for a bounce toward the putting surface in order to take the trouble completely out of play.
Unique Factor
- Gaylord CC has their version of Augusta National's "Amen Corner" in holes 6 through 8. Their website says it all when it proclaims, "There is a rumor that there is another "Amen Corner" on some other course but it can't be any tougher than this one." The diabolical stretch starts with a 186 yard par-3 followed by a 518 yard par-5 and closes with the aforementioned 400 yard par-4 8th. Pars are always brilliant scores on any of these three tests! For more information on Gaylord CC, visit their website at
www.gaylordcountryclub.com
.
The Remaining Courses of the Gaylord Golf Mecca
Black Bear GC- www.golfblackbear.net
Black Forest - www.blackforestgolf.com
Black Lake GC - www.blacklakegolf.com
Elk Ridge GC - www.elkridgegolf.com
Garland Resort (4 Courses) - www.garlandusa.com
Gaylord Country Club - www.gaylordcountryclub.com
Otsego Club (2 Courses) - www.otsegoclub.com
TreeTops Resort (4 Courses) - wwww.treetops.com
Wilderness Valley - www.blackforestgolf.com
For a full list of courses visit www.gaylordgolfmecca.com
Revised: 05/17/2011 - Article Viewed 22,239 Times
Share Comment
Written By: Glen Turk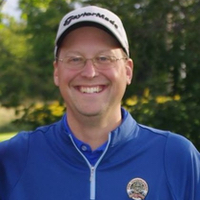 Glen Turk is a Wisconsin native and is the Senior Writer/Editor of Midwest Golfing Magazine. Midwest Golfing Magazine was formerly known as Pub-Links Golfer's Magazine and is a free publication distributed four times per year throughout Wisconsin, Illinois, Michigan, Minnesota, Iowa, Indiana, and Ohio.

His duties at MGM include writing course features, facilitating product testing, and overseeing the overall content and look of the magazine. But clearly his most important task is playing as much golf as his wife allows. Fortunately for him, she plays also and loves out-driving him even with a 60 yard head start.

Glen plays to a 6 handicap but once set a record by having his ball retriever regripped 15 times in one calendar year. It was a December trip to Guam that ultimately did him in. Finally, if you haven't caught on by now, the two most worthy weapons in Glen's writing arsenal are self-deprecating humor and pithy one-liners.

My signature line, "Be A Force on The Course" and now more recently, "Hit 'Em Where They Mow!" can be reused at no charge.