Share:
---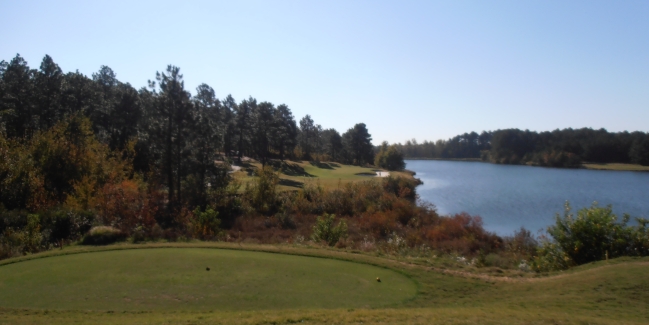 Golfing The Pinehurst Area Golf
Great Golf in North Carolina
By Don Kriefall
Want to enjoy the Pinehurst experience without shelling out $410.00 for one round. Well, you can find excellent golf in the Pinehurst area and stay and play 4 rounds for under $400.00.

The Rees Jones designed Talamore Resort Golf Club, located at 48 Talamore Drive, Southern Pines, NC 28387, offers a great value carved out of the same sand hills that Pinehurst is built upon. Beware of the first hole. Big hitters will find all kinds of trouble, so tee off with your 3 wood to make certain you do not go through the blind landing area. Too much risk and little reward if you bomb one here. All kinds of critters dwell within the waste area 250 yards from the tee box, and some of them are poisonous. More rattlesnake bites are reported in North Carolina than any other state, so if you end up in there, take your penalty and let someone else look for your ProV1! Two 60 yard long but narrow bunkers on #2 guard this signature hole's green and many players have had to hit more than one bunker shot to get on the green. 6840 from the tips, 6534 from the blues, 6025 from the whites and 4993 from the red tees. Once known for its Llama caddies, yes you heard that right, since retired but still living on the property. You can say hi as you pass them between the 13th and 14th holes. Regular rates begin at $59.00 with cart.

Legacy Golf Links, 12615 Hwy 15-501 Aberdeen, NC 28315, has just reopened with new Bermuda Mini Verde tm greens that are as true and fast as can be. Rates begin at $49.00 with cart. 7004 yards from the tips, 6495 from the blue, 6021 from the whites, and 4946 from the green tees, this course will test all skill levels. Jack Nicklaus Jr. is the chief architect, but his dad's fingerprints are all over this gem. This course is what golf is all about. This course was so immaculate I actually felt guilty making divots in the fairways. Keep the ball in play and you can put up a good score. If you spray it into the rough you'll wish you made it into the pine straw, because the Bermuda grass is long, tangled and will grab and twist your club when you try to get out of it.

Tobacco Road is located at 442 Tobacco Road, Sanford, NC 27332. What can I say, this course is absolutely awe inspiring and with rates that start as low as $49.00 with cart, this is a must play. The fall stay 2 nights and play 3 rounds is only $252.00 per person. Blind shots, narrow landing areas, waste areas that stretch on forever, strategically placed bunkers that are deep and narrow. Tobacco Road is ranked in the top 50 toughest golf courses in America by Golf Digest and I concur. I can see why more golfers that play both Pinehurst and Tobacco Road are more impressed with this Mike Strantz design. Utterly stunning vistas await you at every shot on this course and if you can get an early enough tee time, you may be lucky enough to view the sunrise from the deck at the clubhouse. And the clubhouse is adorned with, yes you guessed it, tobacco regalia, from the fireplace vents that are constructed from genuine, turn of the century, tobacco factory apertures to the antique brass tobacco leaves that decorate throughout.

When you pull up to Southern Pines, don't let the non-descript clubhouse fool you. Located at 280 Country Club Circle Southern Pines, NC 28387-6504, right in the middle of a quiet upscale residential area, this Donald Ross design, built in 1906, is an absolute pleasure to play. There are many hidden bunkers just waiting to eat up that shot where you're most likely to miss. Don't hit your approach shot above the pins on these greens or these lightning fast greens may leave you with a chip shot coming back. But don't come up too short or the false fronts might just direct your ball right back onto the fairway 50 yards from the green. This hidden treasure is only 6300 yards from the back tees, but plays at least 400 yards longer with many approach shots into elevated greens. Rates begin at $30.00 and golfers under 15 play for free with a paying adult, so bring the kids. For packages contact Debbie@ringthepines.com for additional information. This is a must play if you enjoy old school courses that while they may be short, require you to think out each shot and are a challenge for all skill levels.

Stay one night and play all day for $89.00 at Talamore, Beacon Ridge, The Carolina, Carolina Trace CC, Foxfire, Legacy, Longleaf, Seven Lakes, Southern Pines, Whispering Pines, and Woodlake. This is a deal too good to pass on. While you may say that the tradition of Pinehurst is the big draw, golf in the sand hills area around Pinehurst offers many other excellent golfing opportunities without denting your travel budget so much.

Revised: 01/14/2012 - Article Viewed 21,093 Times
Share Comment
Written By: Don Kriefall

Don Kriefall is a golf contributor for GolfTrips.com. Known as as a weekend warrior, Don is still in pursuit of his first hole and one.

When he is not journaling about his travel, Don is either playing with his grand children or his dogs.