Share:
---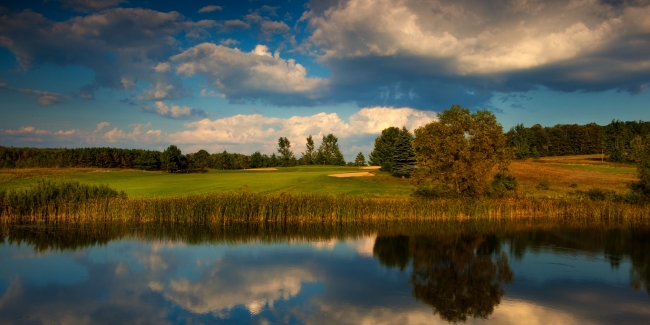 Michigan's Favorite Four Season Resort, Shanty Creek
All-Inclusive Paradise
By Glen Turk
I firmly believe the best golf vacations are those that only require you to get there. There is nothing more frustrating than having to drive two hours to every course after finally landing/driving to your destination of choice. Our MGM travel motto; don't waste gas, time, or money while on vacation. That's why we would love to re-introduce you to Shanty Creek Resorts in Bellaire, Michigan. With 72 luscious golf holes on site surrounded by three distinctive villages and a bevy of top-notch amenities, it's no wonder Shanty Creek Resorts is a place you won't want to nor have to leave once you arrive.

Chris Hale, Vice President of Sales & Marketing at Shanty Creek Resorts discusses what you hopefully already know - Shanty Creek is one of Michigan's most beloved all-season resorts. "Shanty Creek offers an overall golf product that is second-to-none because each of our four courses provides completely different experiences and they can all be played from one resort destination. Our courses feature designs by legendary architects like Arnold Palmer and Tom Weiskopf, and the Schuss Mountain course, despite the lack of marquee name, is every bit as playable and challenging as [Palmer's] The Legend and [Weiskopf's] Cedar River GC. Our fourth course, The Summit, also features a very good design and is fun and challenging for all skill levels," concluded Hale.

Before we explore the four courses at Shanty Creek, it's important to describe the lodging options the resort is famous for. "Across SCR's (Shanty Creek Resorts) 4,500 acres are nearly 500 lodging options including hotel guest rooms and suites, two, three and four bedroom condos, and up to six bedroom standalone homes," explained Hale. "Depending on the size of the group, our variety of accommodations provides both size and budget flexibility, and different packages allow greater flexibility to give our guests what they're looking for. Most golfers prefer our condos and homes although since the renovation, rooms and suites in The Lakeview Hotel are increasingly popular," finished Hale. Here is a quick overview of Shanty Creek's main lodging options:

Summit Village

Boasting a $10 million renovation, The Lakeview Hotel & Conference Center at Summit Village offers million-dollar views of Lake Bellaire, miles of pristine hardwood forests and out-the-door access to The Legend and Summit Golf Courses and Summit Mountain's slopes. With spacious and lavish guest rooms, The Lakeview Restaurant & Lounge, Arnie's Grill, The Spa at Shanty Creek Resorts and over 16,000 square feet of meeting space including the renovated Grand Ballroom, Bellaire Ballroom and Fireside Parlor, Summit Village is the heart of Shanty Creek Resorts.

Cedar River Village
Featuring 72 suites and studios plus 14 condominiums, this elegant village showcases well-appointed accommodations in one and two bedroom suites and three and four bedroom condos with views of Cedar River Golf Course or the north face of Schuss Mountain. Guests staying at Cedar River are treated to the convenience of out-the-door access to Cedar River Golf Course, the downhill slopes of Schuss Mountain and 30 km of Nordic trails. Ideal for corporate events, Cedar River Village includes over 7,100 square feet of meeting space, creating a perfect blend of high-tech facilities and natural vistas from every window.

Schuss Village
Located at the foot of Schuss Mountain, Schuss Village exudes European charm. Featuring a variety of accommodations from villas and condos bordering the Schuss Mountain Golf Course, Schuss Village is your perfect get-away-from-it-all spot. Schuss Village features guest suites with views of the Schuss Mountain ski slopes and it's within walking distance to Ivan's for Apres-ski entertainment and fun. Shanty Creek also employs a complimentary shuttle service around the entire resort and to nearby downtown Bellaire.

Four Great Golf Courses Await
Trust us, with 72 holes on site it's a safe bet you might not be spending a lot of time in your room, especially with darkness not falling until near 10:00 p.m. in the heart of the summer. So with that being said here is a brief summary of Shanty Creek's quad squad of courses as articulated by Brian Kautz, Director of Golf and Head PGA Professional at Shanty Creek.

"Arnold Palmer's The Legend course and the Tom Weiskopf-designed Cedar River GC are both wonderful layouts created on some of northern Michigan's most beautiful real estate. They are both out-and-in courses and you rarely see another hole while playing. The Legend is a tree-lined course that demands accurate iron play and caution must be exercised due to up and down elevation changes.

Cedar River GC offers friendly landing areas from the tee and its greens vary from small to very large. Tom Weiskopf's use of the natural terrain created holes that flow with the hillsides and elevation changes. It's quite remarkable. Its par-3s and par-5s are outstanding holes and are complimented with some very distinct par-4s. Better players will find The Legend a couple shots more difficult while players of all skill levels love to play Cedar River for its design and striking beauty.

Schuss Mountain GC is the Dr. Jekyll and Mr. Hyde of northern Michigan - that is, it plays as two totally different courses from the front to the back nine. The front is totally tree-lined and tight while the back is rolling and very scenic. Eight holes are doglegs and require the ability to work the ball. Players of all levels enjoy the challenge presented, and for many, the back nine is the most enjoyable nine holes of golf at Shanty Creek.

The Summit Course features a traditional hillside layout with some undulating greens that will keep you on your toes at all times. The course is open enough to make players of all levels comfortable but even good players have a tough time shooting low scores," concluded Kautz.

Brian Kautz is also the head of the Shanty Creek Golf Academy which offers individual and group lessons for beginners, intermediate and advanced golfers, and women only. To schedule a lesson, call (866) 901-3151.

Michigan's Favorite Ski Slopes
If you're reading this article in February and can't wait until the snow melts to enjoy Shanty Creek, then it's great to know that Schuss Mountain has long defined skiing in Michigan. So it's no surprise Shanty Creek was rated "Best Downhill Terrain in the Midwest" by OnTheSnow.com's visitors. Now with 53 runs on its two mountains and featuring four terrain parks, a 300' half pipe, more than 175" of snow, and a 450' vertical drop, "Shanty Creek is where terrain meets tradition."

Everyone is a Valued Guest at Shanty Creek Resorts
Whether you're a die-hard skier or golfer, there is one constant at Shanty Creek - you'll feel like a member of a private club for the duration of your stay thanks to the skills of their professional staff. Director of Sales and Marketing Chris Hale reflects the tremendous pride their staff feels at SCR. "Shanty Creek is committed to keeping the Resort a destination for leisure travelers, golfers and skiers, and our many corporate and conference clients. Brides, too, have developed a kinship with our scenic esthetic and comfortable setting. We've found that when you offer an inviting environment and friendly staff, life "Up North" is a pretty special place to be." MGM speaks from experience and we could not agree more.

For more information on Shanty Creek Resorts, visit www.shantycreek.com or call 800-678-4111.


Revised: 03/18/2013 - Article Viewed 21,976 Times - View Golf Course Profile
Share Comment
Written By: Glen Turk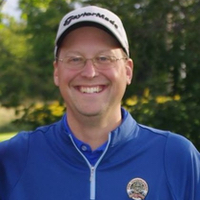 Glen Turk is a Wisconsin native and is the Senior Writer/Editor of Midwest Golfing Magazine. Midwest Golfing Magazine was formerly known as Pub-Links Golfer's Magazine and is a free publication distributed four times per year throughout Wisconsin, Illinois, Michigan, Minnesota, Iowa, Indiana, and Ohio.

His duties at MGM include writing course features, facilitating product testing, and overseeing the overall content and look of the magazine. But clearly his most important task is playing as much golf as his wife allows. Fortunately for him, she plays also and loves out-driving him even with a 60 yard head start.

Glen plays to a 6 handicap but once set a record by having his ball retriever regripped 15 times in one calendar year. It was a December trip to Guam that ultimately did him in. Finally, if you haven't caught on by now, the two most worthy weapons in Glen's writing arsenal are self-deprecating humor and pithy one-liners.

My signature line, "Be A Force on The Course" and now more recently, "Hit 'Em Where They Mow!" can be reused at no charge.