Share: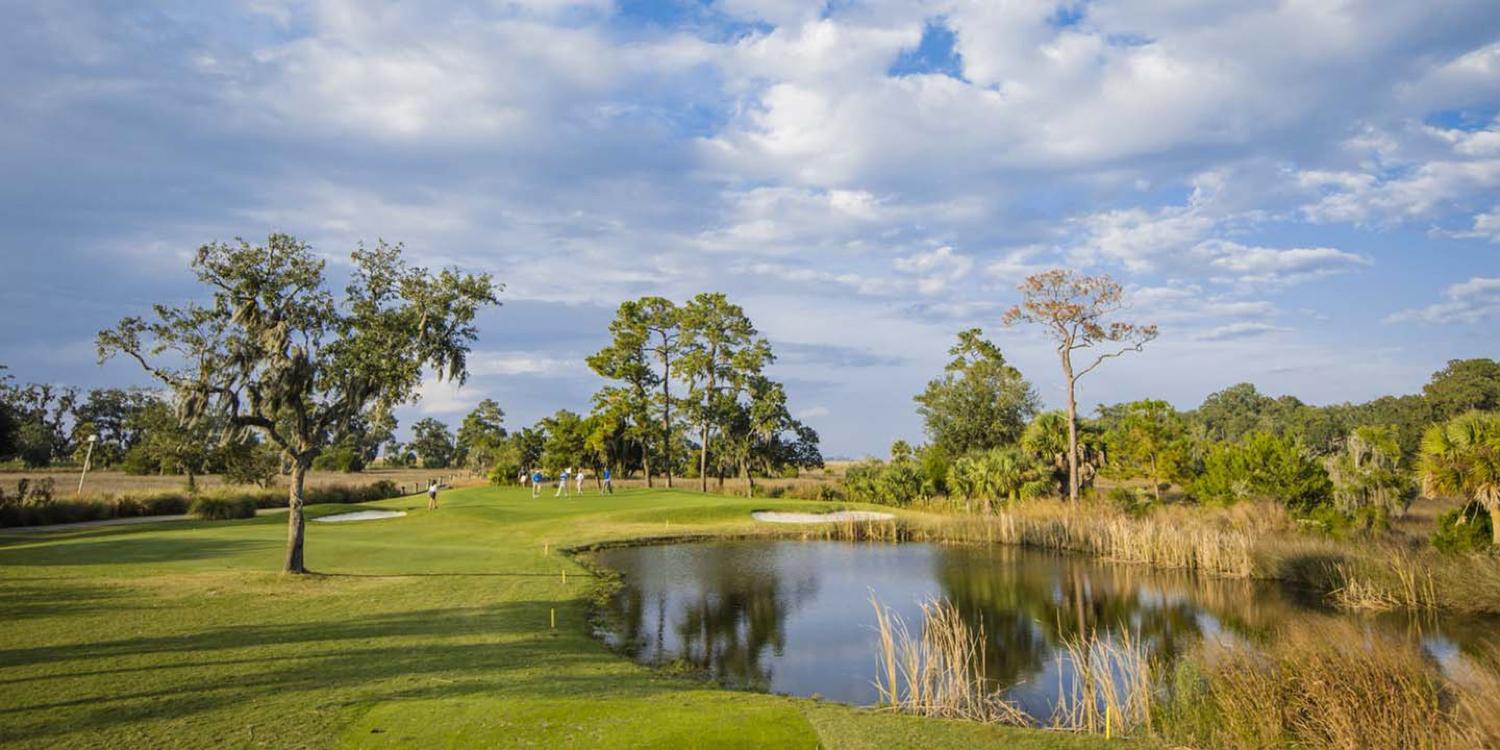 Golf at King and Prince St Simons Island GA
By Larry Berle
There is plenty of public golf in the Golden Isles, not to mention great weather, which probably explains why over a dozen PGA tour players live in the area. Jekyll Island Golf Club has 63 holes, Sea Palms has 27 holes, and the Sea Island Golf Club has 72 holes. In October there's a PGA Tour event, the McGladrey Classic, at Sea Island's Seaside Course. When it comes to getting up and down from the gnarly Bermuda rough, Seaside ranks as the second most difficult course on the PGA tour. There are also several private courses including Ocean Forest, which used to be in Golf Digest's Top 100.

Today I played the King and the Prince golf course, located at the opposite end of St. Simons Island from the King and Prince hotel. At first glance its 6,462 yards from the tips seem short and even easy. Then you look at the rating of 71.7 and the slope of 140 and you realize it can't really be easy, and it's not. The King and Prince course was renovated in 2009 with new grasses: Zoysia framing the bunkers, Century Bermuda in the fairways, and best of all, Mini Verde on the greens, which run fast and true with no noticeable grain. The greens are so firm that there are dramatically fewer ball marks than I expected. Over half of these greens are 35 yards deep or more, making for up to a three-club variance on your approach shots. Only two greens are 25 yards deep or less. I love them.

This island course is framed by towering oaks, salt marshes, lagoons and, of course, the Atlantic Ocean so you'd better hit it straight. This is a course that seems to boast, not one, but four signature holes. On holes 12,13,14 and 15 (see the flyover link below) you ride over boardwalks to reach holes built on small islands engulfed by marshland. Then it is back to the clubhouse through lush forests on 16,17 and 18. It's a challenge and a treat to play, and one more reason this area is a great place to consider for your next golf trip. Its a one hour drive north of Jacksonville FL and an hour south of Savanah GA.
When you go stay at the newly renovated King and Prince Hotel the only hotel on the island that is right on the beach

More Information:
http://www.kingandprince.com
800-342-0212

Revised: 12/02/2014 - Article Viewed 66,030 Times - View Course Profile

About: Larry Berle
---

A Golfer's Dream is Larry Berle's first book. In his previous career, Larry owned SRO Productions in Minneapolis, Minnesota; a company specialized in concert promotion, event management, and CD compilations for radio stations. He worked with many artists, including Andy Williams, Tony Bennett, George Winston, Yanni, B.B. King, James Taylor, Bill Cosby, and Sinbad. After 31 years in the business, Larry sold SRO in 2004. He still produces small theatrical plays occasionally but spends most of his time playing, and writing about, golf.

Larry was introduced to the game by his wife Annie in 1990 and has been an avid fan and player ever since. Annie took him to Pebble Beach for his birthday in 1992 where the dream to play the Golf Digest Top 100 was born. What is truly amazing about Larry Berle is not only that he achieved his quest but also that he published this book. In June of 2006, with 90 percent of the first draft completed, he suffered near-fatal injuries as a result of a bicycle accident in Minneapolis. He lay in a coma for nearly two weeks and was hospitalized for two months. Larry not only survived but made a full recovery and regained his fabled drive and ability to concentrate. After months of therapy, he was able to complete and publish A Golfer's Dream, a testament to his remarkable achievements in golf and in life. A slightly above-average golfer (handicap index of 11.9), Larry has no handicap in networking and is not afraid to ask for help, especially when it comes to playing Top 100 golf courses.

---
More Articles by Larry Berle