Share:
---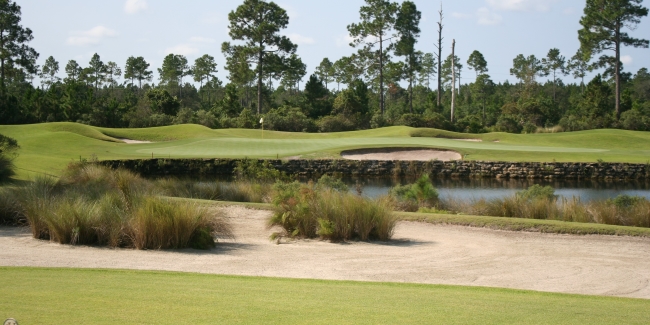 Hammock Beach Resort Review
Conservatory Course: Florida's Longest Course
By David Theoret
The Hammock Beach Resort in Palm Coast FL is home to two of the state's most beautiful courses; The Jack Nicklaus designed Ocean Course and the Tom Watson Signature Design Conservatory Course. The Ocean Course shares the same property as the resort, while The Conservatory Course is just a short 5-minute drive away.

The Conservatory Course has the distinction of being the longest golf course in Florida, playing a whopping 7,776 yards from the back tees. Although the course has a slop of 150, I know of at least one other course in Florida with a higher slope rating (The Concession in Bradenton has a slope of 155). There are six sets of tees to choose from. The White Tees at 6,271 (71.3/132) will give most male golfers all they can handle. Ladies typically play from two different tees: Green at 5,995 (75.3/137) or red (5,235 (70.6/126).

As you meander through the course, you will encounter some breathtaking sights: waterfalls, babbling brooks and veneered field stone work. To make your round even more interesting, Mr. Watson has included 140 sand and coquina bunkers and three sod-faced bunkers. In their January 2008 issue, Golf Digest ranked The Conservatory third on its elite list of America's Best New Public Courses.

Memorable Holes (Yardage is From the White Tees)
Number 4: Par 5, 489 yards. The first par five on the front nine demands an accurate layup shot that is deceivingly tight because of the water that seems to come in close and the pot bunker in the middle of the landing area. If you can successfully navigate your way down he left side of the hole birdie is a good possibility, providing you have a good wedge game.

Number 8: Par 3, 113 yards. This is The Conservatory's version of Sawgrass' Island hole. This short par 3 boasts an island green and plenty of room to bail out to the right if you're not feeling up to the challenge. A left pin placement can spell disaster for an overly aggressive player trying to make a quick birdie.

Number 9: Par 5, 507 yards. Unless you're a longball hitter who can hit a really long fade, there is no reason to mess with the water on Number 9. Play your tee shot slightly right of the first (of many) fairway bunker on the left. The landing area for your layup shot gets very narrow with water left and sand right. This is a great hole to finish off the outward nine and possibly your best chance at birdie thus far.

Number 10, Par 5, 543 yards. Is it any coincidence that the longest hole on the golf course is also the number one handicap? Avoid the fairway bunker on the left and pot bunker on the right and you're off to a good start. Anything hit crazy right is bound to find the pine trees and/or wetlands that run down the entire right side of this hole. Then, since most of us cannot hit a 350 yard fairway wood, play your layup shot short of the waste bunker that fronts the green. Are you with me so far? Take enough club on your approach shot to avoid the sod face bunker and coquina rock bunker that come into play depending on pin placement. Number 10 is another hole where par is a good score or, more aptly, an accomplishment.

Number 14: Par 4, 431 yards. This is the longest par four on the golf course regardless of the tees you are playing. It offers a tremendous risk/reward opportunity. For us mere mortals, we are looking at either a long iron or fairway wood into a par four green. Longball hitters can cut off a significant amount of yardage off the tee by playing to the right of the fairway bunkers. The water guards the entire right side of this behemoth hole. For many players your best shot at par is to get on the green in three and one-putt.

Number 15: Par 4, 327 yards. Find the fairway, win a prize; at least that's the way I felt standing on the tee. The way the land lays, the front waste bunker and the bunkers on the far side of the fairway blend together, giving the illusion that there is very little fairway. Long hitters can attempt to cut the corner leaving a shorter approach, but I'm not sure the reward outweighs the risk. Leave the driver in the bag, find the fairway and you'll have a short pitch shot to an elevated green. An easy par, provided you control your tee shot.

Number 18: Par 5, 503 yards. An excellent finishing hole that offers a fantastic view of the golf course from the elevated tee box. Long ball hitters need to be careful of the water on the left side off the tee. For the rest of us mere mortals, the water won't come into play until the second shot. Even at 600+ yards from the back tees, this hole can be reached in two, by long ballers, but you'll need enough club to carry the stone bulkhead that guards the green. Mere mortals be aware that the landing area of your layup shot gets very narrow and that pot bunkers abound on the edges of the fairway.

Last Word:
It may be the longest course in Florida, but when I think about the Conservatory Course, something else comes to mind: sand. Lots of sand. Most of it in steep-faced fairway bunkers that leave little or no chance of advancing the ball forward. The three sod-walled bunkers on 2, 10 and 17 are a nice touch and show Watson's British influence. If sand is your nemesis, my thoughts and prayers are with you.

There is water visible on every hole on the front nine, but a lot of it should not come into play or pose any type of problem. Players are not faced with any long forced carries. The signature eighth hole features an island green but plays only 199 yards from the back tees and 113 yards from the whites.

The manicuring and care of this course is second to none. You'll enjoy your round as long as you don't try to be a hero and bite off more than you can chew - i.e. not playing from the tees that suit your game. The Conservatory Course should be enjoyed rather than despised because it beat you up. As you play, appreciate your surroundings and you're sure to have a good time.

Hammock Beach Resort offers some great winter golf packages. For more information, visit their website at www.hammockbeach.com.



Revised: 12/02/2015 - Article Viewed 20,213 Times - View Golf Course Profile
Share Comment
Written By: David Theoret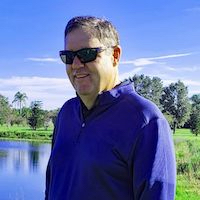 David Theoret has been in the golf and golf travel industry for over 10 years, primarily selling online advertising. For the past seven years, he has also been a golf writer, reviewing golf courses, resorts, destinations, equipment, golf apparel, and training aids - the latter of which never seems to help. David's articles and reviews have been posted on many golf travel and equipment websites.

Growing up in Southwestern Ontario, Canada, it was naturally assumed he would play hockey. Beginning at the age of 3 and continuing into his late 30's, he did just that. However, after one too many pucks to the head, he realized that golf was a lot easier on the body (whoever said hockey players were slow) and took the game up.

After moving to Florida and accepting a position with TravelGolf Media (now part of GolfNow) his love for the game grew exponentially. Most Saturdays you will find him on a course somewhere in Florida or on the practice range reinforcing his bad habits. David plays to a 10 handicap - unless there is money involved in which case it goes considerably higher. He currently resides in Lakeland, FL with his wife Belinda and their two "kids", Madyson and Molly.