Share:
---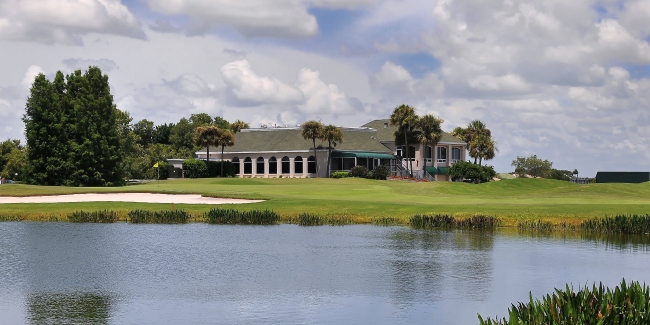 Sarasota Golf
Wonderful Golf, Spectacular Beaches...and Much, Much More
By Chuck Miller
The headline of this article truly tells it all. Sarasota has an abundance of wonderful golf courses, delightfully spectacular white sand beaches, and a myriad of things for individuals, couples and families to see and do in and about the city. The city limits include a slender, but lengthy mainland along with eight islands. Upscale high-rise condos and hotels gaze out at the blue-green waters of Sarasota Bay and the Gulf of Mexico. Palm trees and jungle like plants surround quiet suburban neighborhoods. It has upscale dining and small family-run restaurants. It has museums galore, parks, and sport venues. It is a vibrant city.
When good friends, Larry Venable and his wife, Jolyn, who had lived in Sarasota for twelve years, mentioned they were going to vacation in Sarasota, my wife and I were envious. Although we'd been to Miami and Fort Lauderdale, up and down the East Coast of Florida, and had spent time in the panhandle cities of Pensacola and Destin, we had never been to Sarasota.

Seeing our envious facial expressions, our friends said "why don't you join us." When they explained their two-bedroom rental would be only a few hundred yards from the wide and lengthy Siesta Key beach, we began to get excited as we had read that because of its sugar-fine, quartz white sand, Siesta Key beach was rated as one of the world's best beaches. When they said they planned to play golf, dine at a number of their favorite local spots, and would be happy to be our guides to the many, many, places and things to see and do in Sarasota, we said "yes, count us in."

There was one problem with our decision however. We had already scheduled a seven-day western Caribbean cruise from Miami on Norwegian Cruise Line's mega ship, The Getaway. Now it was our turn to say "why don't you go with us prior to vacationing in Sarasota." It didn't take long for them to say "that sounds like a great idea." So over a few adult beverages, we made plans for the Caribbean cruise and two weeks in Sarasota.

Following the cruise, and a three and one-half hour drive from Miami, some of which was on the freeway known as "Alligator Alley," we arrived in Sarasota and began making plans for the two weeks that lay ahead. It was an exciting discussion that left us wondering how we could possibly see and do all the things that were available.

Because we wanted to play two top of the top courses in Sarasota, before driving from our homes in Hot Springs Village, Arkansas to Miami for our cruise, we set up tee times at Misty Creek Country Club and University Park Country Club. Both were formerly private courses that were open for public play. Both were excellent courses.

Misty Creek, which was Larry and Jo's home course during their years in Sarasota, is located on a 350-acre eagle preserve. Although a flat course, as are most courses in Florida, it had plenty of character. Fairways, with small rolling hills and bunkers to maneuver around and over, were ringed with native palmetto palms and live oaks covered in Spanish moss. Wetlands water was prevalent on a number of holes. Large greenside bunkers guarded good sized greens which had subtle breaks. It was very scenic, and with five sets of tees ranging from 5208 to 6895 yards, a very enjoyable and playable championship length Par 72 course.

As an Audubon Cooperative Society property, it was and is, managed with wildlife and environmental quality in mind. With over seventy varieties of birds, including egrets, which floated effortlessly over the many small ponds and lakes on the course, and cormorants, that sunned themselves on the banks of the lakes and ponds, it was easy to understand why Misty Creek's slogan, is "Golf in Nature's Backyard."

Beside birds, also to be seen but given a wide berth, are alligators of all sizes. The day we played Misty Creek, there were eight on the ninth hole alone, including one that was at least ten to twelve feet in length. We didn't get close enough to measure even though the gator seemed quite passive as it relaxed in the Florida sunshine. The alligators were actually quite interesting to see and didn't hinder our golf game, but since they are capable of short bursts of speed, we cautiously avoided them.

The second course we played, which came highly recommended, was the University Park Golf Course. A 27-hole beauty that had the feel of a country club, and like Misty Creek, it also had an abundance of palmetto palms and moss covered live oaks. Adding to its beauty were pine trees, water on seven holes, lengthy waste bunkers, and wide receptive fairways with numerous right and left dog legs. Consistently rated four stars by Golf Digest since 1966, any two nines combined to make for a Par 72 course. With six sets of tees, it offered a pleasurable golfing experience for golfers of all skill levels, in fact, University Park has had the distinction for 23 years running of being voted "Best Place to Play Golf in Sarasota" by Sarasota Magazine.

Besides golf, enjoying the beautiful Sarasota beaches, especially the ultra-wide, ultra-long Siesta Beach, when vacationing in Sarasota be sure and tour the Ringling Brothers complex, the Mote Marine Laboratory and Aquarium, and Selby Gardens. Take time out to shop at the scores of stores in downtown Sarasota and on St. Armands Circle on Lido Key. Dine at some of the many restaurants offering delicious breakfast, lunch and dinner menus, and for a change of pace, drive out to Myakka River State Park, which is preserved within 59 square miles and features wildlife and nature tours. While there, walk along the world's longest walkway, which is one-quarter mile long and 120 feet high. And, be sure and take a ride on the world's longest air boat on the Upper Myakka River, where wildlife, including raccoons, alligators and blue herons are quite plentiful.

For anyone interested in the oceans, and the fish that roam the oceans, the Mote Marine Laboratory and Aquarium is a must. With more than 100 marine species, it features a 135,000-gallon shark habitat, as well as other large tanks where you can observe turtles and giant manatees. It also has interactive exhibits and numerous working labs where Mote scientists, who work in the waters around all seven continents, do diverse research programs. The more than thirty PhD scientists, on its staff of more than 206, investigate new cancer and infection fighting substances from the sea, find innovative ways to restore dwindling coral reefs, and develop new technology to seek ways to sustain fisheries while boosting sustainable seafood farming.

The Ringling Brothers campus, which was created to preserve the legacy of John and Mable Ringling of Ringling Brother and Barnum and Bailey Circus fame, is another "must see." It includes Ca'D'Zan, the Ringling's winter home, a world class art museum with 600 Baroque masterpieces and a Peter Paul Rubens collection that is considered the finest in the world. You will marvel at the "Greatest Show on Earth" mural located at the entrance to the Ringling Circus Museum. You will be amazed as you view the incredible 44,000 piece miniature circus museum which includes 150 trains and 1500 people depicting every-day circus life involved in presenting the three-ring "Big Show". A short educational movie at the museum will show how the circus was set up, performed, taken down and moved to the next town or city each day, a feat described as a "logistical miracle."

In its brochure and location map, Selby Gardens, another recommended stop when visiting Sarasota, describes the gardens as "an oasis of tranquility offering a respite from the commotion of urban life." When walking around the grounds, which feature a collection of plants from tropical and subtropical regions around the world, you will be enthralled by the varieties and colors of the orchids growing there.

Since restaurants in Sarasota are plentiful and diverse, ranging from locally owned family restaurants, fast food chains, to elegant white tablecloth restaurants with outstanding cuisine and service, eating out when in Sarasota is a true treat. Two favorites, which were recommended to us, and we thoroughly enjoyed, were the Roast Restaurant in downtown Sarasota, and Crab and Fin on St. Armands Circle, the sophisticated outdoor dining and shopping area located on Lido Key. The downstairs eating area of the Roast Restaurant once housed John Ringling's office. The upstairs served as his gentlemen's club. Two quite interesting aspects of the upstairs gentleman's club, now a private dining room, are the walls which are adorned with frescoes drawn and signed by John Ringling, and the very impressive antique bar which Ringling imported from Scotland.

The Crab and Fin, which prints its menus daily to reflect the freshest seafood available, is known for its seafood, steaks, and its extensive selection of wines. We ate there and our dinners were outstanding. So was our waiter, Jack, who epitomized to us what makes our country great. A proud father, he was working two jobs to make enough money to put the first of his five children through college. If you're in Sarasota and have the opportunity to eat at Crab and Fin, be sure and ask for Jack.

For good old fashion home cooking, enjoy breakfast at the Broken Egg on Siesta Key. For great seafood, try Monks Steamer Bar, minutes from Siesta Key Beach. It is an unpretentious casual restaurant featuring fresh seafood, cold beer and reasonable prices. While dining, you can watch oyster shuckers shuck hundreds and hundreds of oysters with amazing speed and skill. It's quite a show.

Sarasota is definitely a great city for wonderful golf, spectacular beaches, and much, much more.



Revised: 03/07/2017 - Article Viewed 729 Times
Share Comment
Written By: Chuck Miller