Share:
The Country Club of Whispering Pines - Pines Course Review
A Tranquil Location with Challenging Golf
By David Theoret
The Country Club of Whispering Pines is a 36-hole facility owned and managed by Brown Golf Management who also owns nearby Foxfire Golf Club. This gives local Brown Golf members access to 72 holes of championship golf in the Pinehurst Area of North Carolina! More on that in a minute.

The original 18 holes at the Country Club of Whispering Pines opened for play in 1962. An additional 9 holes were added in 1965, and the club operated as a 27-hole facility for about 4 years until 1969 when the final 9 holes were added. Since then, changes have been made and some hole rerouting has taken place and the Country Club of Whispering Pines is now a 36-hole facility. The courses have been renamed the River (formerly the West) Course, and the Pines (formerly the East) Course. Both courses were designed by Donald Ross protégé Ellis Maples way back in 1959 and 1965 respectively and share one thing in common - variety. One example of this is the types of grass used on the greens - The Pines features Champion Bermuda and The River, Bent grass.

Before your round, head over to the practice area, where you'll find a full-length driving range, a practice pitching green complete with sand bunkers, and two putting greens to get you ready for your round.

The Pines Course
The Pines course has been referred to by some as an "inland links" style course, because of the absence of water. Donald Ross' influence is evident in the way this Maples design hugs the natural contour of the land, as well as in the use of open, hardpan areas in the rough that are sparsely covered with pine straw and native grasses. You'll also see his touch in the shaping of the greens and positioning of the sand traps. A great golf course from a golf design icon.

From the back tees, The Pines plays 7,094 yards to a par of 72, with a course rating of 74.5 and a slope of 134. Most golfers will find that the White Tees (6,409/71.1/131) offer an adequate test. Although the Pine Course offers generous fairways, you'll still end up hitting every club in your bag because of the variety of holes. Ladies will have a great time from the Red Tees (5,324/71.4/121).

Memorable Holes
The par 5, 5th hole is not only the toughest ranked hole on the course, it's also one of the more scenic holes out here. From the White Tees, the hole plays 544 yards, so for most of us, it's a 3-shot hole. There's a large pine tree on the right side off the tee that needs to be avoided; your best line is to bisect the left bunker and the pine tree. The landing area for your layup shot is wide open and the right center of the fairway will leave the best angle in to the green. Your approach shot is about half a club downhill over water to a large green protected front right and back left by sand. It's easy to see why this is the toughest hole; it takes 3 good shots to get on and an accurate pitch if you want to score better than average.

Another hole that will test your mettle is the par 4, 10th. It plays 401 yards from the Whites Tees, predominantly uphill. It's a narrow hole that requires two long, straight shots into another oversized green which is fronted by bunkers on either side.

Last Word: With all of the elevation changes out here, you're in for an interesting round. You'll be hitting from uphill, downhill and side hill lies, but that's a lot of what you find in the area. Trust me, it beats flat! Let me leave you this this piece of advice: if you tend to slice your tee shots, use a white ball. It will make it that much easier to find on the range!

The two courses at The Country Club of Whispering Pines offer peace and relaxation. Out here, you far removed from the hustle and bustle of everyday life, all that's left to do is put that little white ball in the hole. Eighteen times!

I spoke with several members while I was there who all raved about the dining room and how well Brown Golf Management was doing in restoring the club to its former splendor. The Grill features all of your clubhouse favorites and what's most impressive - they all taste good. From the Grilled Reuben to the Ellis Maple Burger, you'll enjoy every bite. They also feature several beers on tap and have a full bar.

According to the members, one of the best thing about joining the club is that you have access to unlimited golf at two 36-hole facilities in the Pinehurst area, as well as unlimited range balls.

The Country Club of Whispering Pines also has 32 hotel-style rooms as well as 9 condo/suites for those looking for a stay and play vacation. The rooms are a short walk to the clubhouse and first tee include free wireless Internet access, unlimited use of the outdoor pool and tennis courts (as well as the 24-hour fitness center.

For more information on The Country Club of Whispering Pines or to become a member, visit their website www.countryclubofwhisperingpines.com

Article Tags: Country Club of Whispering Pines, Whispering Pines, Brown Golf, Pinehurst, stay and play, North Carolina, NC
Revised: 06/20/2017 - Article Viewed 1,648 Times - View Golf Course Profile
About: David Theoret
---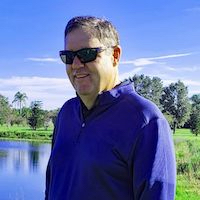 David Theoret has been in the golf and golf travel industry for over 10 years, primarily selling online advertising. For the past seven years, he has also been a golf writer, reviewing golf courses, resorts, destinations, equipment, golf apparel, and training aids - the latter of which never seems to help. David's articles and reviews have been posted on many golf travel and equipment websites.

Growing up in Southwestern Ontario, Canada, it was naturally assumed he would play hockey. Beginning at the age of 3 and continuing into his late 30's, he did just that. However, after one too many pucks to the head, he realized that golf was a lot easier on the body (whoever said hockey players were slow) and took the game up.

After moving to Florida and accepting a position with TravelGolf Media (now part of GolfNow) his love for the game grew exponentially. Most Saturdays you will find him on a course somewhere in Florida or on the practice range reinforcing his bad habits. David plays to a 10 handicap - unless there is money involved in which case it goes considerably higher. He currently resides in Lakeland, FL with his wife Belinda and their two "kids", Madyson and Molly.

---
More Articles by David Theoret