Share:
Loudmouth's New Designs Light Up 2017
By David Theoret
I picked up a brochure at the Loudmouth Golf booth at the PGA Show back in January, that showed all the new prints they will be introducing in 2017 and the month they will be released. Loudmouth continues to impress me.

I have no idea where their designers come up with these prints. Perhaps they are experimenting with mind enhancing substances. Or they have been looking through their kid's coloring books. Whatever the case, these new designs are attractive and appealing for fans of Loudmouth. A couple of them are a little tame and may serve to draw in some future Loudmouth devotees. Start them out with a more subdued print - for me at was the Nassau pants - and gradually they will get a little bolder with each purchase until finally, the closet is ablaze with a spectrum of bright colors. That's how it happened to me.

I wear Loudmouth shorts just about every time I play. Loudmouth apparel is fun, period. Some say that you should have game to wear this clothing; I say you need to have a sense of humor and not take yourself too seriously. Think that way, and you will have fun.

This year's new collection starts out with some themed holidays: Valentine's Day and St. Patrick's Day. The Sweethearts print has red and pink hearts all over and is available in Men's shorts and pants and a women's skort and Bermuda short. There are two new St Paddy's Day prints: Shamrocks is a green short with white shamrocks and Sham Totally Rocks which is the Shamrocks print on steroids. There are shamrocks in three different shades all over. The Sham Totally Rocks is currently only available in a men's short or pant.

Three other prints that are available for both men and women are: Crystal, a colorful blaze of jagged geometric figures splashed in blue, lime and pink; Tiki Bar Blue, a colorful array of blues, with a little bit of pink and lime sprinkled in, creating a very appealing design and Pink Flamingoes, a bright design with flamingoes and plants in an allover print that is quite eye catching:

Here's a complete list of new designs due out in 2017 and their release dates:

Already (or soon to be) Released (Jan/Feb/March 15th): Sweethearts, Tiki Bar Blue, Sham Totally Rocks, Pink Flamingos, Crystal, Shamrocks (Embroidered), Cock-A-Doodle-Doo, Shank,Raspberry Surebet, Mint Julep, Lanai Woodworth Collection), Disco Balls White (Woodworth Collection)April 17th: Golf Trip, Ribbon Candy, Fore (Embroidered), En Fuego (Woodworth Collection) May 15th: Stars and Stripes, Fun House, Big Poppies, Doughnuts, Big Golf Ball (Woodworth Collection) June 15th: Postcards from the Wedge, Block Party, Stix, Austin Tayshiss
You'll need to wait until the release date for each print to appear on the website but remember, good things come to those who wait. www.LoudmouthGolf.com.

Revised: 01/06/2018 - Article Viewed 4,348 Times
About: David Theoret
---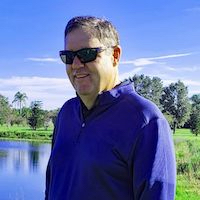 David Theoret has been in the golf and golf travel industry for over 10 years, primarily selling online advertising. For the past seven years, he has also been a golf writer, reviewing golf courses, resorts, destinations, equipment, golf apparel, and training aids - the latter of which never seems to help. David's articles and reviews have been posted on many golf travel and equipment websites.

Growing up in Southwestern Ontario, Canada, it was naturally assumed he would play hockey. Beginning at the age of 3 and continuing into his late 30's, he did just that. However, after one too many pucks to the head, he realized that golf was a lot easier on the body (whoever said hockey players were slow) and took the game up.

After moving to Florida and accepting a position with TravelGolf Media (now part of GolfNow) his love for the game grew exponentially. Most Saturdays you will find him on a course somewhere in Florida or on the practice range reinforcing his bad habits. David plays to a 10 handicap - unless there is money involved in which case it goes considerably higher. He currently resides in Lakeland, FL with his wife Belinda and their two "kids", Madyson and Molly.

---
More Articles by David Theoret