Share:
Longball Golf Apparel
- Spring 2018 - Great Designs, Eh?
By David Theoret
Longball, that Canadian brewed apparel company, continues to put out men's and women's golf apparel pieces that merge form and function. Longball offers a number of men's polos that share similar qualities. The Gig, Pre-Boarding and ETA men's polos can add a little bit of flare to an already dull golf wardrobe. The poly blended fabric has 4-way stretch, and moves with you through your golf swing, with no pinching or binding. The technical finish on the fabric help to keep odor eliminated and the sun's rays at bay. The weave of the fabric allows are in to cool and the moisture wicking properties keeps sweat off your skin. The designs on the fabric are 100% original and look as good on the course as they do at a back yard barbeque. If you're at or near the top of your game, these polos will help set you apart. They are all available in sizes S - 3XL; Gig and Pre-Boarding are available in Grey; ETA is a colorblock design available in two colors: Blue and Grey. Retail price is $68 - $76.

For guys that are really into the game and have to play, even when the weather suggests they shouldn't, Longball's Transatlantic Jacket will help to get them through the day. As golf jackets go, the Transatlantic is heavy, but extremely functional; it would definitely be a go-to piece for guys who like to play in the cool Northern fall weather. That Transatlantic jacket is made with both style and function in mind. It features a weather resistant outer shell, micro fleece lining and pockets that are easy to access. A self-collar and three-snap placket complete the golf look. The athletic cut helps the jacket to stay with you as you move through your golf swing. The full-zip design makes it an easy jacket to get on and off and the cinch cords on the bottom hem keep unwanted elements out. The Transatlantic Jacket is available in sizes S - 3XL and in Black. Retail price is $120.

The women's Altitude Jacket has many of the same features of the men's Transatlantic: weather resistant outer shell, micro fiber lining, pockets that are easy to get to. The Altitude Jacket has the added benefit of a hood and cinch cord on both the hood and the bottom hem. Zippered pockets keep your valuables safe and secure. The Women's Altitude Jacket s available in sizes XS - XL and in Black. Retail price is $100.

To see the entire Longball Spring 2018 collection, visit their website at www.longball.com.

Article Tags: Men's golf apparel, Mens golf outerwear, LongBall golf apparel
Revised: 08/08/2018 - Article Viewed 182 Times
About: David Theoret
---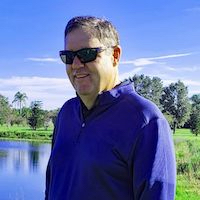 David Theoret has been in the golf and golf travel industry for over 10 years, primarily selling online advertising. For the past seven years, he has also been a golf writer, reviewing golf courses, resorts, destinations, equipment, golf apparel, and training aids - the latter of which never seems to help. David's articles and reviews have been posted on many golf travel and equipment websites.

Growing up in Southwestern Ontario, Canada, it was naturally assumed he would play hockey. Beginning at the age of 3 and continuing into his late 30's, he did just that. However, after one too many pucks to the head, he realized that golf was a lot easier on the body (whoever said hockey players were slow) and took the game up.

After moving to Florida and accepting a position with TravelGolf Media (now part of GolfNow) his love for the game grew exponentially. Most Saturdays you will find him on a course somewhere in Florida or on the practice range reinforcing his bad habits. David plays to a 10 handicap - unless there is money involved in which case it goes considerably higher. He currently resides in Lakeland, FL with his wife Belinda and their two "kids", Madyson and Molly.

---
More Articles by David Theoret
More Related Articles