Share:
Tail's Latest Collection
- Serene Waters - Adds Several Unique and Stunning Looks
By David Theoret
Tail is at it again, creating fashion forward golf apparel for the ladies with all the fit, style and function a gal could ask for. The Sallie Top is sewn from a soft poly blend with plenty of stretch to move with you and Tail's moisture-wicking technology will keep you cool, calm and comfortable during your round. The anti-wrinkle fabric also provides UPF 50+ sun protection and the pindot mesh and performance jersey inserts enhance the garment's breathability. This sleeveless top features a mini mock collar with zip placket in a contrasting color. It's available in a stunning Lakestorm color in sizes S - XXL with a retail price of &79. Pair it with Tail's Marian Skort and you've got a golf outfit others will be asking about.

The Marian Skort alone is sure to turn heads and paired with the right Tail top, it's a guaranteed winner. The Marian is sewn from Tail's 91% Polyester/9% Spandex Performance Jersey fabric, with all the stretch you will ever need to get through your golf shot and the built-In shorties give an extra boost of confidence. The straight pull-on design features pleated inserts in the back and zippered pockets to keep valuable safe and secure. The UPF 50+ finish keeps the sun at bay, leaving you free to concentrate on your golf game. The Marian Skort is available in an eye-popping Figures print (Lakestorm, White and Calypso) and in sizes S - XL. Retail price is $89.

The Angelique Top might well be where the Serene Waters collection gets its name. The calming effect of the Lakestorm/White/Calypso print is spellbinding. The moisture wicking properties of the performance jersey fabric keep you dry and cool and the soft poly blended fabric moves with you. It's a sleeveless design with an overlapping Mandarin collar and snap placket with UPF 50+ sun protection. You'll stay dry, comfortable and worry free with the Angelique Top, available in sizes XS - XL. Retail price is $83.

If White is your favorite color - and why wouldn't it be, it goes with everything - you probably already have at least one pair of Tail's Girard Shorts. But wait...now they're available in Lakestorm as well. The modern pull on design makes getting in and out of the Girard shorts a snap, without needing one. The bi-stretch woven fabric accentuates a gal's curves and moves with you as you swing through the ball and with UPF 50+ sun protection you can spend less time thinking about the sun. Mesh inserts on each leg add an attractive accent and the front and back pockets are fashioned with rivets that dd to the look. Up your game - and your golf wardrobe - with the Girard shorts in the Lakestorm color. They're available in sizes 2 - 24 with a retail price of $89.

A couple of nice short sleeve polos that go nicely with the Girard Lakestorm Shorts are the Cecilia and Christina Tops. The Cecilia is sewn from Tail's pindot mesh jersey fabric, so it has plenty of stretch and breathability. It features a mock neck and zippered placket and mesh inserts on the shoulders for added breathability and comfort. The Mystic Print in White & Lakestorm is sure to garner some looks. The Christina Top is sewn from the Performance Jersey fabric which has great moisture wicking properties. It too features a mock neck with a Lakestorm-colored snap placket and Lakestorm piping on the sides and shoulder. This adds a nice contrast to the mesmerizing Horizontal Twill print. Both garments are finished with a UPF 50+ protective coating and are available in sizes S - XL. Retail price is $83.

If long sleeves are more your style, check out Tail's Laza Top. Which looks great with their new Royal Skort. The Laza Top comes in their Sweet Spot print and is a pullover design with pindot mesh inserts on the side to increase the breathability and keep you comfortable and cool. No worries about the sun's harmful rays, the UPF 50+ coating takes care of that. The Laza Top is available in sizes XS - XL and retails for $85.

The design and sheerness of the Royal Skort is sure to turn some heads. The timeless bi-stretch woven fabric ensures a good fit, while the pleats at the bottom and slash-style zippered fron and back pockets complete the look. The modern fit pull n design makes the Royal Skort easy to get into and out of and the built-in shorties provide added confidence. UPF 50+ sun protection keeps the sun at bay and the pindot mesh inserts keep you cool. The Royal Skort is available in sizes 2 - 24 =, with a retail price of $89. Wear it with the entire Serene Waters collection!

No new Tail collection is complete without a golf dress and the new Dayana Golf Dress is sure to please. Whether you're wearing it on the course or in the office, with heels or with sneakers, you'll look great and be extremely comfortable. The light breathable fabric is sewn from Tail's refined pique and the pindot mesh inserts on the side give added breathability. The mini mock neck and adjustable zippered placket give a look Tail customers love. The hidden seam pockets are deep enough for all your golf goodies and the shorties and UPF 50+ finish provide protection all over. The Dayana Golf Dress is available in Tail's Majestic Palm print and in sizes XS - XL. Retail price is $99.

These are just a few of the many pieces available in Tail's Serene Waters collection. To find a style and color that suits you, visit the Tail website at www.tailactivewear.com and click on Serene Waters under the Golf Tab.

Article Tags: Women's golf apparel, women's golf skort, golf polo, golf dress, Tail Activewear Golf Apparel, Summer Golf Apparel
Revised: 08/08/2018 - Article Viewed 197 Times
About: David Theoret
---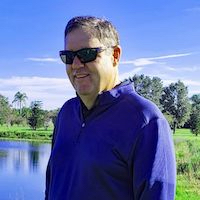 David Theoret has been in the golf and golf travel industry for over 10 years, primarily selling online advertising. For the past seven years, he has also been a golf writer, reviewing golf courses, resorts, destinations, equipment, golf apparel, and training aids - the latter of which never seems to help. David's articles and reviews have been posted on many golf travel and equipment websites.

Growing up in Southwestern Ontario, Canada, it was naturally assumed he would play hockey. Beginning at the age of 3 and continuing into his late 30's, he did just that. However, after one too many pucks to the head, he realized that golf was a lot easier on the body (whoever said hockey players were slow) and took the game up.

After moving to Florida and accepting a position with TravelGolf Media (now part of GolfNow) his love for the game grew exponentially. Most Saturdays you will find him on a course somewhere in Florida or on the practice range reinforcing his bad habits. David plays to a 10 handicap - unless there is money involved in which case it goes considerably higher. He currently resides in Lakeland, FL with his wife Belinda and their two "kids", Madyson and Molly.

---
More Articles by David Theoret
More Related Articles