Share:
VA Composites SLAY Shafts
- Striving to Be the Best in Golf
By David Theoret
When driver heads hit 460 cc, I thought to myself, "OK, what's next for these equipment companies? They've maxed out driver head size, so where do they go from here in order to sell product?" That's when things seemed to take off. Before long, the head became totally adjustable; it could be set up for a draw or a fade. You could adjust the loft and control trajectory. The clubhead could be tweaked to your exact specifications. OK, now what?

The latest trend in the golf industry is that golfers are realizing that there is more to their golf equipment than bigger clubheads and more distance. Thanks to companies like Club Champion, they are discovering that the shaft is the engine of the golf club and that being fit for the right shaft can make all the difference in their golf game.

VA Composites is a relatively new shaft company founded by Victor Afable, one of the co-founders of Oban. He's also the VA in VA Comp. Victor's 30+ years of golf knowledge and experience, along with a proven track record of designing shafts used by top TOUR players around the world, drives his passion to design the best performing golf shafts money can buy. His accomplishments include designing the shaft that was used to shoot the lowest round in PGA TOUR history, a 58, as well as producing shafts that have been used in winning over 100 tour events around the world.

There are two things that all superior graphite shaft designers seem to agree on that is necessary in order to create the best graphite shafts. The first is that you need to start with the best materials available in today's market. The second is to have an exotic graphics design that golfers will remember. Which explains a lot of the unrecognizable graphics on most shafts.

VA Composite's newest addition to their line of high performance composite golf shafts is the SLAY series. Their multi-material design is made with the industry's most exotic Japanese materials, which enables the company to offer the most advanced and versatile shafts in golf. The unique design of the SLAY shaft fits a wide variety of golfers and is offered in various weight and torque ranging from 55 grams to 85 grams. Each model requires a certain level of speed to get the most out of the shaft.

As far as looks are concerned, the brilliant blue finish along will have your playing partners doing a doubletake of your new shafts. Throw in the exotic blue-eyed dragon head graphics and the look is incredible. They're quite subtle without being overbearing.

Once you find the SLAY that's best for you, you will find that when you are fit correctly, not only is your distance likely to increase, you'll have tighter shot dispersion too. This is because of the high launch and low spin characteristics attributed to SLAY. Another impressive characteristic of the SLAY shaft is the feel it produces. You can really feel the ball leave the clubface; and it has a very soft feel to it as well. The bottom line is that if you are a golfer who is looking to pick up a few yards by promoting launch and spin, and plan on pairing the SLAY shaft with a head that does the same, you'll get the most out of it.

The VA SLAY shafts are available in 55g (A, R, S), 65g (R, S, X), and 75g (S, X) models. There's also an 85g SLAY hybrid shaft that I highly recommend. To get the most out of a precision golf shaft you need to visit a professional club fitter. That's why you won't find VA Composite shafts at major golf retailers or your local golf shop; they are offered exclusively by the best club fitters in the industry. For more information on the new SLAY shaft from VA Composites, visit their website at (www.vashafts.com).

Revised: 05/29/2018 - Article Viewed 9,975 Times
About: David Theoret
---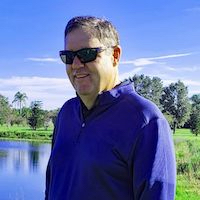 David Theoret has been in the golf and golf travel industry for over 10 years, primarily selling online advertising. For the past seven years, he has also been a golf writer, reviewing golf courses, resorts, destinations, equipment, golf apparel, and training aids - the latter of which never seems to help. David's articles and reviews have been posted on many golf travel and equipment websites.

Growing up in Southwestern Ontario, Canada, it was naturally assumed he would play hockey. Beginning at the age of 3 and continuing into his late 30's, he did just that. However, after one too many pucks to the head, he realized that golf was a lot easier on the body (whoever said hockey players were slow) and took the game up.

After moving to Florida and accepting a position with TravelGolf Media (now part of GolfNow) his love for the game grew exponentially. Most Saturdays you will find him on a course somewhere in Florida or on the practice range reinforcing his bad habits. David plays to a 10 handicap - unless there is money involved in which case it goes considerably higher. He currently resides in Lakeland, FL with his wife Belinda and their two "kids", Madyson and Molly.

---
More Articles by David Theoret
More Related Articles